De La Salle-College of Saint Benilde's highest academic award now was given to a security guard's son.
His family cannot afford to pay for high tuition, scholarship program helped him to achieve his dream.
All his hard work paid off as he managed to ace the course and graduate with flying colors.
First, in 6 years, De La Salle-College of Saint Benilde had a summa cum laude graduate. The highest academic award now belongs to a son of a security guard who recently went viral for his inspiring journey in achieving such honor.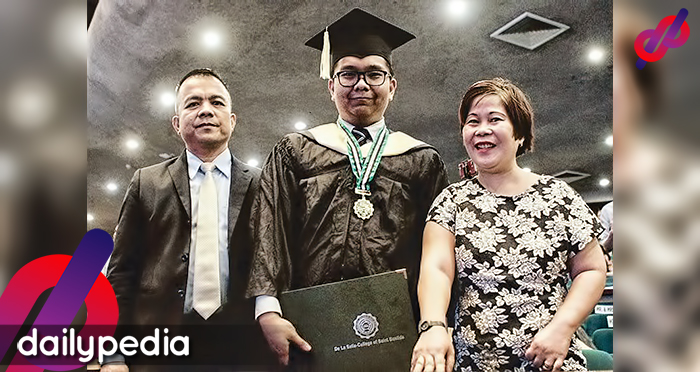 Out of 1,170 graduates, Janrey D. Nevado got the highest general average of 3.802, proving that poverty is never a hindrance to success.
His dream is to be pilot and Benilde was not his first choice of school. Since, his family cannot afford to pay for high tuition, in order to continue his studies, he needed a scholarship that could accommodate him to study.
"Benilde was not my first choice of campus. I passed the UST exam for Accountancy but no scholarship was being offered. I also passed De La Salle University, also for Accountancy, but I was told I needed one-year residency before I could apply for a scholarship," the young man admitted.
His father Dante who works as a security guard at Benilde's School of Design and Arts Campus on P. Ocampo St. in Malate had heard that the school offer scholarship programs and encourage his son to apply. Luckily, he became one of the recipients of the Pierre Romanco Grant and pays for his full tuition and miscellaneous fees.
Janrey doesn't need a lot of money to attend his class because he lives nearby and his place is just a walking distance from to his school. His parent would always make sure that he goes to school with a full stomach and his father would give him an allowance of a hundred pesos daily.
"I never went to school on an empty stomach. My parents always made sure that I get to eat first before going to school," Janrey shared.
Janrey's mother used to have a sari-sari store but last year her mother suffered from stroke as they were forced to close it.
Without Internet connection at home, Janrey had to spend long hours to use free WiFi in school because of his course that requires computer-related stuff. As part of his study habits, when he gets home, he rewrites the lecture notes to help him remember his lesson.
All his hard work were paid off as he managed to ace the course and graduate from BS Business Administration major in Computer Application degree with flying colors. Being a summa cum laude graduate is already inspiring, but the reality of it–poverty was never a stumbling block for him. As a son of a security guard, all of them were inspired by his story.
Days before graduation, everyone was so happy to learn that Janrey was able to find a job as a data science trainee at Globe Telecom in BGC starting March 1.
"I currently work in Globe Telecom as a data science trainee under the training period but will have the job title of an 'expert' upon regularization. I got hired through Globe's data science program where I am one of the 39 candidates who qualified. I started on March 1 this year. As of now, I am undergoing a training program that aims to equip employees with data science skill set," the young man happily shared.
He promised to work harder to give his parents a better life and upon receiving his first paycheck he gave it to his them as a sign of gratitude for the sacrifices they made.