A colon cancer patient asks for help on Facebook, believing an unhealthy lifestyle due to addiction to mobile games led him to his condition
Colorectal cancer (CRC) is the number one gastrointestinal cancer in the country, surpassing liver cancer, according to the Philippine Council for Health Research and Development
Netizens sympathized with Michael Tumagan and some even disclosed they have a similar illness and that they will support him in his fight with colon cancer
A patient with stage 4 colon cancer took to social media to share his story and asked help for his treatment. He also advised gamers not to develop an unhealthy lifestyle by being too addicted with the games as he believed it to be the cause of his illness.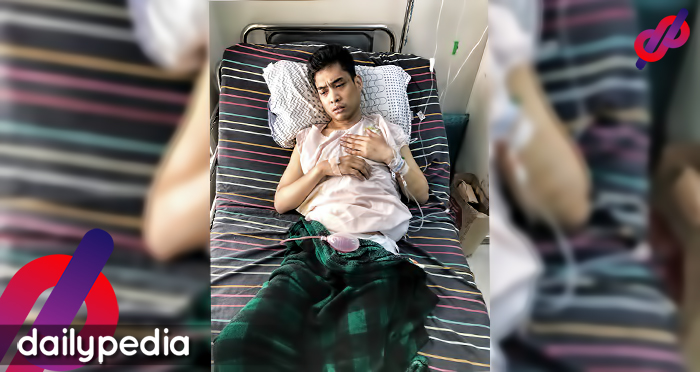 "Hindi ko po akalain na mangyayari sakin ito," wrote Michael Tumagan on his Facebook account. "Kung maibabalik lang ang panahon para mapigilan ang pagkakasakit ko nito, nawalan ako ng disiplina sa katawan, na adik ako sa Mobile Legends: Bang Bang 😢😢😢, to the point na hindi na ako kumakain at natutulog."
According to Tumagan, he will pull all-nighters just to play the game and will only sleep at 9 or 10 in the morning. He then wakes up in the evenings, around 6 or 8pm and will only eat by then. That is the cycle of his everyday life. He also claims that he does not drink water that often.
https://www.facebook.com/michael.tumagan.me/videos/1499222546881246/
"Kaya sa lahat po ng bagay dapat (talaga) hindi nasosobrahan, dahil di (niyo) na maibabalik ang mga pangyayari! Wala napong pag asa na maalis pa ang tumor ko sa rectum kasi lumala napo, hindi na pwedeng galawin ang tumor kasi affected napo ung pantog at gall blader ko. Pag ginalaw pa, mamamatay po ako (deretso) sa operating room," added Tumagan.
In a column published on Manila Standard, the Philippine Council for Health Research and Development reported that back in 2017, colorectal cancer (CRC) was the number one gastrointestinal cancer in the country, surpassing liver cancer. "The agency said that the Philippine Society of Gastroenterology data at the time showed there are over 3,000 new cases of CRC among Filipinos annually. Some 2,000 of them die of it," wrote Jenny Ortuoste, who is a colon cancer survivor.
"Risk factors for the disease include age, family history, smoking and alcohol practices, diet high in processed meat and/or high fat but low in fiber, and inherited genetic mutation. Symptoms include changing stool patterns, blood in stool, sudden weight loss, anemia, and appetite loss," she narrated.
Social media users made Tumagan's post viral with 41 thousand reactions online. Most of them donated in order to assist him in paying for his chemotherapy and radiation treatments in order to decrease the size of his tumor. Other netizens shared that they also have the same illness as him to let him know that he is not alone in his fight.
"Stage 4C colon cancer warrior ako pero malakas na ako now. Naka 9 chemo na ako. Laban lang. Faith kay God and positive attitude, makinig sa doctor. Maintenance ko na ang chemo for life pero ok lang. Laban ka lang. Kaya natin to. Ipapasama kita sa prayer warriors namin❤," wrote Venus Lutel Miembro Avelino.
"Same tayo sakit colon cancer stage 3 sakin pero natanggal tumor nung akin. nag chechemo ako ngayon naka 5/8 chemo nako. pag natapos ako mag chemo, pagdikitin na bituka ko. naka cholostomy bag ako ngayon. dasal dasal lang tol, gagaling tayo in jesus name, amen. godbless kaya natin to, tuloy lng laban lang. wag mo isipin na may sakit, ka dasal lang," commented another netizen named Ginson Jade Saniel Ocampo.
"Stage 4 colon cancer nadin nung nalaman namin yung condition ng Auntie ko, tapos tatagal nalang daw sya ng 3 months pero yung 3 months po naging 4 years. Only pain reliever yung tinake nya ta's puro herbal meds na then yun mga slime veggies kinakain nya gaya ng okra para po daw yun sa daluyan ng pagkain eh then nagpapa healing mass po sya. Have faith in God po. Isasali po kita sa prayers ko😊," shared Apple Mae Barba Bernardino.
Interested parties who want to help the patient may donate cash through the following accounts:
GCASH – 09272826919
BDO ACC:
Michael Tumagan
004050374075