A mother breastfeeds his youngest son during a pageant
She has tried mix feeding her youngest son when he was just a month old, but it turned out negatively
This shows that she really gives importance to breastfeeding as she thinks of his son's wellness
A Facebook user, Ggalamudd Omolap Hanna, whose real name is Hanna May P. Dumalag from Taguig City posted a photo of her breastfeeding her youngest son while joining a pageant, with a caption saying: "Pageant is Life But Breastfeeding is Lifer 😍😅
Ps : Every after rampa , dede mama ! 😁
Wala pinipiling lugar at pwesto 😅
33mos and still counting 😊😍😍😍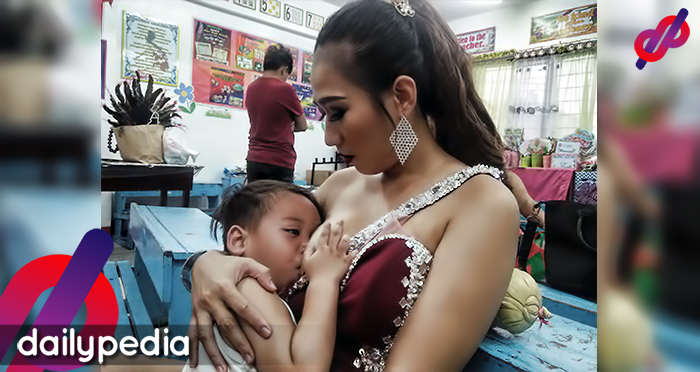 The picture was taken at Silangan Elementary School in Taguig City, during the search for Mr. and Ms. HRPTA (Homeroom Parent-Teacher Association) where participants are parents of children enrolled in the said school, and Hanna is one of the contenders.
According to Hanna, in an interview with the Dailypedia via FB messenger, that she used to join pageants even before the time that she hasn't any children. Now, she is a mother of three and this was her second time to join such competition, the one in the photo is her youngest son.
On July 25, her youngest son turned three and was still used to breastfeeding with her. Not only her youngest, but all her children, used to breastfeed with her at the age of three (3) and above. Though she tried mixed feeding her youngest son, when he was just a month old, it turned out negatively as he was diagnosed with broncho-pneumonia. Taking the advice of her pediatrician, she continued her breastfeeding and decided to stop with her job hunting.
Netizens appreciated her for being such a proud mom in breastfeeding his son, even at the time she was joining a pageant. This shows that she really gave importance to breastfeeding as she thinks of his son's wellness. But most working mothers don't have the choice to stop, or limit the years of breastfeeding their own child, due to the demand of time at work.
As reported by Manila Times, the Department of Health (DOH) has been pushing the advocacy of breastfeeding in the workplace. This is for working moms to have an opportunity to breastfeed their children at their workplace and in the community to understand the importance of breastfeeding.
https://www.facebook.com/photo.php?fbid=2139782162736906&set=a.250679254980549&type=3&theater
"Let us support breastfeeding in the health facilities, at home, in the community, and at the workplace," Garin said, in a speech delivered for her by DOH assistant secretary Paulyn Jean B. Rosell-Ubial.
Mothers should comply with the six months of continuously breastfeeding their newborn babies. But because of the short duration of maternity leave, companies' non- compliance to lactation breaks, and the unavailability of lactation stations in some workplace, make mothers still face these challenges.
In 2013, the National Nutrition Council surveys said that the country is still low at 28 percent in terms compliance to breastfeeding, which has become a factor that contributed to 800,000 infants death worldwide. Garin said that breastfeeding can reduce the mortality rate of an infant/child.
Ubial said, "50 percent of the infant deaths would have been avoided by exclusive breastfeeding and continuous breastfeeding alone."
"Usually, those who have higher educational attainments, like young professionals who get the proper education, and the members of Breastfeeding Pinays, a non-governmental organization, and other advocates of breastfeeding, are the ones who practice and promote it," she added.
Hanna, as a mother who promoted and practice breastfeeding, had proven the positive effects and importance of breastfeeding. With her testimony, she hopes to inspire mothers-to-be to experience the magic of breastfeeding.