Erin Tañada receives criticisms for his handshake photo with a fish vendor
The Otso Diretso Senatorial Candidate went viral for his awkward handshake with a fish vendor
Netizens criticized Tañada for what they are calling his refusal to hold the hand of the vendor for fear of smelling fishy
Senate hopeful Lorenzo "Erin" Reyes Tañada III is currently the subject of ridicule when his picture hand shaking with a woman fish vendor went viral.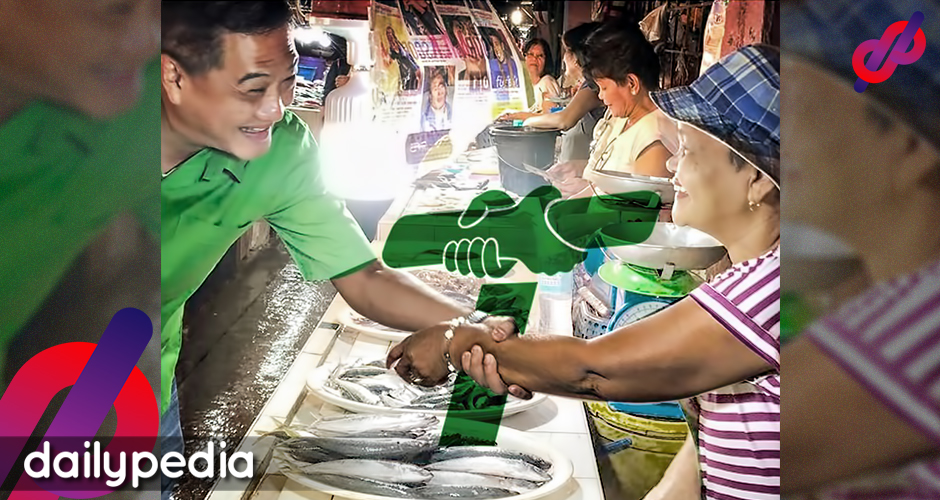 Only, it was not really a "hand" shake per se, but more of him clinging to the woman's arm.
Netizens were not all smiles upon looking at the former Quezon congressman and House deputy speaker's photo. Many perceived this to be him discreetly avoiding the vendor's hand that is used in grasping the fishes she sells.
https://www.facebook.com/TheThinkingPinoy/posts/1275523179261449
Ana Santos commented that "This picture says it all. The oligarchs are really using the poor to advance their political ambitions".
Another commentor even joked that Tañada looked like a bracelet thief, "Parang snatcher ng bracelet ang dating, pakitanong (kay) nanay kung andiyan pa bracelet niya."
Seemingly to turn the tables, the scion of the Tañada clan, in his Twitter account posted the same picture but now with a logo of arms linking with each other to form the letter "T."
The caption read "Para kay Nanay Mila at sa ibang nangangailangan ng kabuhayan at trabaho, kapit bisig lang!"
And yet, this continued to draw mixed reactions from netizens replying to his post. Currently, his photo from Thinking Pinoy's page has garnered various reactions, from those finding it funny to those being angered by it.
https://twitter.com/NarvasaKume/status/1098812356707020800
Kaplastikan. Liberal Party's way of showing how they care. Fake care. Sa otso kineme, baka si Gutoc lang iconsider ko. Pwe.

— heyitsJAE!♏ (@thejaeamper) February 22, 2019
hahaha mahirap maging senador si ser… magaling mag doctor ng kapalpakan… ginamit pa si nanay mila sa kapit bisig e halatang nandidiri ka diba? plastik 🙊

— Marl (@MarC012378) February 23, 2019
SINONG NILOLOKO MONG KAPIT-BISIG YAN??
NANDIDIRI KA KAMO SA MALANSANG KAMAY
NI NANAY!! NGAS-U!! 😡😡😡

— 🇵🇭MADRID (@phoebemadrid07) February 23, 2019
Change of Marketing Strategy to save the dog.

— Dodong (@migsacm09) February 22, 2019
Nagcomment na po si Nanay! Sya pa pala yung nahihiya na malansa kamay nya pero gusto mo sya kamayan! You are such a humble politician! More like you, Sir!

— PissedoffPinay (@9Edge1) February 23, 2019
But the senatorial aspirant's team took this meme as the opportunity to push Tañada even more on social media. On his Twitter account, the viral handshake was used to form the 'T' for Tanada's logo for elections. "Para kay Nanay Mila at sa ibang nangangailangan ng kabuhayan at trabaho, kapit bisig lang! TRABAHO KO PARA SA INYO ang magkaroon kayo ng tama, sapat at angkop na trabaho at hanapbuhay. #TrabahoParaSaIyo #59Tañada #TeamTañada #KapitBisig #KapitLang"
Para kay Nanay Mila at sa ibang nangangailangan ng kabuhayan at trabaho, kapit bisig lang! TRABAHO KO PARA SA INYO ang magkaroon kayo ng tama, sapat at angkop na trabaho at hanapbuhay. #TrabahoParaSaIyo #59Tañada #TeamTañada #KapitBisig #KapitLang pic.twitter.com/niBAYDCMC3

— Erin Tañada (@erintanada) February 21, 2019