A netizen ranted against a Kojie San billboard along Cubao
Other observers stated that he just misinterpreted the phrase and that he's too sensitive about the word "dirty"
A netizen has taken notice of the billboard of whitening soap Kojie.san Men at an area of Cubao where it was displayed.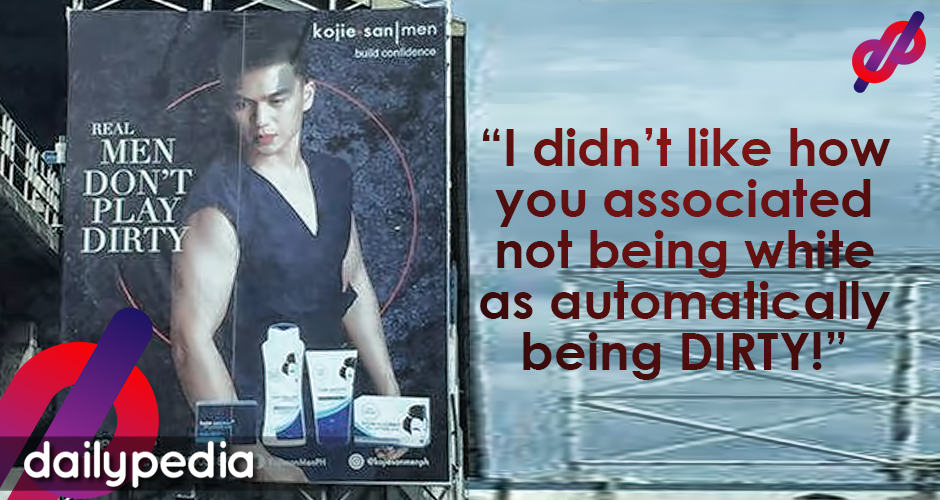 He did not post to praise it though, as he appeared to be offended by the billboard where the phrase "Real men don't play dirty" was written.
Guill Marc Daus Mariano said that he had nothing against those who want to have lighter skin complexion as people can do whatever they want with their bodies, but he found the phrase on the billboard to be "very problematic."
"But in your billboard, I didn't like how you associated not being white as automatically being DIRTY! I find it very offensive especially that it took me some time to be comfortable and confident with my moreno skin complexion! I know that it is very common in Asia to be fixated to having white complexion (hello colonialism) but to associate non-white as DIRTY and not REAL men (what does real even mean) in this advertisement is utterly disrespectful and insensitive!"
Mariano urged the marketing team of the brand to take his thought into consideration as others, like him, are actually insecure about their skin color.
"And for you to rub that into our throat and categorize us as the DIRTY ONES, is totally unacceptable!
"I demand that you replace it ASAP! Your marketing team also needs cultural sensitivity training which I'd be happy to provide for FREE!"
But instead of agreeing with him, other netizens seem to be finding the rant a bit over-sensitive as they poked fun with it.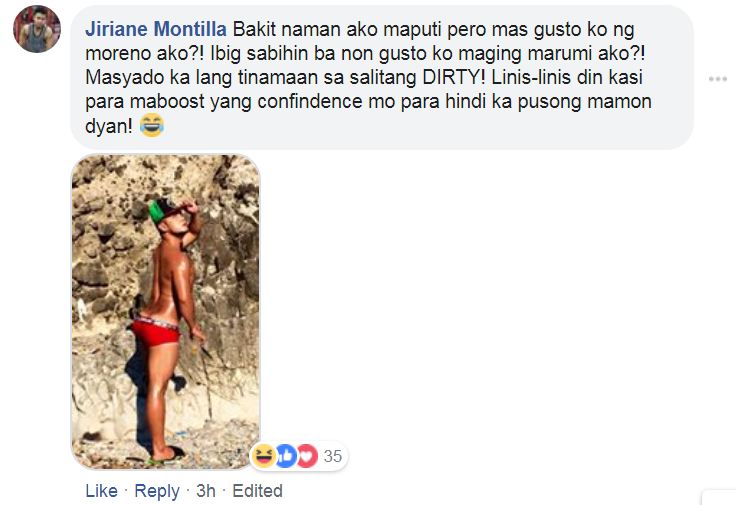 Bakit naman ako maputi pero mas gusto ko ng moreno ako?! Ibig sabihin ba non gusto ko maging marumi ako?! Masyado ka lang tinamaan sa salitang DIRTY! Linis-linis din kasi para maboost yang confindence mo para hindi ka pusong mamon dyan! 

Try to read it again. I dont think there was any mention that being dark or "moreno" equated to being dirty. It was just merely your assumption. Dont be too sensitive. Just let it be
A Facebook user even said that the phrase was put there to make people think about what it means and it's unfortunate that the uploader thought of a negative connotation.

D naman offensive … sa marketing maglalagay sil ng mga piece para mapaisip ka … maraming meaning yan sad lang dhl ang naisip mo ay yun kaya nahulog ka sa marketing strat nila. 

Ha? Wla naman sinabi na pag maitim dirty ah? Baka perception lang un ng nakabasa, kasi definitely, insecurities mo ung una mong maiisip, kaya ka naoffend kasi binigyan mo ng sarili mong meaning ung ad. Ugh!
Another netizen commented that the message pertains to hygiene.

Hygiene kasi message nung billboard bobo hahahaha

Luh lahat na lang pinatulan neto! Kaya kasi "Real mean don't play dirty" kasi nga hygienic products yung binebenta nila! Anuba? Ikaw lang nag-iisip nang mali eh
A certain Michael Amado suggested that if Mariano is really sincere with his concern, then he should've filed a complaint to the management instead.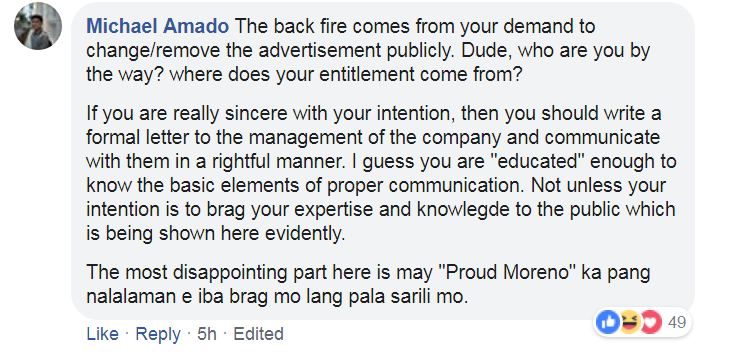 The back fire comes from your demand to change/remove the advertisement publicly. Dude, who are you by the way? where does your entitlement come from?

If you are really sincere with your intention, then you should write a formal letter to the management of the company and communicate with them in a rightful manner. I guess you are "educated" enough to know the basic elements of proper communication. Not unless your intention is to brag your expertise and knowlegde to the public which is being shown here evidently.

The most disappointing part here is may "Proud Moreno" ka pang nalalaman e iba brag mo lang pala sarili mo.
The post has now reached more than 2,700 shares on Facebook.