Victim of Ateneo bullying's parents released a statement about the viral controversy.
They chose not to publicize their son's name and encouraged other victims of bullying to stand up for themselves.
Parents of the bullied Ateneo de Manila University Junior High School student broke their silence about the incident that their son became involved in.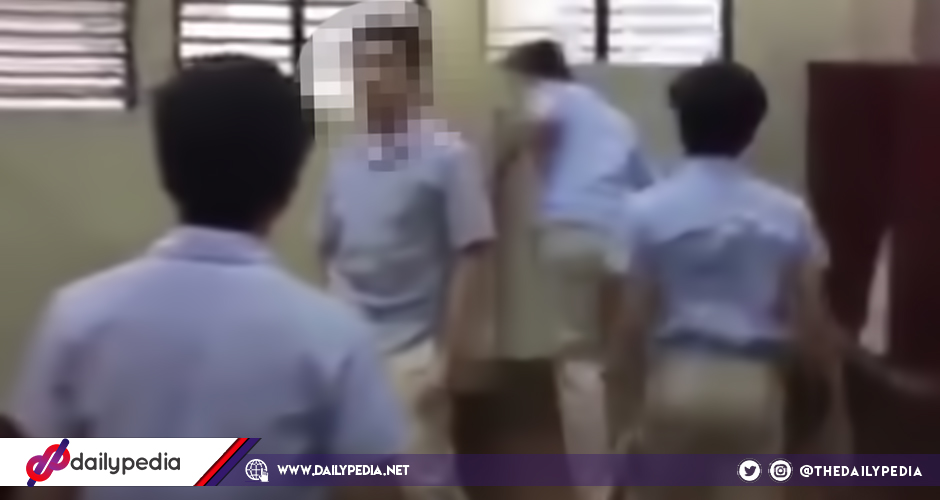 The parents stated that their son "chose his true sense of dignity" and "is not a loser" to be pitied. They have also left their son's name undisclosed to avoid being memoralized as the "bullied boy from Ateneo."
"Our son was asked by the bully to make a choice. From the bully's own words, 'Ano ang gusto mo, dignidad o bugbog?' – but in the bully's definition, choosing 'dignidad' was a far more degrading option, one that would subject our son to inhumane treatment and abuse."
They also expressed that they felt outraged upon seeng the two-minute viral video, but chose to remain silent over the issue to protect their son and help him heal.
"He did not do anything to deserve this kind of treatment from his classmates. But, despite what happened, we will not let this incident damage our son – he will heal from this, and we will ensure that he will grow up with his morality and values intact."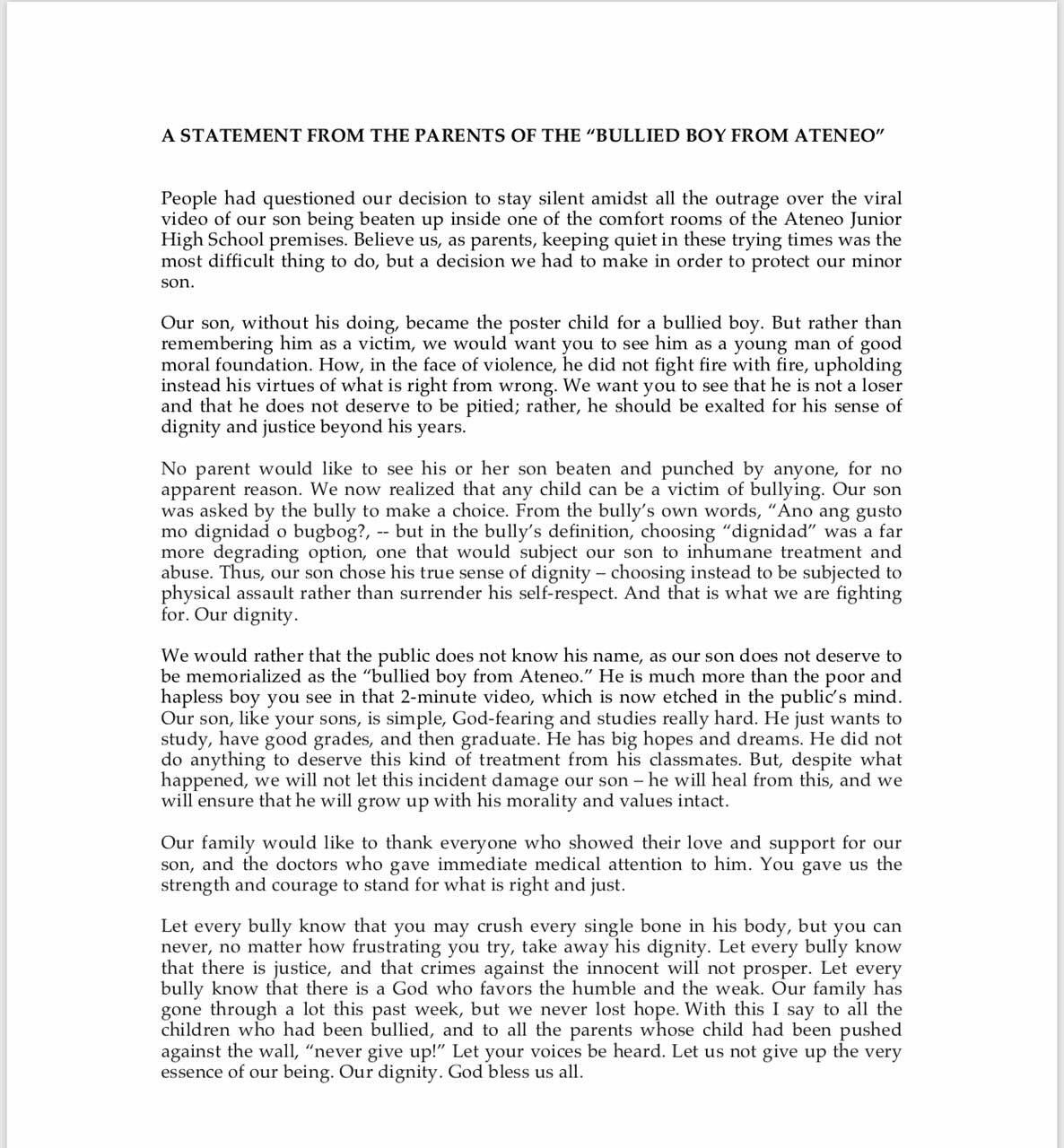 The parents have extended their gratitude to those who helped their son and encouraged other bullying victims to speak up.
"Let every bully know that you may crush every single bone in his body, but you can never, no matter how frustrating you try, take away his dignity.
"Let every bully know that there is justice, and that crimes against the innocent will not prosper. Let every bully know that there is a God who favors the humble and the weak."
Netizens react
The statement didn't sit well specially on netizens who are following the issue. Some understood the parents while some others questioned how they raised their son.
Sure ka ba na alam ng parents na bully ang anak nila? ang sa akin lng after naging viral ang bata at nadismiss sa Ateneo makakatulong din ba ang mga nambash sa knya sa social media para makapagsimula ulit?

— ChinitoSanti (@ChinitoEffect) December 23, 2018
https://twitter.com/yumimoran/status/1076835377858506753
Dapat sa bata na yan homeschooling and at the same time psychiatric help. Best huag i-enroll sa ibang school baka mag hari-harian nanaman.

— Theoretical_Tiger (@Alistair_Jlee) December 23, 2018
I would like to honor the laudible stand of the parents of this boy abused by that bully. But at the same time, do not let this boy get away with what he did without being punished. I suggest you file the proper charges for such inhumane actions.

— Tirso Cruz III (@tirsocruziii) December 27, 2018
Submissiveness is not a virtue. I sympathize with the parents, but "turning the other check" to a bully is not the right response. Resist. Stand tall.

— Matt Cabangon (@wmcabangon) December 26, 2018
And let this bullying be a reminder for everyone to fight. Never be silent about bullying. If you witness a bullying incident and you do nothing, you side with the bully. If you are bullied and you don't complain or ask for help, you can't blame the world for not helping.

— damnbrown (@thedamnbrown) December 27, 2018
Have you read the statement of the parents of the bullied boy from ateneo? Inspiring yet alarming, inspiring kasi youll see how humble and forgiving this atenean fam and alarming dahil sa drastic comments ng kababayan nating di muna inunawa kung ano yung diff ng bullied at bully.

— elton (@ejasignacion) December 27, 2018
https://twitter.com/kendgel/status/1078319503224668160