Student confessed about being raped inside the Ateneo de Manila University campus.
Sexual Misconduct Task Force of the Loyola Schools released a statement saying that they will investigate and look through the possible leads for the resolution of the suspected, unfortunate incident.
On November 24, a Facebook page that posts anonymous messages from Ateneo de Manila University (ADMU) students shared a disturbing message from a said rape victim.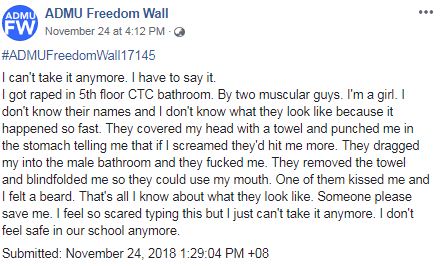 I can't take it anymore. I have to say it. 
I got raped in 5th floor CTC bathroom. By two muscular guys. I'm a girl. I don't know their names and I don't know what they look like because it happened so fast. They covered my head with a towel and punched me in the stomach telling me that if I screamed they'd hit me more. They dragged my into the male bathroom and they fucked me. They removed the towel and blindfolded me so they could use my mouth. One of them kissed me and I felt a beard. That's all I know about what they look like. Someone please save me. I feel so scared typing this but I just can't take it anymore. I don't feel safe in our school anymore.

Submitted: November 24, 2018 1:29:04 PM +08
The student narrated via the post that she was raped by two "muscular" men on the 5th floor bathroom of the CTC Building. She recounted how her head was covered with a towel and how she was threatened just to keep her from making noises. As her eyes were covered the entire time, she wasn't able to know what they looked like, however, she did mention that she felt a beard when one of them kissed her.
The post has reached hundreds of shares and reactions.
ADMU's statement.
The ADMU said that it is now looking into the reported incident.
In a statement uploaded, the university's Commission on Anti-Sexual Misconduct and Violence said that they were shocked and outraged by the said rape incident.
According to Mira Alexis Ofreneo, head of the Sexual Misconduct Task Force of the Loyola Schools, they are taking the confession seriously and are verifying the information to help in resolving the case.
"We reiterate that we do not tolerate any form of sexual violence on campus. If verified to be true, we condemn the act and those who without conscience perpetrated such an act."