Sachzna Laparan tweeted that people should ask for her permission before using her name.
Netizens slammed her, saying that she's not the only one with a name Sachzna, but the model insisted that she's the first one to use it. 
No matter how unique your name is, it is not impossible that there may be someone with the same name since the world is made up of an estimated 7.5 billion people.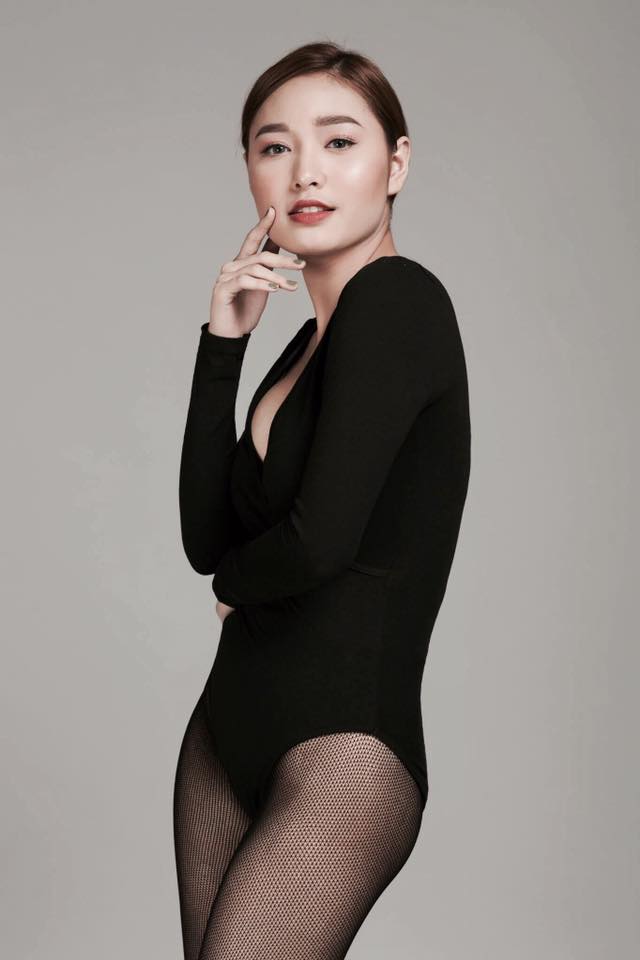 But not everyone thinks this way as a Netizen exposed the tweets of a Filipino model named Sachzna Laparan.
A Netizen on facebook named Klengy Montefalco exposed the now deleted tweets of the model, accusing people of using her name without permission.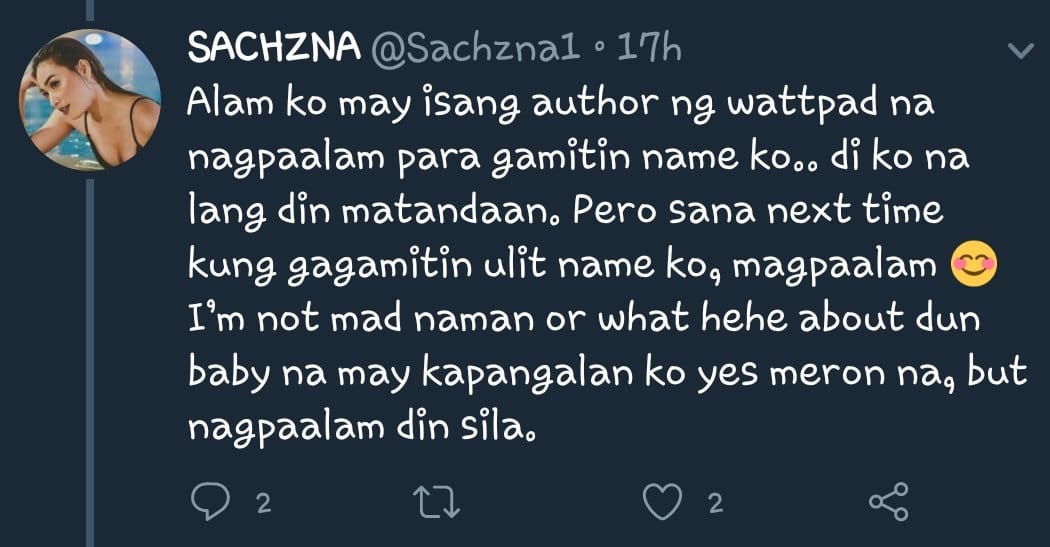 Alam ko may isang author ng wattpad na nagpaalam para gamitin name ko.. di ko nalang din matangaan. Pero sana next time kung gagamitin ulit name ko, magpaalam. I'm not mad naman or what hehe about dun baby na may kapangalan ko yes meron na, but nagpaalam din sila.
Another user then replied that there may be a possibility that those people didn't get the name from the model as she's not the only one that's named Sachzna, however she only replied, "try google dear."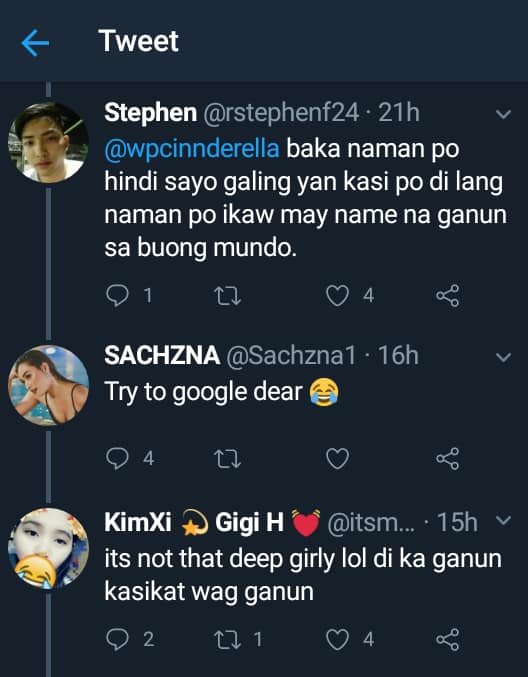 She even questioned the existence of the people that have the same name as hers and even defended that her mother fought for her name.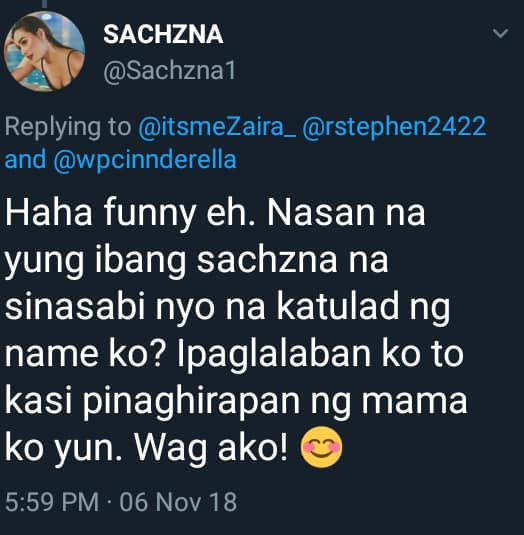 Haha funny eh. Nasan na yung ibang sachzna na sinasabi nyo na katulad ng name ko? Ibaglalaban ko to kasi pinaghirapan ng mama ko yun. Wag ako!
As someone replied screenshots of people with the same name, asking her if the people actually asked for her permission, Sachzna answered that yes, they did.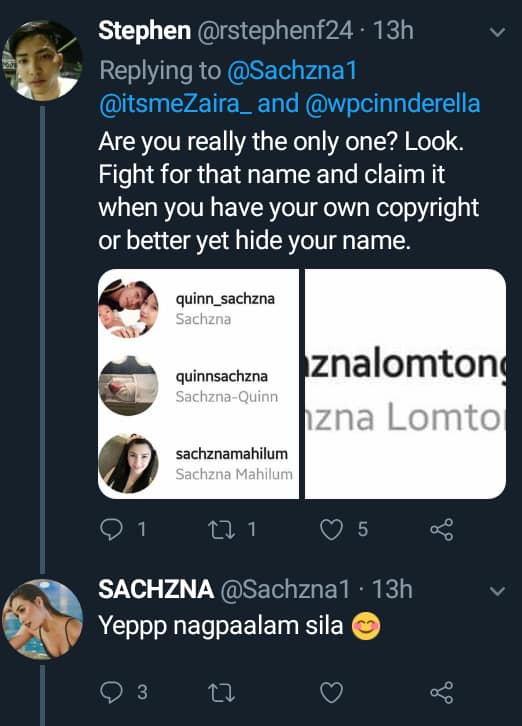 When a Netizen asked her if she's sure that she's the first one that had that name, she said that yes, she's sure of it.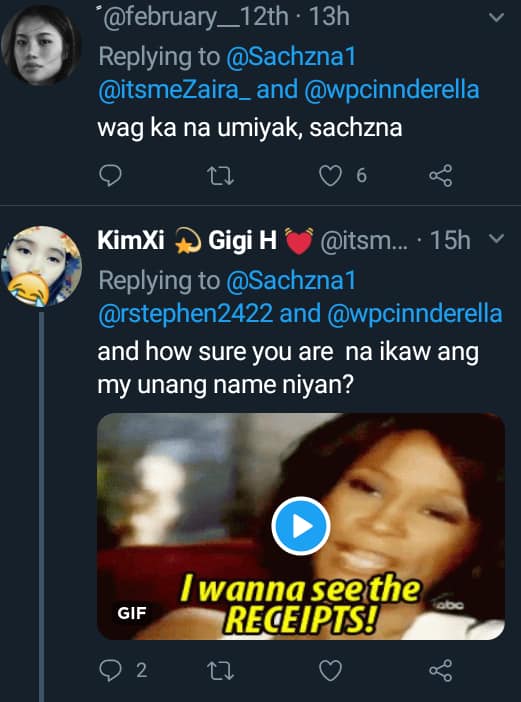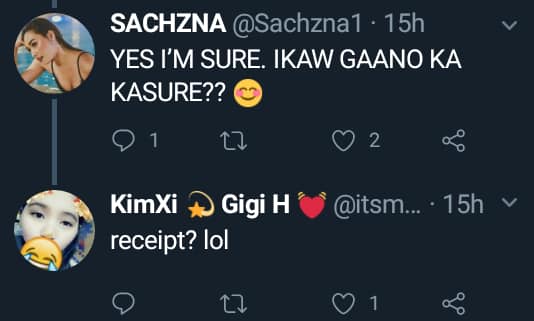 Contradicting her initial tweet telling people to ask permission from her, she said on a facebook comment that she never said those words.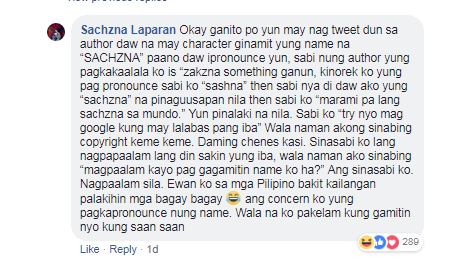 Okay ganito po yun may nag tweet dun sa author daw na may character ginamit yung name na "SACHZNA" paano daw ipronounce yun, sabi nung author yung pagkakaalala ko is "zakzna something ganun, kinorek ko yung pag pronounce sabi ko "sashna" then sabi nya di daw ako yung "sachzna" na pinaguusapan nila then sabi ko "marami pa lang sachzna sa mundo." Yun pinalaki na nila. Sabi ko "try nyo mag google kung may lalabas pang iba" Wala naman akong sinabing copyright keme keme. Daming chenes kasi. Sinasabi ko lang nagpapaalam lang din sakin yung iba, wala naman ako sinabing "magpaalam kayo pag gagamitin name ko ha?" Ang sinasabi ko. Nagpaalam sila. Ewan ko sa mga Pilipino bakit kailangan palakihin mga bagay bagay 😂 ang concern ko yung pagkapronounce nung name. Wala na ko pakelam kung gamitin nyo kung saan saan
Klengy Montefalco's facebook post has reached more than 33,000 shares.