Lorraine Badoy explains why President Rodrigo Duterte likes to pick ex-militaty men to handle departments of the government.
She said that it's because they get things done without them promoting themselves using their said achievements.
President Rodrigo Duterte is being rumored to put the government under the military and the Presidential Communications Operations Office (PCOO) undersecretary and wife of a military man Lorraine Marie Badoy just explained the possible reason why he prefers ex-military men to handle several government departments.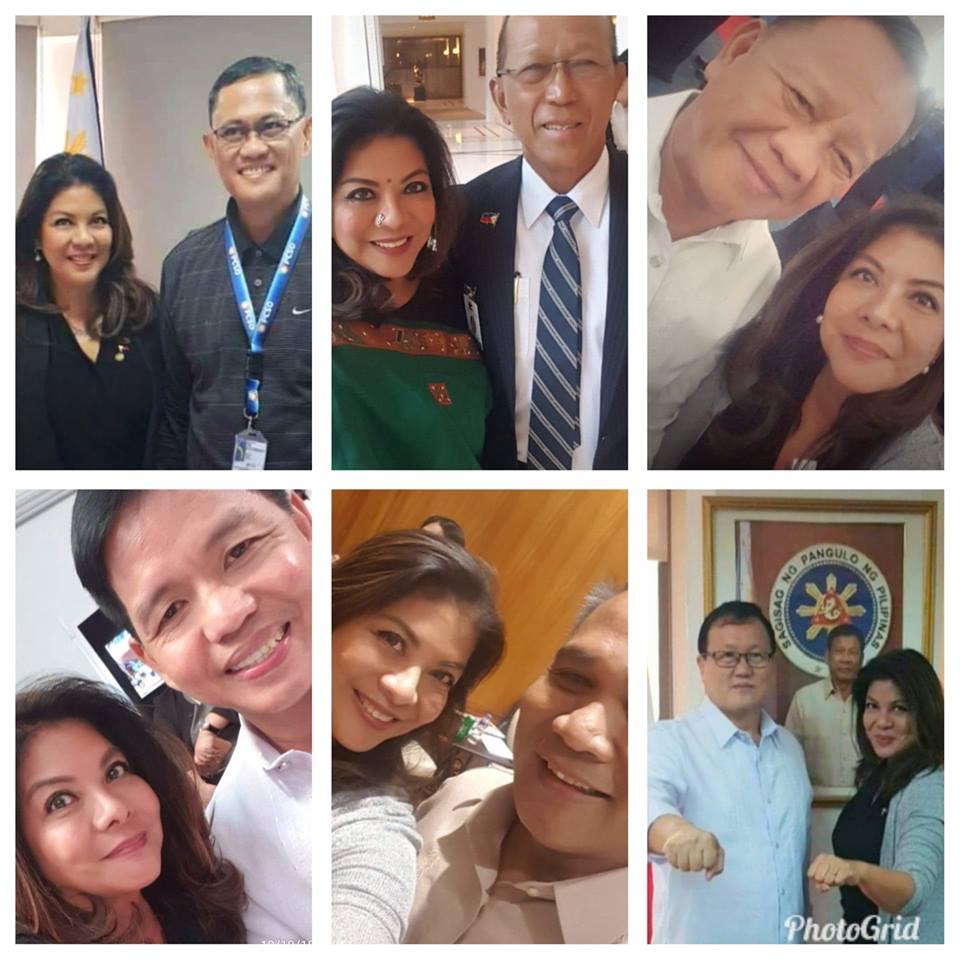 In a Facebook post, Badoy said that it's because "they get the job done" with "zero self promotion".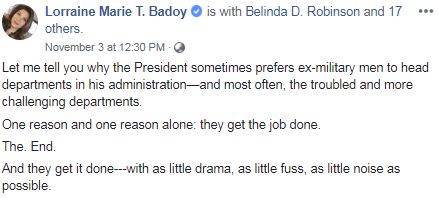 Let me tell you why the President sometimes prefers ex-military men to head departments in his administration—and most often, the troubled and more challenging departments.

One reason and one reason alone: they get the job done.

The. End.

And they get it done—with as little drama, as little fuss, as little noise as possible.

On top of that, they get it done with zero self promotion.
She added that every woman who is married to any soldier will have the same answer as, their husbands always put the country first.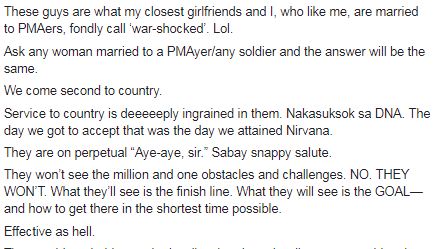 These guys are what my closest girlfriends and I, who like me, are married to PMAers, fondly call 'war-shocked'. Lol.

Ask any woman married to a PMAyer/any soldier and the answer will be the same.

We come second to country.

Service to country is deeeeeply ingrained in them. Nakasuksok sa DNA. The day we got to accept that was the day we attained Nirvana.

They are on perpetual "Aye-aye, sir." Sabay snappy salute.

They won't see the million and one obstacles and challenges. NO. THEY WON'T. What they'll see is the finish line. What they will see is the GOAL—and how to get there in the shortest time possible.

Effective as hell.
Badoy then narrated that military men always find solutions to challenges they face along the way. She then mentioned Bureau of Customs former chief Sid Lapeña as an example.
They could, probably see the hurdles, but these hurdles are something they just swat away like bothersome flies.

Dam unfinished since the 80's? Get it completely built. That's my manong Bong Visaya, head of the National Irrigation who's been clocking one amazing gain after the other for country.

Former BOC Chief, Sid Lapeña, raised the bar with back to back record-breaking Customs collections and seizures. And he did that with never-before seen measures of cleansing and en masse firing and freezing of employees who weren't above board.
Others she mentioned were Alex Balutan, Ed del Rosario, Roy Cimatu, and Generals Tabaquero, Esperon, and Lorenzana.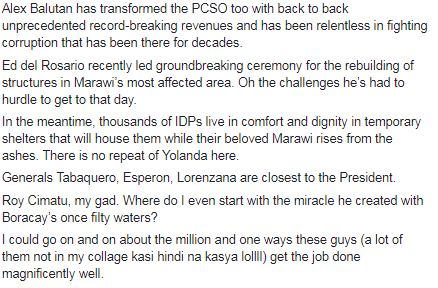 Alex Balutan has transformed the PCSO too with back to back unprecedented record-breaking revenues and has been relentless in fighting corruption that has been there for decades.

Ed del Rosario recently led groundbreaking ceremony for the rebuilding of structures in Marawi's most affected area. Oh the challenges he's had to hurdle to get to that day.

In the meantime, thousands of IDPs live in comfort and dignity in temporary shelters that will house them while their beloved Marawi rises from the ashes. There is no repeat of Yolanda here.

Generals Tabaquero, Esperon, Lorenzana are closest to the President.

Roy Cimatu, my gad. Where do I even start with the miracle he created with Boracay's once filty waters?

I could go on and on about the million and one ways these guys (a lot of them not in my collage kasi hindi na kasya lollll) get the job done magnificently well.
In the post, she stated that not everyone knows about the men's achievements as she had to beg them to tell her about it to put it at the PCOO platforms.

I am not saying ALL ex-military guys are humble and competent and incorruptible. No way. I have met some of the worst.

I am only saying the President chooses exceedingly well the ex-military men he surrounds himself well. The ones he has chosen are like him—incorruptible, indefatiguable, humble and for whom the words courage, loyalty and integrity still mean something.