Netizen posts about 'offensive' interview he experienced at Century Properties.
He was repeatedly asked to rank his gayness, resulting to him walking out of the said interview.
A netizen recently took to Facebook to post an offensive job interview he experienced while applying as a Chinese translator.

Facebook user Deg Daupan exposed a certain Edward Paeste, the vice president of the Team Evolution of a company called Century Properties. He said that he was invited for an interview regarding a potential job as a Mandarin translator. But when he got to the office, he had to wait for five hours to be interviewed as there were meetings being conducted.

This is the first time I'm going to do this. D ko kinaya talaga eh. Edward Paeste, maghaharap tayo sa labas ng opisina mo.

Edward is executive VP of Century Properties-Team Evolution. I was invited for an interview as his team needs a Mandarin interpreter for their marketing activities here and abroad. Was really excited about this opportunity. I was asked to be at his office 1 PM. But hell, I was interviewed at 6 PM. May mga meeting pa raw kasi.
Daupan said that he let the waiting slide, but what he couldn't take was how "unprofessional" Paeste was during the said interview, and it resulted to him walking out. He asked to talk to the vice president again but the latter didn't grant his request.

Pinagbigyan ko. But Edward was so unprofessional during the interview, and so I walked out. Naging mahinahon at respectful ako sa buong duration ng usapan namin, kahit nakakabastos na. Upon stepping out of his office, I told the staff what happened, and that I needed to have a word with their VP. Hindi ako nilabas ni Edward. Ayokong magsayang pa ng more oras, and so I left. Ito ang interview:
He then posted how the interview went on and how it made him feel offended.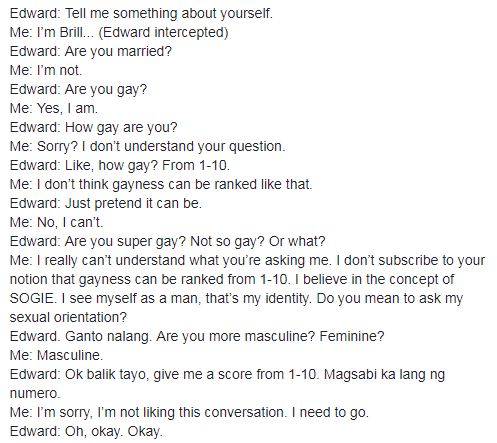 Edward: Tell me something about yourself.
Me: I'm Brill… (Edward intercepted)
Edward: Are you married?
Me: I'm not.
Edward: Are you gay?
Me: Yes, I am.
Edward: How gay are you?
Me: Sorry? I don't understand your question.
Edward: Like, how gay? From 1-10.
Me: I don't think gayness can be ranked like that. 
Edward: Just pretend it can be. 
Me: No, I can't. 
Edward: Are you super gay? Not so gay? Or what?
Me: I really can't understand what you're asking me. I don't subscribe to your notion that gayness can be ranked from 1-10. I believe in the concept of SOGIE. I see myself as a man, that's my identity. Do you mean to ask my sexual orientation?
Edward. Ganto nalang. Are you more masculine? Feminine?
Me: Masculine.
Edward: Ok balik tayo, give me a score from 1-10. Magsabi ka lang ng numero. 
Me: I'm sorry, I'm not liking this conversation. I need to go. 
Edward: Oh, okay. Okay.
He ended his post by saying that he's tired of such treatment and hopes that everyone will be educated about SOGIE.

I can't believe it. A VP at that. My whole day was wasted. Parents, teachers, leaders, I hope you all pass on the good education that our people direly need. 21st century na tayo. Nakakapagod na ang gantong klaseng pagtingin. Nakakalungkot din kasi ako, I do my best to educate people about SOGIE. I even remember introducing the concept to my sister. Pero bakit ganto ang ganti sakin? Ang hirap maging bakla. 😞 Pero keber, #TuloyAngLaban.

Addendum:
Nakakapanghina. Nanghihina ako. 😢
In a follow up post, Daupan said that the communications officer of the company has reached out to him and apologized. They also said that they are investigating the matter to prevent it from happening again.

Just got off the phone with a communications officer from Century Properties. She extended an apology for what happened during my interview, and I'm grateful for that. They're now looking into the matter. I expressed my willingness to cooperate in the investigation to hopefully put an end to discriminatory interviews in that office.

Thank you all for your support. Laban natin ito.