A Facebook user writes about the harsh reality of being a student.
He said that school isn't meant to be easy and it's normal to have a hard time.
School is nowhere near easy.
There have been posts circulating on social media websites how schoolwork has completely taken over students' lives, making them more stressed and busier than usual. Most of them just want to take a breather and get away from those homeworks and exams that they need to prepare for.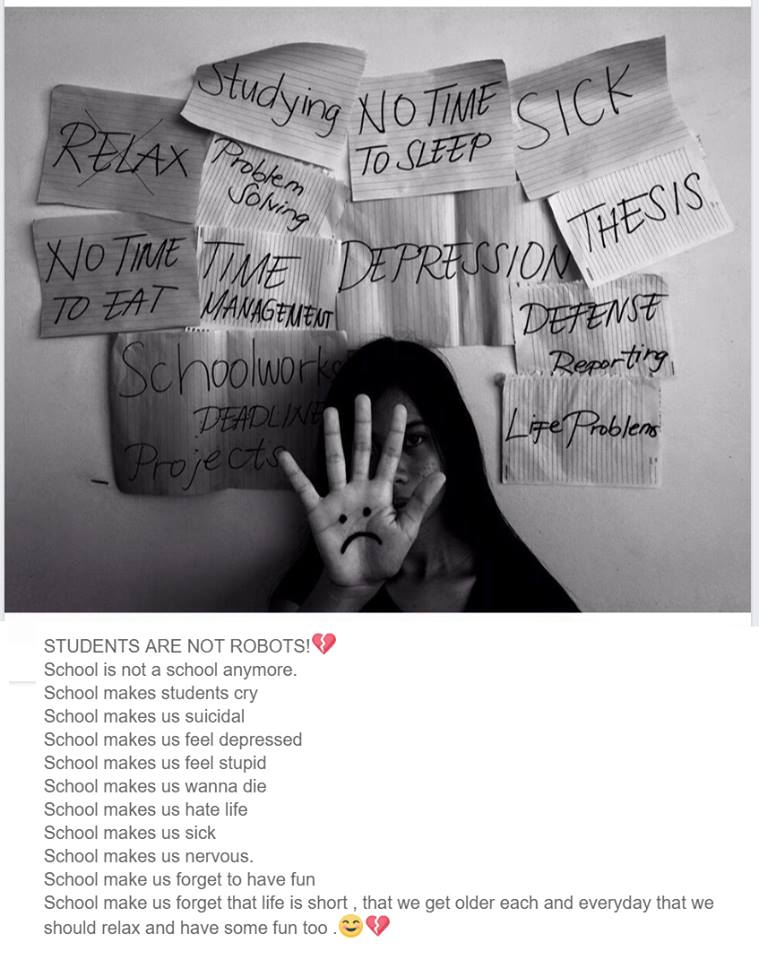 Not everyone agrees though. A netizen named Paul-Gino Buenaventura Guevarra has posted about how students these days actually have it easier than those back then.
He started off sarcastically encouraging students to quit school and do whatever they want as there are more things to be learned outside of school.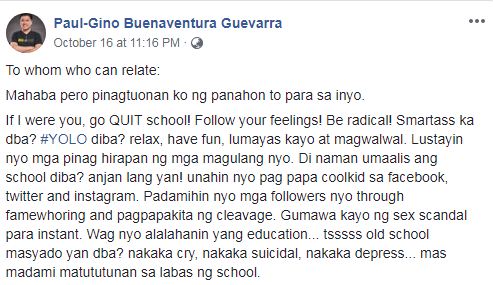 To whom who can relate:

Mahaba pero pinagtuonan ko ng panahon to para sa inyo.

If I were you, go QUIT school! Follow your feelings! Be radical! Smartass ka dba? #YOLO diba? relax, have fun, lumayas kayo at magwalwal. Lustayin nyo mga pinag hirapan ng mga magulang nyo. Di naman umaalis ang school diba? anjan lang yan! unahin nyo pag papa coolkid sa facebook, twitter and instagram. Padamihin nyo mga followers nyo through famewhoring and pagpapakita ng cleavage. Gumawa kayo ng sex scandal para instant. Wag nyo alalahanin yang education… tsssss old school masyado yan dba? nakaka cry, nakaka suicidal, nakaka depress… mas madami matututunan sa labas ng school.
He then added everyone faces hardships in school and how the lessons get harder because today's generation studies alongside their social media presence. He then said that if people are having a hard time researching on the internet, they should try the libraries and avoid the distractions.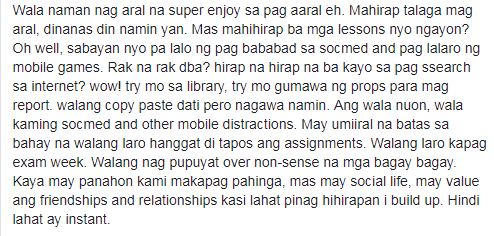 Wala naman nag aral na super enjoy sa pag aaral eh. Mahirap talaga mag aral, dinanas din namin yan. Mas mahihirap ba mga lessons nyo ngayon? Oh well, sabayan nyo pa lalo ng pag bababad sa socmed and pag lalaro ng mobile games. Rak na rak dba? hirap na hirap na ba kayo sa pag ssearch sa internet? wow! try mo sa library, try mo gumawa ng props para mag report. walang copy paste dati pero nagawa namin. Ang wala nuon, wala kaming socmed and other mobile distractions. May umiiral na batas sa bahay na walang laro hanggat di tapos ang assignments. Walang laro kapag exam week. Walang nag pupuyat over non-sense na mga bagay bagay. Kaya may panahon kami makapag pahinga, mas may social life, may value ang friendships and relationships kasi lahat pinag hihirapan i build up. Hindi lahat ay instant.
Guevarra said that he just hopes that a company would accept students with no diploma, no work experience, must be drunk for a week, and all the other qualities pertaining to the youth's preference.

Ganun pa man, pero, sana at harinawa, may company na yan ang requirements for hiring. Sana qualifications nila ay must be 30 years old, with no diploma and with no experience in work. Must be able to walwal one week straight. Must be able to work maximum 2 hours a week. Must have no time management. Must not be able to manage their time. Must crack into pressure. Unable to meet quotas is acceptable. Can not accept simple criticisms. Must be over entitled, always better than their boss and cannot follow simple instructions. Cleavage is an advantage but is not required.
And if no one accepts them, they will experience challenges that will make them think about the hardships they faced when they were still students and choose the road they want to take.
He then said that students should study hard because not everyone is rich and that's the only thing that the older generation can pass along to them that no one can ever take away.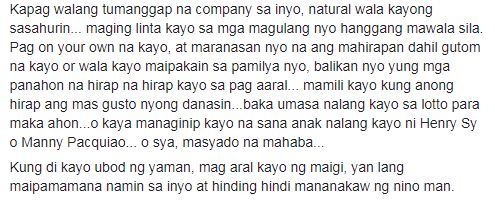 Kapag walang tumanggap na company sa inyo, natural wala kayong sasahurin… maging linta kayo sa mga magulang nyo hanggang mawala sila. Pag on your own na kayo, at maranasan nyo na ang mahirapan dahil gutom na kayo or wala kayo maipakain sa pamilya nyo, balikan nyo yung mga panahon na hirap na hirap kayo sa pag aaral… mamili kayo kung anong hirap ang mas gusto nyong danasin…baka umasa nalang kayo sa lotto para maka ahon…o kaya managinip kayo na sana anak nalang kayo ni Henry Sy o Manny Pacquiao… o sya, masyado na mahaba…

Kung di kayo ubod ng yaman, mag aral kayo ng maigi, yan lang maipamamana namin sa inyo at hinding hindi mananakaw ng nino man.