Woman sitting at the entrance of a jeepney went viral.
The post sparked arguments on Facebook whether the uploader did the right thing or not.
A photo of a woman sitting at the entrance of a jeepney went viral as it's actually an unusual sight for Filipinos.
But the one trending isn't actually the photo itself, but the story behind it. Apparently, she called out the men inside and told them "wala man lang sa inyong gentleman."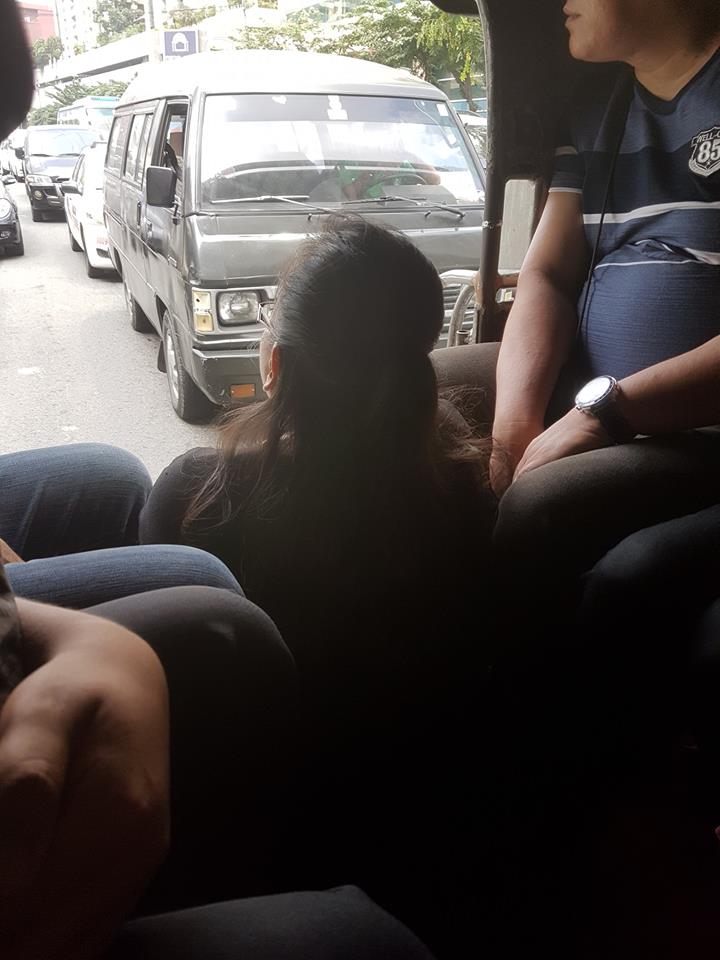 The uploader, Jonas Gan, asked the lady if she's a senior citizen, pregnant, or a person with disabilities and she answered no, "pero babae ako."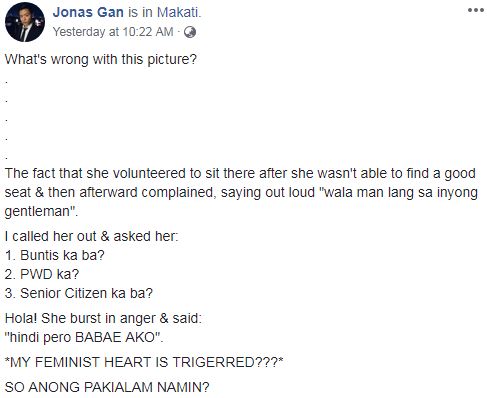 What's wrong with this picture?
.
.
.
.
.
The fact that she volunteered to sit there after she wasn't able to find a good seat & then afterward complained, saying out loud "wala man lang sa inyong gentleman".

I called her out & asked her:
1. Buntis ka ba?
2. PWD ka?
3. Senior Citizen ka ba?

Hola! She burst in anger & said:
"hindi pero BABAE AKO".

*MY FEMINIST HEART IS TRIGERRED???*

SO ANONG PAKIALAM NAMIN?
He added that the treatment in society should be equal but the woman just said "Equality my ass" as she went down the jeepney.

NO ONE should be given special rights & privileges based on gender as this follows the logic that no one should be discriminated based on gender.

She eventually stepped down the jeep (🤷‍♂️) as I ended our heated exchange with:
"Equality ang tawag jan, ate"
& she ended her's with:
"EQUALITY MY ASS 👊". 😂

I guess it was fate I rode the jeepney going to work today. 💁‍♂️💃
Netizens quickly commented that all the passengers just paid the same amount of money while others questioned why she rode the jeepney in the first place as she knew that it was full.

Miski ako sasabihin ko sakanya yan eh? Pareparehas tayo nag bayad ng 9php para makaupo ng maayos galing yun sa pinag paguran natin araw araw tapos sasabihin mo babae ka?. Juskooo. Hindi lahat ng oras. Eh sa asta ni Ate hindi mo marerespeto. Girl youre ass.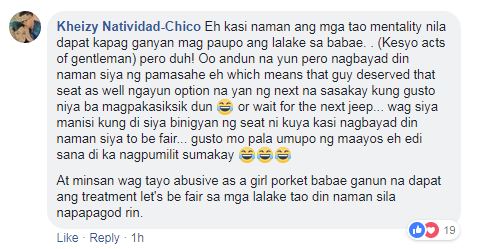 Eh kasi naman ang mga tao mentality nila dapat kapag ganyan mag paupo ang lalake sa babae. . (Kesyo acts of gentleman) pero duh! Oo andun na yun pero nagbayad din naman siya ng pamasahe eh which means that guy deserved that seat as well ngayun option na yan ng next na sasakay kung gusto niya ba magpakasiksik dun 😂 or wait for the next jeep… wag siya manisi kung di siya binigyan ng seat ni kuya kasi nagbayad din naman siya to be fair… gusto mo pala umupo ng maayos eh edi sana di ka nagpumilit sumakay 😂😂😂

At minsan wag tayo abusive as a girl porket babae ganun na dapat ang treatment let's be fair sa mga lalake tao din naman sila napapagod rin

Kitang puno na pala yung jeep sasakay ka padin tapos gusto mo pala magpabebe. Bwiset

Choice ni ateng pumuwesto jan kaya wla syang karapatang mag rant. May mga gentleman pa dn naman. Pero kadalasan PWDs, buntis, may baby at senior nlng naapply. In the first place pare parehas kayong nagbabayad, pagod from somewhere at ahead sa mga pwd at elderlies.
There were also netizens who criticized the guy, telling him to just give up his seat instead of arguing with the lady and that the chivalry of Filipinos is slowly dying.

Medyo nawala ata pagiging Maginoo ng Pinoy

Nakakalungkot isipin na very proud ung nagpost nito..
Chivalry is dead

The comments here..especially coming from men and nag post neto ay lalaki pa. I hope u reconsider this guys, call me old fashioned but this is the things we must do, especially men. If this will continue, 100 yrs from now, patay na ang word na CHIVALRY.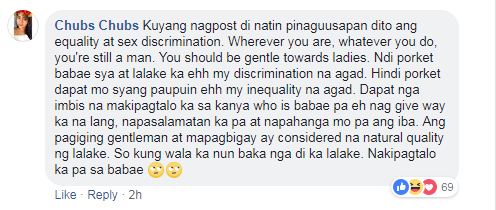 Kuyang nagpost di natin pinaguusapan dito ang equality at sex discrimination. Wherever you are, whatever you do, you're still a man. You should be gentle towards ladies. Ndi porket babae sya at lalake ka ehh my discrimination na agad. Hindi porket dapat mo syang paupuin ehh my inequality na agad. Dapat nga imbis na makipagtalo ka sa kanya who is babae pa eh nag give way ka na lang, napasalamatan ka pa at napahanga mo pa ang iba. Ang pagiging gentleman at mapagbigay ay considered na natural quality ng lalake. So kung wala ka nun baka nga di ka lalake. Nakipagtalo ka pa sa babae
The post now has more than 13,600 shares.