Mocha Uson announced her resignation from her position at the PCOO only to announce the possibility of her joining the 2019 midterm elections.
Netizens tweet about what seemed to be a plot twist.
Mocha Uson just shook the internet this morning when she announced her resignation from being the Assistant Secretary of Presidential Communications Operations Office.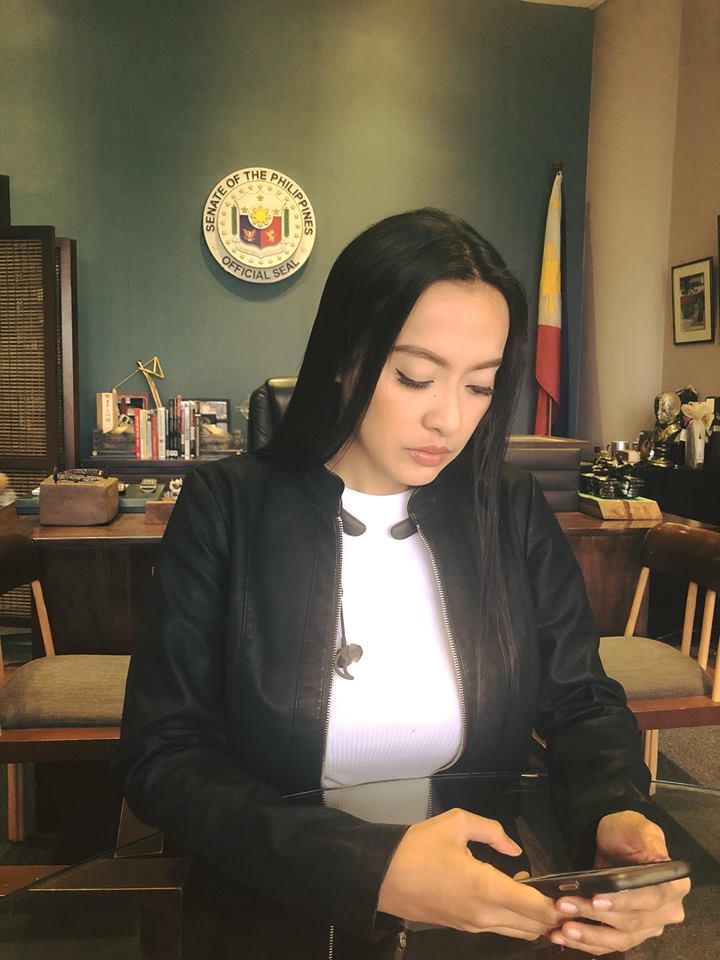 On October 3, she said that she has resigned but this doesn't mean that her critics had won. "Ako po ay nagdesisyon na magresign na po. Para po sa mga bumabatikos sa akin, 'wag po kayong magkakamaling isipin na nagtagumpay kayo." Following the resignation, she also stated the possibility of her running for the 2019 midterm elections.
This generated countless of memes from the online community, especially from Twitter users. Someone made a hilarious tutorial on how to "vote" Uson in case she proceeds on running for the elections.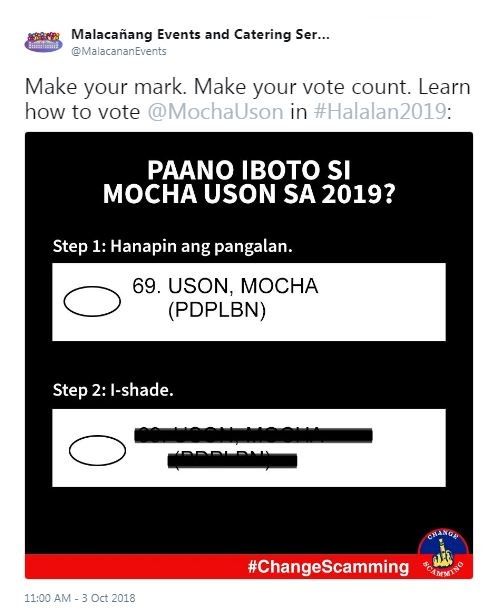 Make your mark. Make your vote count. Learn how to vote @MochaUson in #Halalan2019:
Another one shared his short-lived happiness.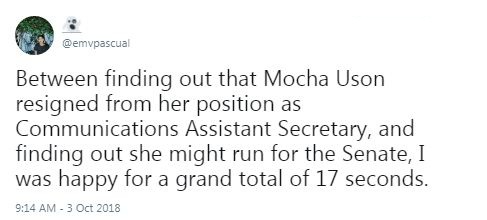 Between finding out that Mocha Uson resigned from her position as Communications Assistant Secretary, and finding out she might run for the Senate, I was happy for a grand total of 17 seconds.
This netizen said something so harsh and yet so amusing.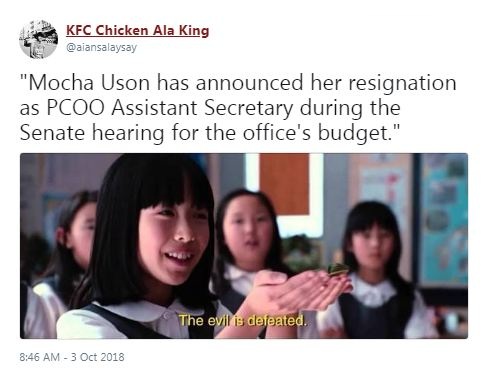 "Mocha Uson has announced her resignation as PCOO Assistant Secretary during the Senate hearing for the office's budget."
Rai Sulit's sarcasm can clearly be felt in his tweet.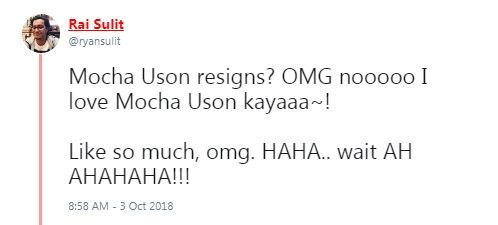 Mocha Uson resigns? OMG nooooo I love Mocha Uson kayaaa~!

Like so much, omg. HAHA.. wait AH AHAHAHA!!!
Mica expressed her reactions by using Spongebob memes. What a turn of events!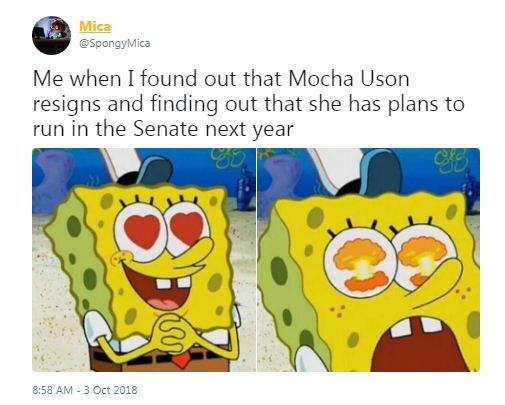 Me when I found out that Mocha Uson resigns and finding out that she has plans to run in the Senate next year
Zethy predicted that Uson will just surprise everyone when she files for her candidacy.
Mocha Uson on the last day of filing of candidacy.
Marben then suggested that Uson should be banned from literally all positions in the government.

Badette also petitioned something about Uson running.

petition for mocha uson to run

away from the senate

Petition to ban Moch Uson from running for ANY government position (ANY means ANY. Kahit BRGY TANOD PA YAN).
A Twitter user gave his own #ThreeWordHorrorStory.

BWAHAHAHAHAHAHAHA!
#ThreeWordHorrorStory:

SENATOR MOCHA USON
Lastly, this netizen boldly asked President Rodrigo Duterte about his resignation.

Retweeting this because Mocha Uson resigned. Ikaw Du30 kelan mo balak?