Former Duterte supporter admitted that she regrets voting and campaigning for the President before.
She then called him a "traitor" and a "click bait."
Amid the multitude of fearless supporters of President Rodrigo Duterte on Facebook, a netizen posted why she is withdrawing her support for him.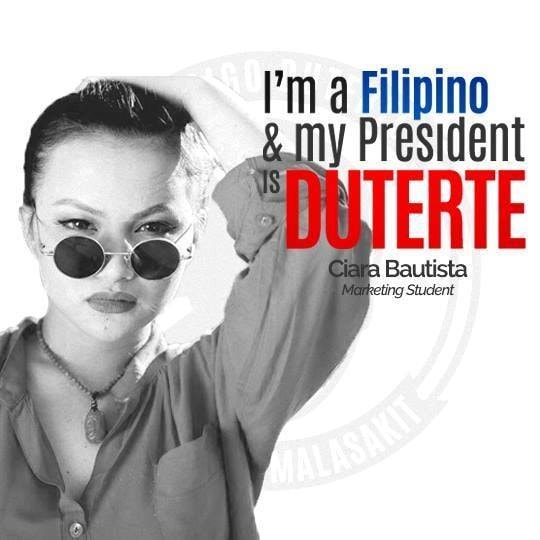 Ciara Bautista stated that she was devoted to the then Mayor when he was still running for the Presidency but now regrets doing so.

I'm a Filipino & my president was Duterte.

I was downright devoted to Duterte during his presidential campaign. But he let me (down) too many times, my (de)cision wasn't (right). I shouldn't have (voted) for him. See what I did there? It's funny that the least I can do now is break the words apart and use them differently this time to express my regrets.
She admitted that she used to share pro-Duterte posts and might've influenced some of her friends to vote for the "narcissistic" president as well. It just showed how powerful social media is as it made a "traitor" win.

I can't change my pro-Duterte posts when I was hell-bent on supporting him then. The painful thing about that is, even though my friend count on Facebook never reached a thousand and however unnoticed my "Vote for Duterte" posts were, still, they might have influenced a decision to vote for the narcissistic President, or made a die-hard Duterte fan die harder. Words are powerful and social media is very influential. Before you know it, one like or share already multiplied exponentially. Just look at how it helped a traitor win on May 9, 2016.
Ciara added that all the haters of Duterte may be laughing at all the former supporters now, however, she wishes that they mean well regardless of their political opinions.

So to all who hated Duterte since day one, you can now laugh at every former Duterte supporter. Knock yourselves out in pointing fingers to people who fell into his trap. But I hope you still wish everyone well, mapa-pula, mapa-dilaw, mapa-asul. We're still in this battle together and even the betrayed ones deserve the last laugh. Ang may kasalanan ay ang pinagkatiwalaan.
She wrote that all Filipinos are victims and the offenses committed have been too much as it made the nation more "unsalvageable" in the past two years of his leadership.

We've all been harassed by the maniac when he kissed that married woman. We've all been told "Putang Ina" everytime he swore relentlessly. Those I can let time heal but the cruelest thing of all is false hope. Pinatay nya yung kakaunting pag-asa na natitira ng maraming Pilipino. Now, one of my last hopes is that we can put an end to the blame game because we're all victims here. Yes, many times, we justified his actions but not anymore. Tama na. Sobra na. He undoubtedly made our country even more unsalvageable in just a span of two years. How much more damage in the next four years?
The netizen ended her post by cursing the President back and putting the hashtag #ProudOfMyCountryAshamedOfMyPresident.

So f*ck you right back Duterte from the bottom of our betrayed hearts. You're the worst clickbait ever.

If only the word "devoted" meant the opposite of "voted", then I could say proudly that I was indeed a Duterte Devotee.

"Ang mamatay ng dahil sa'yo" – para iyan sa Pilipinas naming mahal. Hindi dahil sa kamay na bakal at extra judicial killings mo.

#NotAnymore #ProudOfMyCountryAshamedOfMyPresident
The post now has more than 8,000 shares on Facebook.