Fisherman discovered a huge pearl that is worth millions of pesos.
He pawned it to his current boss but is encountering some problems getting it back.
One fisherman in Samar got major luck as he found a giant pearl worth millions of pesos, however, he lost possession of the rare discovery, and he wants it back.
In an episode of GMA Network's Kapuso Mo Jessica Soho, the fisherman called Andoy shared how he found the pearl while trying to fish after Typhoon Yolanda.
But instead of finding fish, he found the eight-kilogram treasure that measured 38 centimeters long and 17 centimeters wide.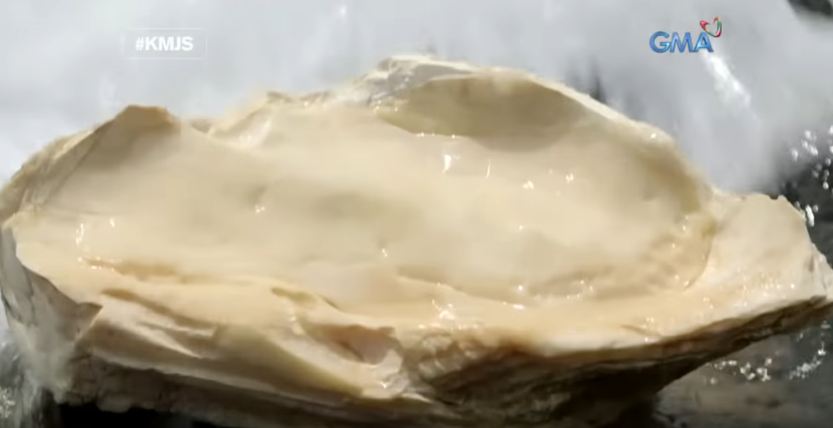 He admitted that when he jumped into the water, he didn't expect to find the pearl.
"Kasi 'yung perlas na 'yun, nagkataon lang. Wala kasi kaming ulam kaya pumunta ako ng dagat, kasi siyempre sa buhay nga ng probinsiya, 'yung bagyong Yolanda pa 'yun," he said. "Naninisid kasi ako. Hindi ko akalain na makita ko 'yung pearl na 'yun."
When he saw one episode of the show that featured another man that found a giant pearl, that's when he realized what he found. He immediately buried it to the ground after showing it to his father.
"Tapos noong pagkakuha ko noon, eh di ipinakita ko kay Tatay tapos tinago ko, inilibing ko doon sa lupa. Tapos pagkagabi, napanood ko 'yung galing Palawan. Parang ito na yata 'yung nakita ko kahapon."
As he was lucky to have found such pearl, it also served as an omen of misfortune as he injured his foot and ended his relationship with his wife. He also found it difficult to find basic necessities.
"Naghiwalay kami ng misis ko dahil nga sa hirap ng buhay. Wala na akong makain, wala na akong mapuntahan."
He decided to work for a church mission in Tacloban for three months. The said church lent him ₱8,500 which he used to go to Manila and find people who could help him find out if his pearl was real.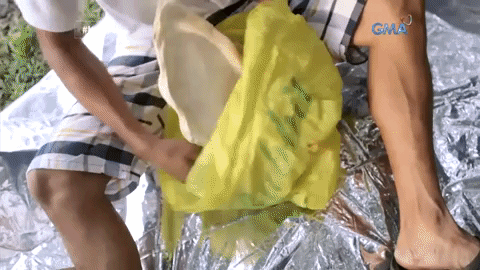 As Andoy and his children had nowhere to sleep in Manila, they stayed in Luneta for three days before heading to GMA to ask help from the show.
'KMJS' helped them consult the Bureau of Fisheries and Aquatic Resources (BFAR), and it was confirmed that the pearl was real and could be worth millions of pesos.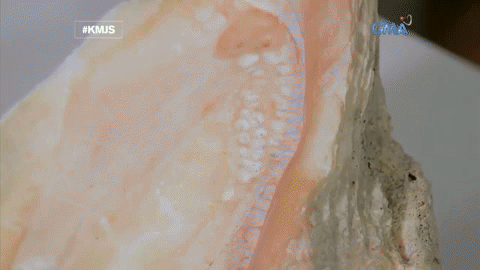 After five months, the show reached out to Andoy once again and found out that he has pawned his pearl to his boss at a construction site in exchange for a total of ₱76,000.
He said that as his boss agreed to return the pearl to him as soon as he paid her which made 'KMJS 'lend him the said amount.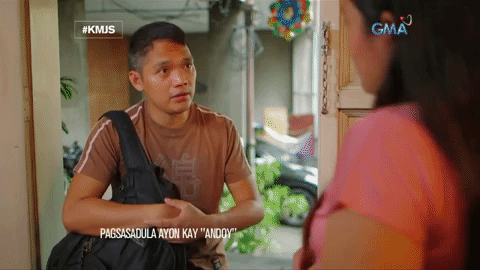 But Andoy ran into problems upon trying to get the treasure back. He shared that his boss had informed him that she would give it to him the following Monday. After she did not make good on her word, he tried visiting her personally.
However he claimed that his boss' mother threatened him which led to him asking for help from the barangay officials, but the family refused to give the pearl back to him.
It is said that Andoy and his boss have scheduled a meet-up to settle the matter once and for all.