Twitter user found a heartwarming letter in Starbucks-Araneta branch.
The letter contained the thoughts of a person that went through a break-up and how he's coping with the pain.
It also had words of wisdom and pieces of advice on relationships.
A Netizen has found a touching note in a Starbucks branch in Araneta Center, Cubao.
Twitter user @beny000_ shared the message he stumbled on–a written piece on a piece of tissue when took a seat in the said coffee shop. The note gave the Netizen a glimpse of a story on a lost love .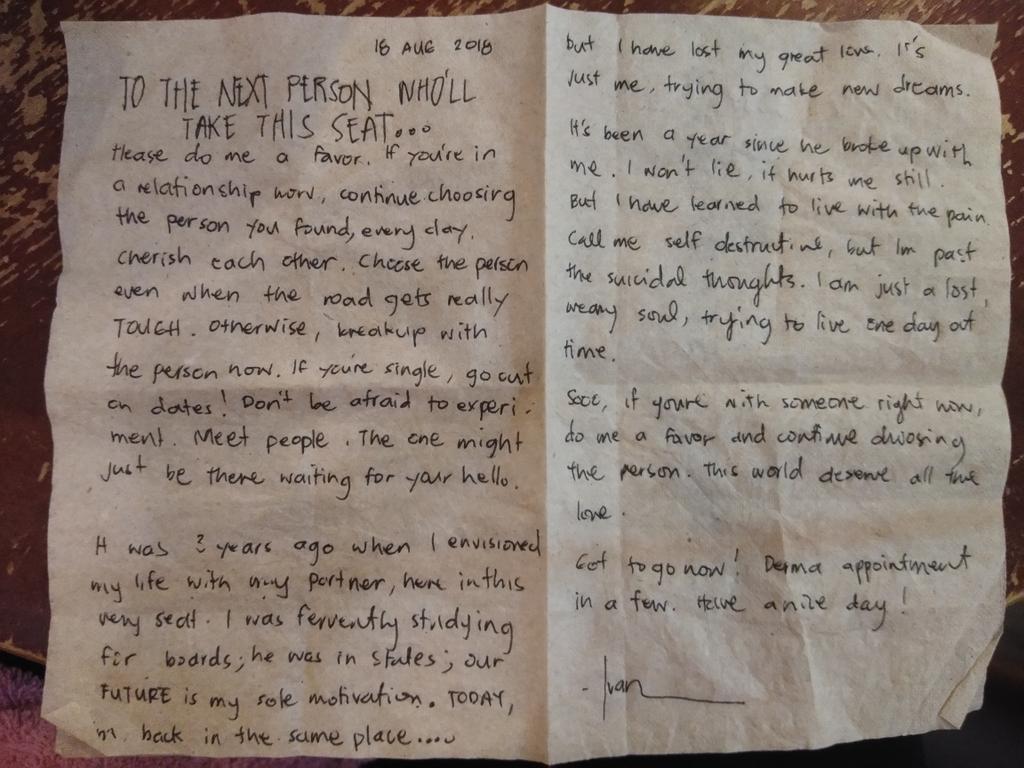 TO THE NEXT PERSON WHO'LL TAKE THIS SEAT…

Please do me a favor. If you're in a relationship now, continue choosing the person you found, everyday. Cherish each other. Choose the person even when the road gets really TOUCH. Otherwise, break up with the person now. If you're single, go out on dates. Don't be afraid to experiment Meet people. The one might just be there waiting for your hello.

It was 3 years ago when I envisioned my life with my partner, here in this very seat. I was fervently studying for boards; he was in states; our FUTURE is my sole motivation. TODAY, I'm back in the same place… but I have lost my great love. It's just m, trying to make new dreams.

It's been a year since he broke up with me. I won't lie, it hurts me still. But I have learned to live with the pain. Call me self destructive, but I'm past the suicidal thoughts. I'm just a lost weary soul, trying to live one day out tme.

Sooo, it you're with someone right now and continue drvosing (?) the person. This world deserve all the love.

Got to go now! Derma appointment in a few. Have a nice day!
The Netizen shared the photo on August 18 and now has almost 14,000 retweets as of this writing.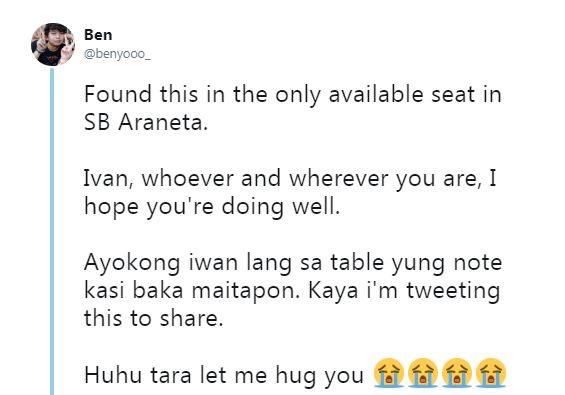 Found this in the only available seat in SB Araneta.

Ivan, whoever and wherever you are, I hope you're doing well.

Ayokong iwan lang sa table yung note kasi baka maitapon. Kaya i'm tweeting this to share.

Huhu tara let me hug you
With the help of a certain Maverick, the viral tweet has managed to reach the writer of the note and has relayed a message to Ben. He said that he wasn't really expecting all the attention that his note got and was hoping that it would somewhat inspire everyone, regardless of relationship status.
The writer, however, requested for his identity to remain private.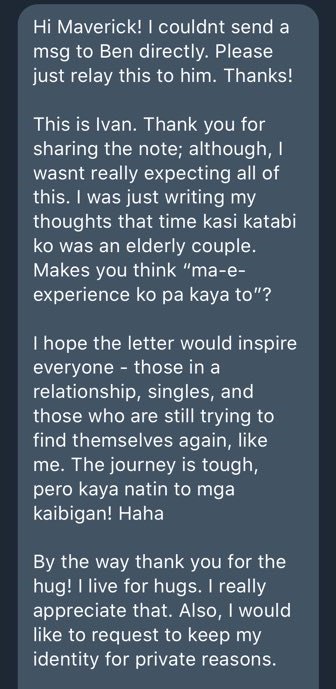 Hi Maverick! I couldn't send a msg to Ben directly. Please just relay this to him. Thanks!

This is Ivan.Thank you for sharing the note; although I wasnt really expecting all of this. I was just writing my thoughts that time kasi katabi ko was an elderly couple. Makes you think "ma-e-experience ko pa kaya to"?

I hope the letter would inspire everyone – those in a relationship, singles, and those who are still trying to find themselves again, like me. The journey is touch, pero kaya natin to mga kaibigan! Haha

By the way, thank you for the hug! I live for hugs. I really appreciate that. Also, I would like to request to keep my identity for private reasons.
Netizens reacted to the hearwarming letter, expressed how it affected them.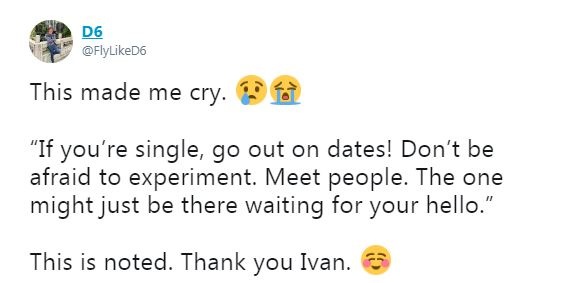 This made me cry. 😢😭

"If you're single, go out on dates! Don't be afraid to experiment. Meet people. The one might just be there waiting for your hello."

This is noted. Thank you Ivan. ☺️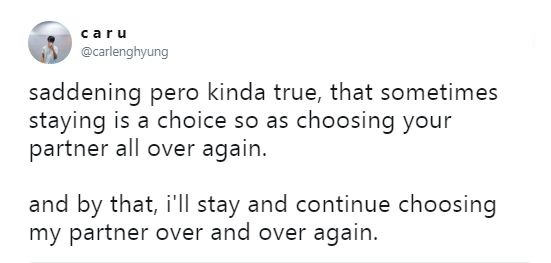 saddening pero kinda true, that sometimes staying is a choice so as choosing your partner all over again.

and by that, i'll stay and continue choosing my partner over and over again.
The tweet has also reached the official social media account of Araneta Center.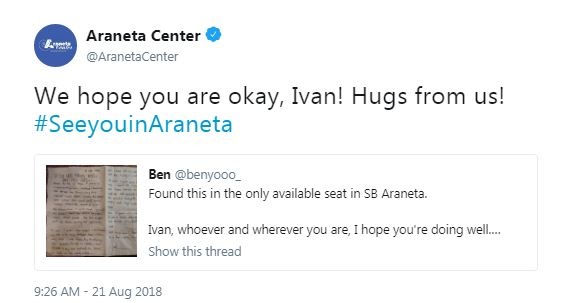 We hope you are okay, Ivan! Hugs from us! #SeeyouinAraneta
On the other hand, this Netizen noticed the last line of the letter, which read "Got to go now! Derma appointment in a few. Have a nice day!"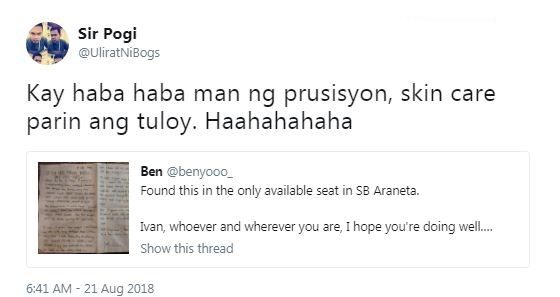 Kay haba haba man ng prusisyon, skin care parin ang tuloy. Haahahahaha