TV personality Luis Manzano took to Instagram to post about the trash he encountered while scuba diving.
He encouraged everyone to practice proper waste management and be responsible with their garbage.
Luis Manzano recently shared his diving experience via his Instagram account, but instead of praising the beauty of the moment, he raised awareness about the alarming condition of our ocean due to improper waste disposal.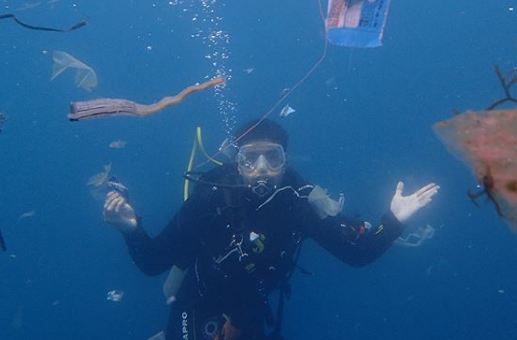 The 27-year-old television personality showed a video and photos of him scuba diving in an undisclosed location. He can be seen underwater, surrounded by different types of trash.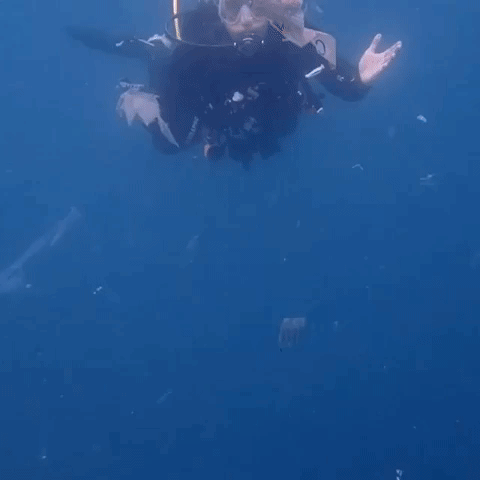 "AFTER ONE DIVE, see the amount of plastic and trash we have in our waters, we are better than this everyone!!!!" he wrote on his post. "What is happening to our oceans, see the amount we picked up after just ONE DIVE ."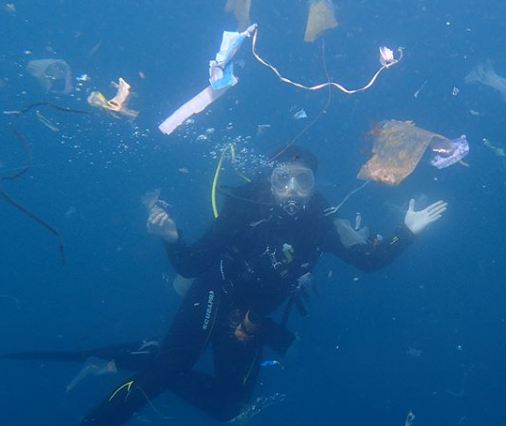 More trash can be seen as the camera panned around. Although distressed over the scenario, Manzano did not point fingers and blame anyone.
He urged everyone to dispose their garbage properly, responsibly and contribute to the plan of making everyone learn about proper waste disposal.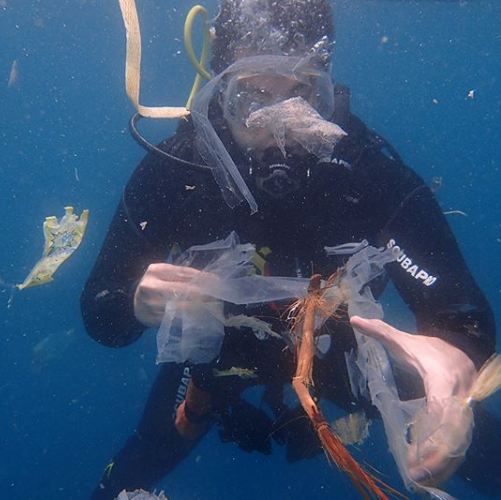 "Please be more responsible with your trash, please naman 🙁 all the clean up dives in the world won't do anything unless we dispose of garbage the right way! WE HAVE A PROBLEM PEOPLE."
Netizens react.
Netizens expressed their disappointment in the comments section of the actor's post. A certain Dustin Marasigan asked Manzano about the location of the place, and he replied that it was in Anilao, Batangas.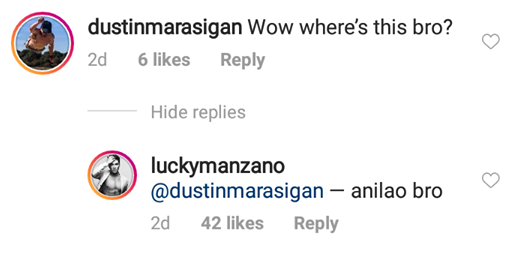 Instagram user ellehcimilegna pointed out how others don't realize the importance of taking care of the environment.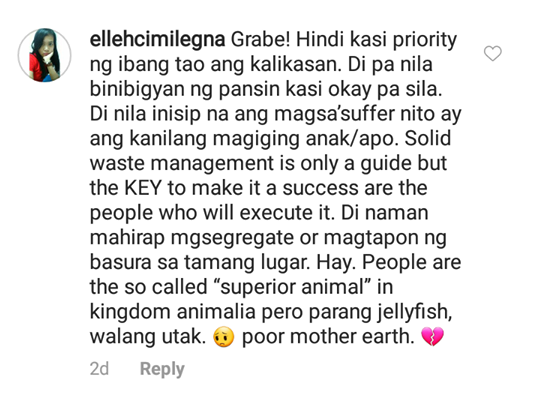 Grabe! Hindi kasi priority ng ibang tao ang lakilasan. Di pa nila binibigyan ng pansin kasi okay pa sila. Di nila inisip na ang magsa'suffer nito ay ang kanilang magiging anak/apo. Solid waste management is only a gruide but the KEY to make it a success are the people who will execute it. Di naman mahirap mgsegregate or magtapon ng basura sa tamang lugar. Hay. People are the so called "superior animal" in kingdom animalia pero parang jellyfish, walang utak. poor mother earth.
ictbrookelyn said that if people used no plastic then it would have a positive effect in the environment.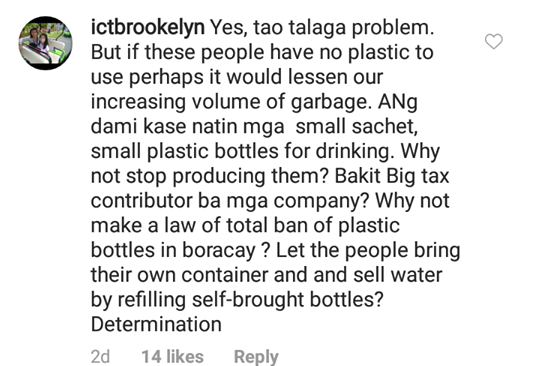 Yes, tao talaga problem. But if these people have no plastic to use perhaps it would lessen our increasing volume of garbage. ANg dami kasi natin mga small sachet, small plastic bottles for drinking. Why not stop producing them? Bakit Big tax contributor mga company? Why not make a law of total ban of plastic bottles in boracay ? Let the people bring their own container and sell water by refilling self-brought bottles? Determination.
Similarly, another comment suggested to lessen the use of plastic.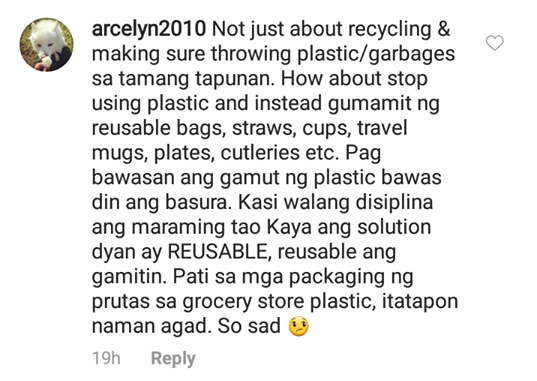 Not just about recycling & making sure throwing plastic/garbages sa tamang tapunan. How about stop using plasting and instead gumamit ng reusable bags, straws, cups, travel mugs, plates, cutleries etc. Pag bawasang ang gamit ng plastic bawas din ang basura. Kasi walang disiplina ang maraming tao Kaya ang solution dyan ay REUSABLE, reusable ang gamitin. Pati sa mga packaging ng prutas sa grocery store plastic, itatapon naman agad. So sad
On the other hand, this netizen called out the government for not doing something to discipline the people.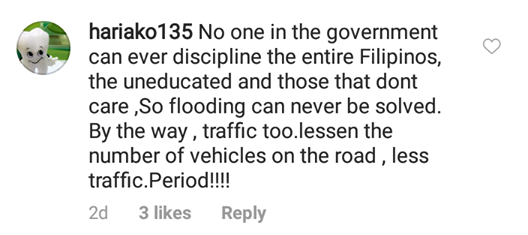 No one in the government can ever discipline the entire Filipinos, the uneducated and those that don't care ,So flooding can never be solved. By the way, traffic too.lessen the number of vehicles on the road, less traffic. Period!!!!
User meviapauline remembered her time in Siargao wherein she claimed to have witnessed the locals dumping their trash to the ocean.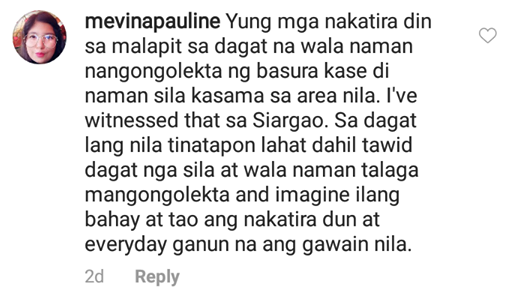 Yung mga nakatira din sa malapit sa dagat na wala naman nangongolekta ng basura kasi di naman sila kasama sa area nila. I've witnessed that sa Siargao. Sa dagat lang nila tinatapon lahat dahil tawid dagat nga sila at wala naman talaga mangongolekta ang imagine ilang bahay at tao ang nakatira dun at everyday ganun na ang gawain nila.
clarabelle_mn encouraged Manzano to keep posting things that will spread public awareness regarding the state of the environment.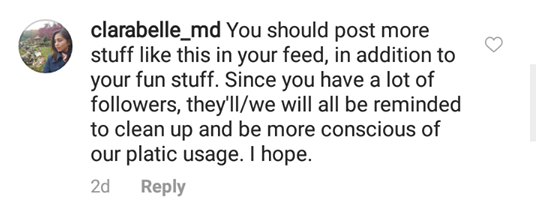 You should post more stuff like this in your feed, in addition to your fun stuff. Since you have a lot of followers, they'll/we will all be reminded to clean up and be more conscious of our plastic usage. I hope.