Karen Davila tweeted regarding Supreme Court's decision to uphold Carlos Celdran's sentence.
Celdran has violated the Article 133 of the Revised Penal Code after he held a "Damaso" signed in the midst of a service at the Manila Cathedral.
Veteran journalist Karen Davila reacted to Supreme Court's decision to deny renowned tour guide and activist Carlos Celdran's appeal and uphold his sentence.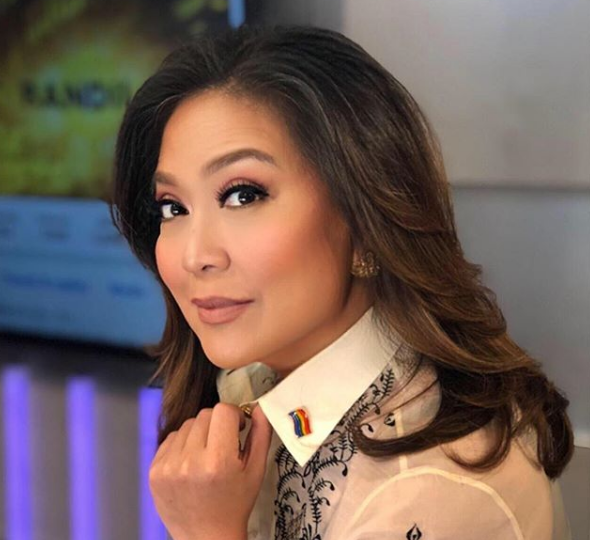 In a tweet, Davila quoted Celdran's photo and questioned why he was penalized for "Offending Religious Feelings" when President Rodrigo Duterte has openly cursed the Church.
To the Supreme Court: How can @carlosceldran be penalized for Offending Religious Feelings when no less than the President has cursed the church?
On August 6, it was announced that Celdran is to face imprisonment after the SC upheld the decision of the Court of Appeals (COA) that found him guilty of 'offending religious feelings' and agreed to the decision that the activist "meant to mock, insult, and ridicule those clergy whose beliefs and principles were diametrically opposed to his own."
Celdran confirmed it on his personal Twitter account.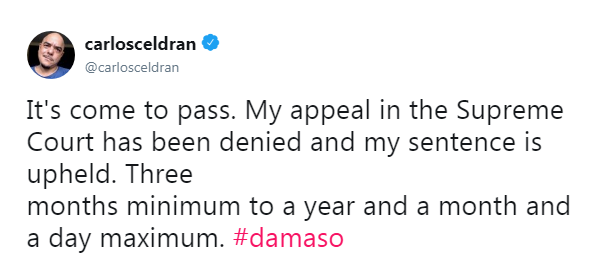 It's come to pass. My appeal in the Supreme Court has been denied and my sentence is upheld. Three
months minimum to a year and a month and a day maximum. #damaso