Willie Revillame visits Kris and Josh Aquino.
It was revealed that Willie and Kris are currently planning a project together, but details remained withheld.
Willie Revillame had two reasons when he paid a visit to Kris Aquino in her residence in Quezon City.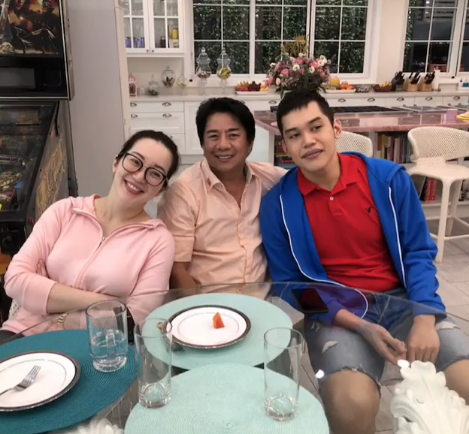 The first one is to visit Aquino's oldest son, Joshua, who was recently discharged from the hospital on Thursday, July 26.
Josh underwent an executive check up and other tests to figure out the problem with his stomach.
Josh was excited to see the male TV host as they immediately hugged upon seeing each other. He even sang some of Willie's hit songs after.
Video courtesy of Kris Aquino| Instagram
@krisaquino: Sa gitna ng gulo po sa ating bansa- this is REAL. This is LOVE… Thank you to Willie Revillame for the effort to make our kuya josh feel genuine HAPPINESS. #ichooselove
Willie gave Josh his own CD and jacket before taking him to his Ferrari to drive around the area of Greenmeadows subdivision.
Video courtesy of Kris Aquino| Instagram
@krisaquino: My life may seem complicated- but i'm not… mahalin ang mga anak ko, paligayahin sila- super HAPPY na ko… 'pag may kabutihang pinakita sa mga pinakamamahal ko- i'm yours… Binigyan ni tito willie si kuya josh ng oras at importansya. In my book- willie revillame is a man worthy of my true gratitude & respect. (song credit: You Are Not Alone by Nina from my Universal Records album Blessings of Love.) P.S. Malapit na po sa airport, flying to an endorsement shoot in Indonesia. Ako po nag edit nito- para masaya ang Tuesday. 😇 5 hours po si willie sa bahay namin kahapon, 2:15 to 7:15 PM. Believe me, we're just like you (except ako ang Ferrari sa commercial lang ng San Miguel 13 years ago natikman ma "drive", si willie kanya talaga- winner, kaya swerte ni kuya josh- inikot sya ni tito willie sa isa sa dream cars nya)- nanuod po kami ng SONA, kumain, nag kwentuhan. #ichooselove
The second reason for his visit was his scheduled meeting with the Kris. According to Push, the two have been planning a project together. The details remained withheld as of the moment.
Kris was scheduled to leave the country for an endorsement shoot in Indonesia.