Anne Curtis made rounds at a Cebu Pacific flight to collect donations for UNICEF Philippines
Netizen questions the actress' generosity on Instagram which Anne immediately explained her side
It's Showtime host and actress Anne Curtis has been a supporter of UNICEF Philippines since 2009, and a celebrity advocate since 2015. Last April 2018, she joined the London Marathon and ran 42 kilometers in behalf of the organization.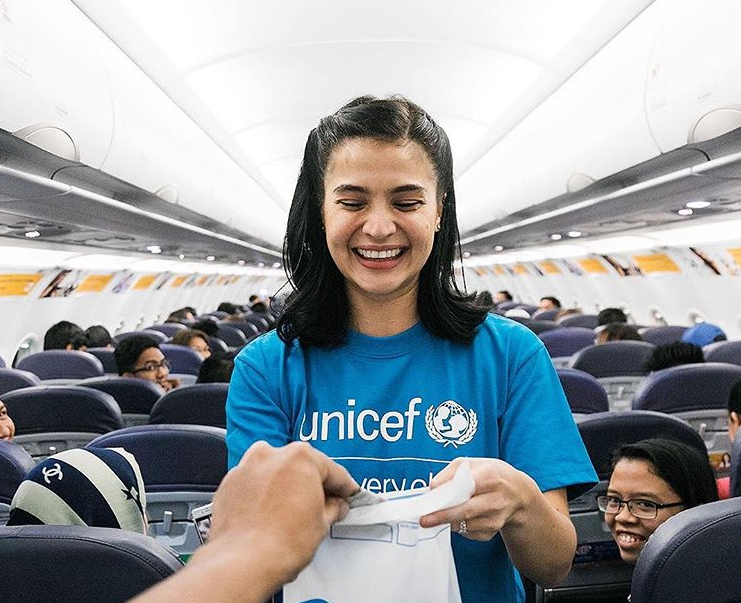 Recently the actress personally made rounds at one flight of Cebu Pacific to collect change for the organization's Change for Good program. She was able to collect three full bags of donations and encouraged everyone to help as well.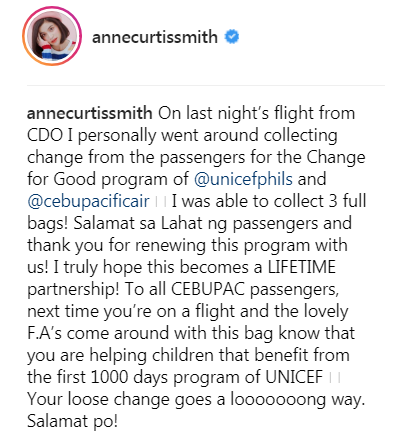 On last night's flight from CDO I personally went around collecting change from the passengers for the Change for Good program of @unicefphils and @cebupacificair 💙 I was able to collect 3 full bags! Salamat sa Lahat ng passengers and thank you for renewing this program with us! I truly hope this becomes a LIFETIME partnership! To all CEBUPAC passengers, next time you're on a flight and the lovely F.A's come around with this bag know that you are helping children that benefit from the first 1000 days program of UNICEF 💙 Your loose change goes a looooooong way. Salamat po!
Many people commended Anne for her action but a netizen began questioning the actress' generosity.

I was going to comment on here that how about Anne just give her own money to help UNICEF? Instead of going around collecting money from low income citizens? Tsk tsk.. Can't help but think that these act of "kindness" that celebrities do is all for Publicity…. SMH
Anne immediately defended herself from the allegation and said that she does her own part and donates her own money. She also explained that for the Change for Good project, the main goal is to inspire others and donate as well, but only if the can.

With all due respect madam, trust me, I do my own part and donate from my own pocket on many different occasions to UNICEF and my own foundation Dream Machine BUT for this specific project, the main goal is using where I am to INSPIRE others to do good and donate loose change – ONLY IF THEY CAN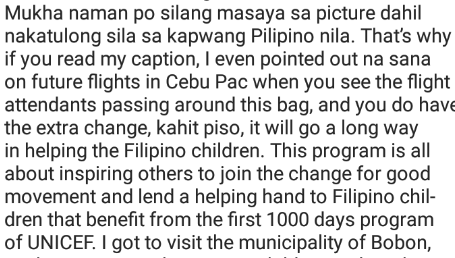 Mukha naman po silang masaya sa picture dahil nakatulong sila sa kapwang Pilipino nila. That's why if you read my caption, I even pointed out na sana on future flights in Cebu Pac when you see the flight attendants passing around this bag, and you do have the extra change, kahit piso, it will go a long way in helping the Filipino children. This program is all about inspiring other to join the change for good movement and lend a helping hand to Filipino children that benefit from the first 1000 days program of UNICEF.
Anne also narrated how she visited the province of Bonbon, Northern Samar where a lot of children and their mothers benefited from their program. The program was said to have raised around 40 million pesos and she is proud to be a part of that.
She then slammed the netizen saying that at least they have done something good, unlike others who just complain over social media. Anne also encouraged the netizen to donate as well.

At least may ginagawa kami. Hindi nganga and puro complaining on social media instead of actually doing something. Sana po if you get the chance to fly Cebu Pacific pag asa pinas po kayo, mag donate din po kayo. Kung hindi nakakahiya sa inyo. And I, thank you. Sending love & light to you madam!