Imus Police apprehends bystanders on the streets
President Rodrigo Duterte warns nighttime idlers to go home before 12 midnight to avoid potential trouble
A group of police in Imus, Cavite roams around streets to remind everyone to go home before 12 midnight.
With President Rodrigo Duterte's orders that "tambays" will not be allowed in the streets, the police have started warning people about his orders.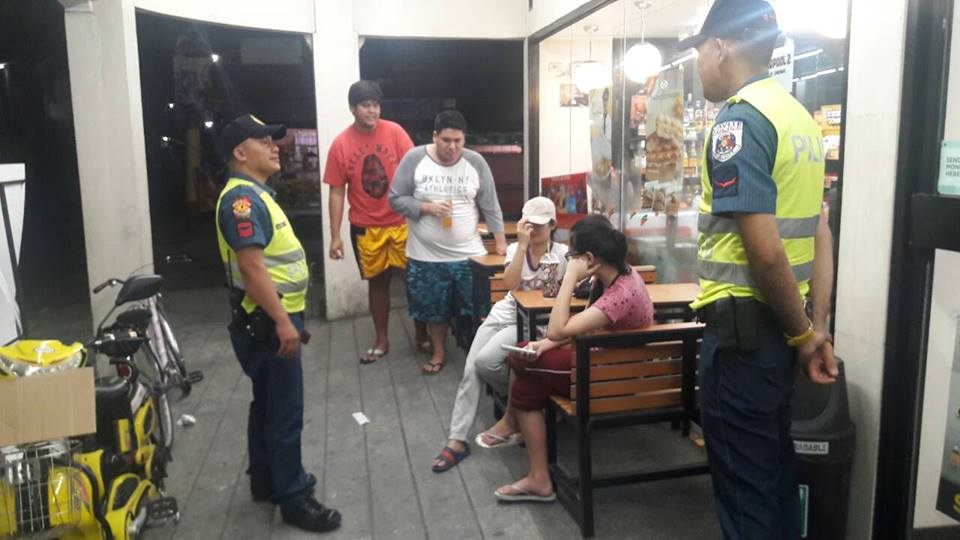 The Facebook account of Imus Police has posted photos of them reminding people of the newly formed ordinances as well as drinking and wandering shirtless are not allowed on the streets after midnight.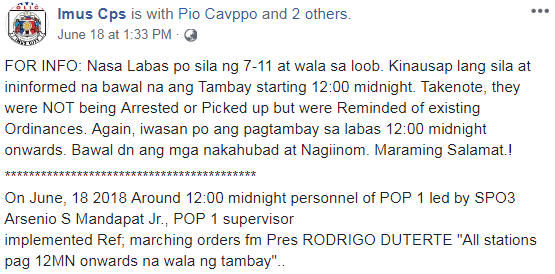 "FOR INFO: Nasa Labas po sila ng 7-11 at wala sa loob. Kinausap lang sila at ininformed na bawal na ang Tambay starting 12:00 midnight. Takenote, they were NOT being Arrested or Picked up but were Reminded of existing Ordinances. Again, iwasan po ang pagtambay sa labas 12:00 midnight onwards. Bawal dn ang mga nakahubad at Nagiinom. Maraming Salamat.!

******************************************
On June, 18 2018 Around 12:00 midnight personnel of POP 1 led by SPO3 Arsenio S Mandapat Jr., POP 1 supervisor 
implemented Ref; marching orders fm Pres RODRIGO DUTERTE "All stations pag 12MN onwards na wala ng tambay".."
A few days ago, a number senators and the Commission on Human Rights said the President's order had no legal basis because the law against vagrancy had been repealed.
The President has then slammed back telling them not to interfere with his policy.
The police have apprehended more than 7,000 so far in Metro Manila for violating the curfew ordinances.