Film Review: 'Maestra'
Maestra tells a story of three different teachers from three different generations
We were always proud of that scientist who invented a new something, or the engineer who constructed the most celebrated building, or the fashion designer who did this celebrity's ballroom gown. We are obsessed with their stories, but we always overlook at those people who are behind those successes–the ones who honed and inspired them, mentors, or simply teachers.
Teachers are the real heroes without capes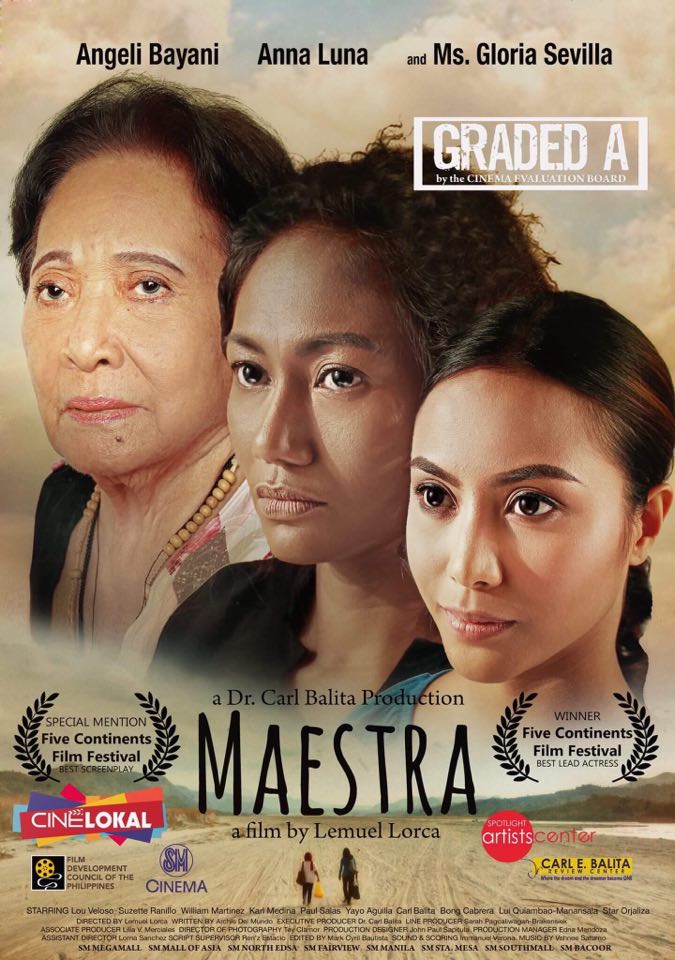 They may not have a superpower like your favorite caped hero, but they definitely share the same goal–to help and serve. Besides our family, they set as our first learning mentors. They have faced double our struggles.
This is exactly what the story Maestra wants to tell us; a new offering of CineLokal and Dr. Carl Balita Production that depicts the story of three different teachers from three different generations. One who is already established, one who struggles with establishing herself, and the one who strives to help her family out of poverty. Three teachers who are never related, but through fate, their paths intercrossed to be the biggest inspiration of each other.
Iah, the youngest one, is played by Anna Luna. Iah is a graduating achiever in Romblon. She's living through scholarships and fish crackers for lunch. But she did not let that affect her success. Despite losing the Magna Cum Laude status, she continued the fight and ended up Top 2 in the national board exams. Genie, played Angeli Bayani, has unconsciously suffered from a mid-life crisis. At 50, she never passed the boards and still did everything to help an in-need community in their province. She met Iah in the review center and they got along really well. Espie (Gloria Sevilla) served as the role model of both Iah and Genie. She also bridged the way of Iah helping out Genie to study for the board exams. I won't spill anything here, but these three empowered women proved that you can really make it out alive no matter what hell life gave you.
Life as we see it
The true hardships of life were really evident in the film. No over sensationalizing of scenes. The cinematography is commendable, the locations and setting really worked for the message the film is trying to convey. Actors really gave it all, met all the requirements their characters need.
It showed us that the life of a teacher may seem simple, but it doesn't mean that they faced fewer problems, drama, or even lemons. In fact, they fought twice as ours. Imagine the sacrifices they are making just to make their students on top of their game every day. They leave their own children just to teach others who are not even related to them. How about their dedicated preparations before they stand in front of us and present their lecture?
These are the things often overlooked by students–all of us. It is really good to have a film focused on teachers' lives. We always see the story of the student, never of our second parents.
With a star-studded cast, you will surely enjoy this film. This is not in the feel-good category, but lessons will be taught, and lives will be touched by this masterpiece. My rating? 8.5/10

Watch the trailer here.
Don't miss this gem and go to the cinemas on December 8 and 9, 2017. Film Development Council of the Philippines' CineLokal will have Maestra's screenings on SM Megamall, SM Manila, SM Sta. Mesa, SM Mall of Asia, SM North EDSA, SM Fairview, SM Southmall, and SM Bacoor.