Yellow Cab launches No Stopping The Hungry advocacy campaign
Yellow Cab introduces their 'Hungriest'
What makes you hungry? A question that most of us would answer spaghetti, pizza, or what have you. But if you think a little deeper, hunger fuels your well being.
#NoStoppingTheHungry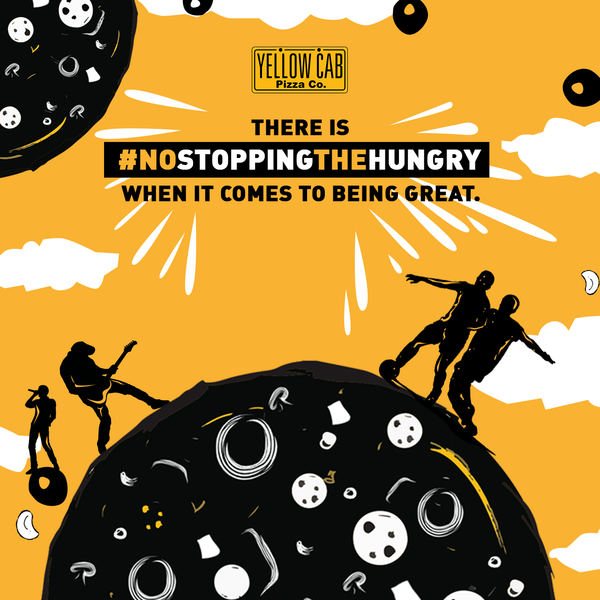 It can be confusing, but this new campaign of Yellow Cab is as striking! As millennials, negative connotations are being thrown to us, but that should never be a problem. Entitled, proud, ungrateful, etc. Things that are pretty tough to digest. That is why Yellow Cab is here for us to let us know that what you do is just a part of your hunger. The hunger to strive for more, the hunger that keeps you going.
Yellow Cab's Hungriest
No Stopping The Hungry with Yellow Cab

Different paths to greatness, but all fueled by one thing: Hunger. Today, UDD, Anygma, Pepe Diokno, P&P tattoo, KAYA Futbol Club, skymarines, Philippine Wrestling Revolution – PWR and Don't Blame the Kids Apparel Co. are unstoppable. Why? Because like anyone who wants to change the world, they're hungry.#NoStoppingTheHungry#FuelTheHungryASC Ref Code Y130P101317Y

Posted by Yellow Cab Pizza Co. on Tuesday, October 17, 2017
This month, Yellow Cab Pizza Company fuels the hunger of this generation's great eight, proving that hungry people are unstoppable; they are invincible. These individuals best represent Yellow Cab's big campaign, No Stopping The Hungry.
Up Dharma Down: The Hungry Musicians
They call themselves "four introverts" who were so hungry with communicating their emotions through music that they decided to form a band. Up Dharma Down was going against the odds with their hunger to convey pent-up emotions at a time when this kind of music wasn't so popular among Filipinos.
For years, Up Dharma Down went against all odds and paid their dues. Now, we know where their hunger took them – to the top.
Anygma: The Hungry Hiphop Head
At the young age of 21, Anygma founded and established the FlipTop Movement because he was hungry for the local scene to be appreciated. He wanted to correct the misconception that battle rap is just all about vulgarity and cursing.
With over 980 million views and more than 2 million subscribers on YouTube, it is the most viewed battle league in the world. FlipTop is a growing culture, and Anygma is here to make sure that it reaches greater heights in his lifetime.
Pepe Diokno: The Hungry Filmmaker
In college, Pepe had to make a thesis film but he pushed the boundary and went on to make his very first feature film, which became "Engkwentro."
Non-conformist Pepe knows that his works challenge society even when the reality of it hurts. "Some people obviously don't like it – I get raised eyebrows – and that's okay. That's what makes me hungrier to keep on making films that people will talk and debate about." To this day, Pepe is an internationally-awarded filmmaker which makes him a well-respected young director in the industry.
Ron Poe: The Hungry Poet
Being the son of the late actor Ferdinand Poe, Jr. has its ups and downs and for tattoo artist and DJ, Ron Poe, it's finding the balance between the two. Ron admits that he's always being compared to his late father, so his hunger to make him proud and make a name for himself has led Ron to co-establish P&P Tattoo, which manifests his passion for body art.
Now, P&P Tattoo is a thriving business and what was once Ron Poe's passion has turned into a hunger that just can't be satisfied.
Don't Blame The Kids: The Hungry Designers
Brothers Vince and Emil have always been fans of streetwear but found it very hard to find local brands that serve up this style. Fresh out of college and looking to dabble into business, they founded DBTK. Without any background or knowledge in the business of fashion, Vince and Emil took the plunge and banked on their passion for streetwear for DBTK to become a success.
This year, DBTK has consigned with many streetwear stores in malls and more importantly, they are expanding internationally.
Skymarines: The Hungry One-Woman Band
Davao-based electro-pop musician Skymarines was discovered by Up Dharma Down. Shy and withdrawn, Skymarines really never intended to make it "big."
Despite her day job and fulfilling her role as a mother, Skymarines continues to produce her own songs and record her own videos. Her hunger is constantly driving her to make her mark in the music scene.
Jake de Leon: They Hungry Wrestler
Philippine Wrestling Revolution President Mark Javellena, a.k.a. Jake de Leon in the wrestling world, has always dreamt of becoming a professional wrestler. But because he was small and chunky, Jake thought he would never make it big in the ring.
His hunger for greatness and to make wrestling known as a respectable sport in the country has led him to find other wrestling enthusiasts in the country to formally establish PWR. Today, PWR has monthly shows which are attended to by massive crowds of Pinoy wrestling fans.
Eric Giganto: The Hungry Footballer
Growing up in an impoverished town in Compostela Valley, Eric Giganto was fueled by an irresistible hunger to succeed. He told himself that one day, he will be able to survive everything and so at age 12, he left for Manila on a Football scholarship.
After finishing his schooling, Eric continued playing the sport and is now a key player for. Eric's hunger drove him to succeed and he now inspires young athletes who dream of making it big in the sports arena.
Each hunger is featured in a short clip that gives a glimpse into how Yellow Cab fuels the unstoppable pursuits and passions of hunger.
The Catch
"We've always believed that real greatness starts with being hungry," said Mark De Joya, Brand Development Director of Yellow Cab Pizza Co. "So through this campaign, we hope to ignite and fuel your personal hunger and find that something which drives you to be where or who you want to be."
"We are also excited to announce that Yellow Cab wants to hear what you are hungry for and where this hunger will take you with a P20,000 hunger grant. Whether it's finally recording your music, funding your start-up business, or finally pursuing a passion project, we at Yellow Cab want to literally fuel that hunger," added Elise Veloso, Senior Marketing Manager of Yellow Cab Pizza Co.
The Pitch Your Hunger Contest is open to all Filipinos of legal age and will run from October 27 – November 9, 2017. Post your 30-second video clip pitch on Instagram by tagging @YellowCabPizza, with the hashtags #FuelTheHungry, #NoStoppingTheHungry and #HungerGrants. Be one of the lucky 20 winners who will each receive a P20,000 hunger grant.