Filipino toymaker, Elmer Padilla, use discarded tsinelas or flip-flops in creating action figures from comics and popular superhero movies. He has already done the yellow-tight-wearing classic Wolverine, the most famous anti-hero Deadpool, Predator from the movie Aliens vs. Predators, the Japanese anime classic, Voltes  and many more.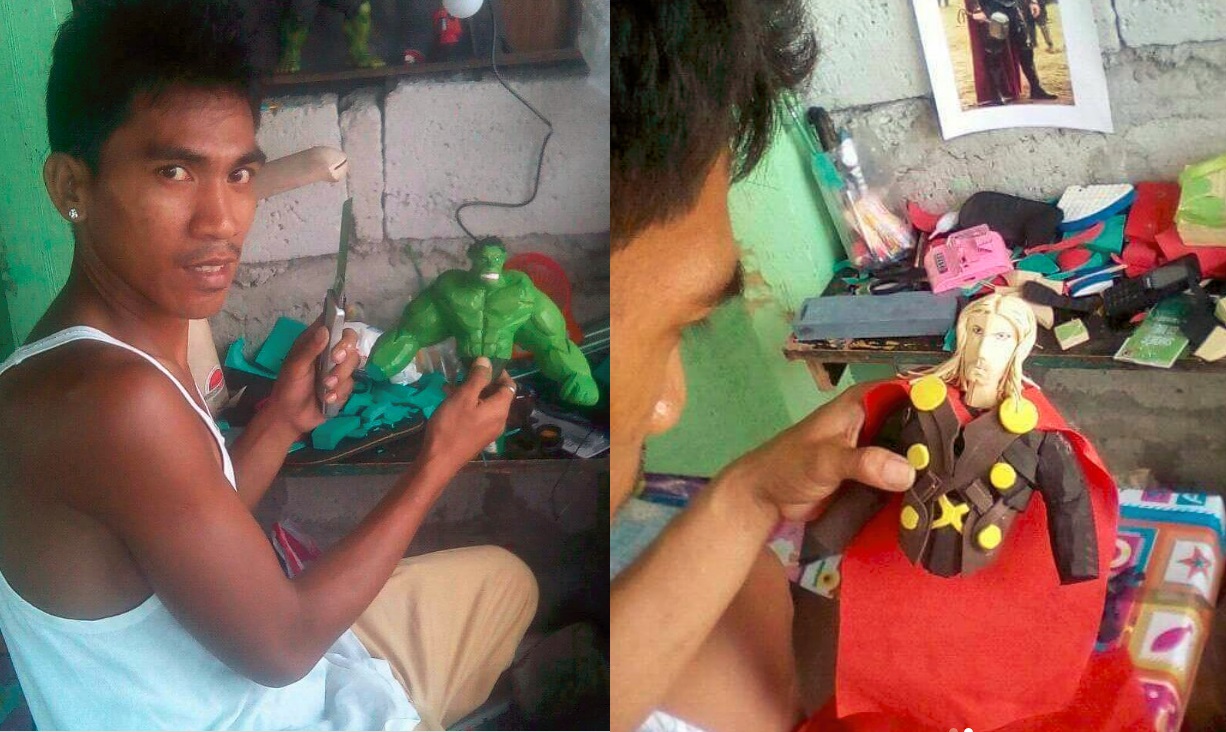 He didn't have a chance to buy his own toys.
So at the age of 9, he learned to make one himself through discarded slippers. Padilla works as a construction worker and sometimes even a pedicab driver. Since both were not a high paying job, he decided to do what he loves the most for another source of income: creating his own toys.
He had become an internet sensation when he was documented along the streets of Imus, Cavite. A man named Adrian Bernabe posted photos of him selling his first self-made action figures. It was posted in a Facebook group for Pinoy artists, GUHIT Pinas.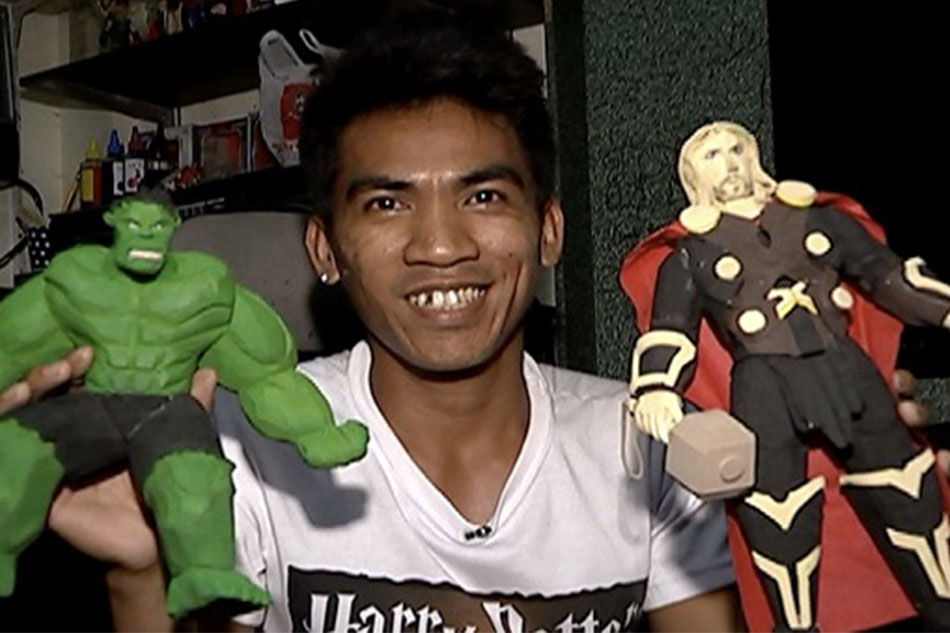 He made an action figure particularly made for the Thor: Ragnarok actors, Mark Ruffalo and Chris Hemsworth. In an interview with Marie Lozano of ABS CBN News, the moment Ruffalo heard that the action figure is made from discarded slippers, his interest seemed to peek up.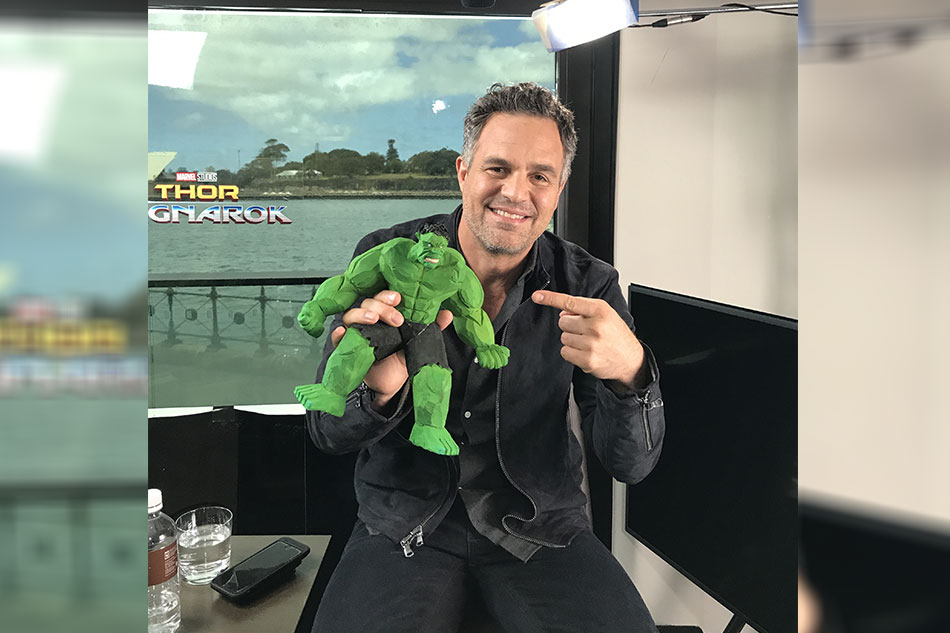 As we all know, Ruffalo is a co-founder of the Solutions Project, an organization that encourages 100% clean energy. So it's not a surprise that he would love the recyclable action figure. Ruffalo took a photo of him and the doll then shared it on Twitter, thanking Padilla for his wonderful work.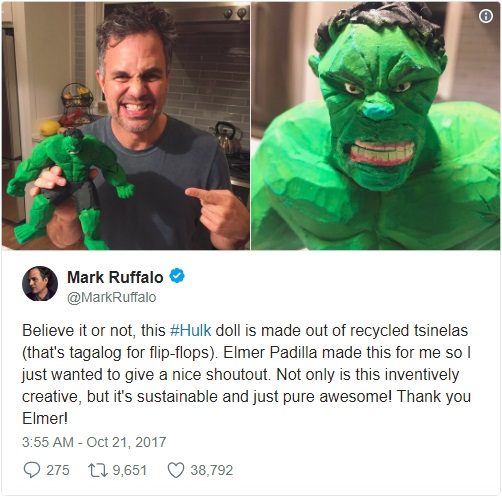 "Believe it or not, this #Hulk doll is made out of recycled tsinelas (that's Tagalog for flip-flops). @elmerboytsinelas made this for me so I just wanted to give a nice shoutout. Not only is this inventively creative, but it's sustainable and just pure awesome! Thank you Elmer!"
Chris Hemsworth, together with the Thor: Ragnarok director, Taika Watiti, had their jaws to the ground the moment they saw the action figure.
"I bet he's fantastic," Hemsworth remarked about Padilla and continued to say that the action figure "looks better than me."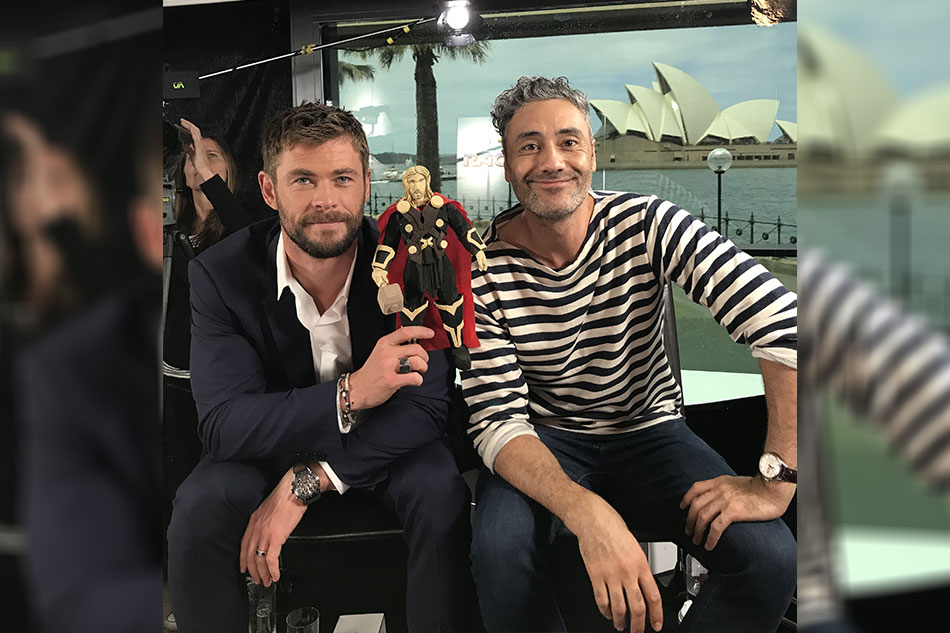 Hemsworth and Watiti added that the flip-flop version of Thor "should be in a poster." Hemsworth remarked that he would never have expected that the action figure was made entirely from discarded slippers.
Padilla used to wish that his idols would acknowledge his talents by giving the specifically-made toys to the Marvel stars. He got his wish granted and Ruffalo even wished that Padilla should have signed it.