A Facebook netizen, Sofia del Rosario shared her unusual experience with ride-sharing app Uber.
According to her post, she greeted the Uber driver upon entering his car but received no response.
She later on found out that the man has problems with hearing.
People have different experiences when riding on a taxi.
Sometimes, they would get the chance to ride with a kind and accommodating driver. And if their luck runs out, rude and angry drivers will be the one to drive them to their destination.
Every now and then, commuters experience what it is like to ride with a driver who knows how to entertain or annoy a passenger. As a matter of fact, there might even be some snob ones.
A Facebook user named Sofia del Rosario shared her experience while riding with Uber.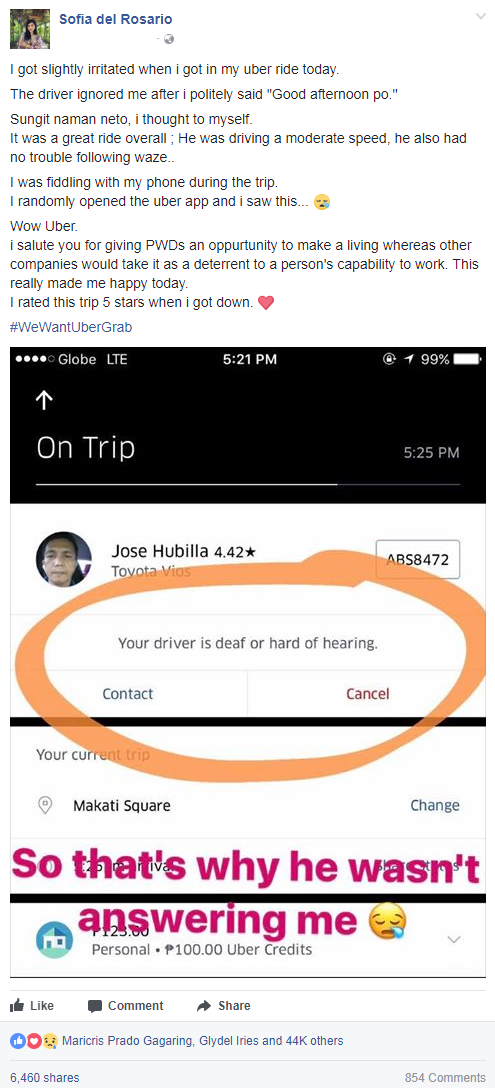 Her post went viral in an instant after the netizens found out why she had that experience.
Read del Rosario's full post below:
"I got slightly irritated when i got in my uber ride today.
The driver ignored me after i politely said 'Good afternoon po.'
Sungit naman neto, i thought to myself. 
It was a great ride overall ; He was driving a moderate speed, he also had no trouble following waze.."
The woman greeted the driver after she hopped inside the vehicle, but received no response. She then thought that the man was a bit snob.
Nonetheless, the ride was very smooth as the driver wasn't a reckless one and simply follows where Waze leads him.
"I was fiddling with my phone during the trip.
I randomly opened the uber app and i saw this..."
To ease her boredom, she decided to open Uber app and what popped up in her screen was inspiring.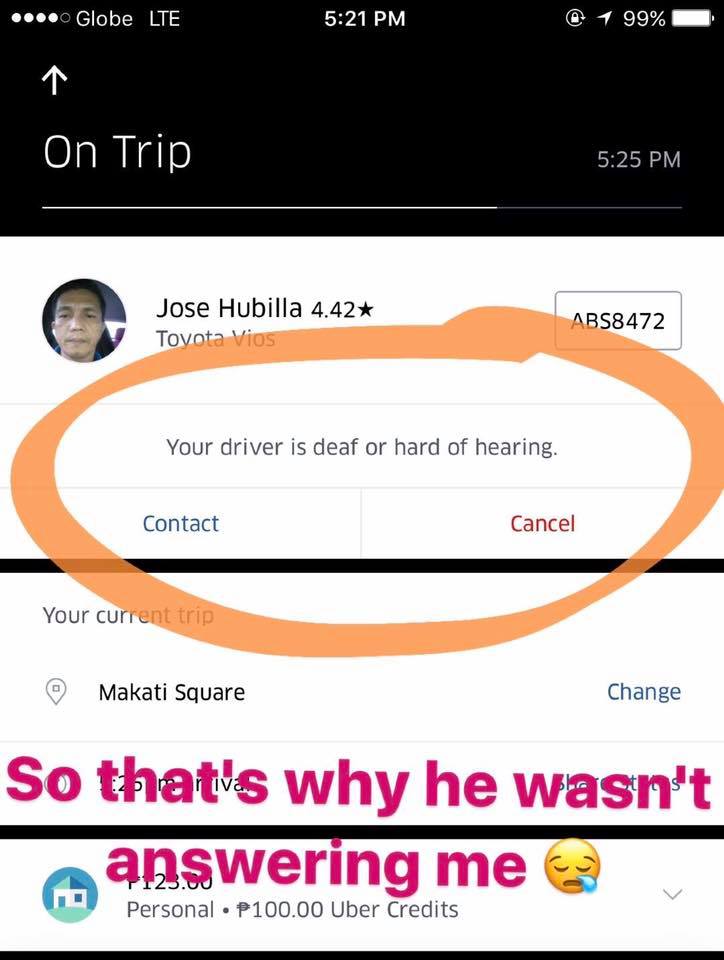 It turns out that the driver, whom she thought was ignoring her earlier, was deaf.
She praised the transportation company for accommodating PWDs as their driver and admired the hardworking driver.
"Wow Uber.
i salute you for giving PWDs an oppurtunity to make a living whereas other companies would take it as a deterrent to a person's capability to work. This really made me happy today.
I rated this trip 5 stars when i got down. 
To make it up for the wrong impression she made, she then gave a five-star rating after the driver dropped her off.
On the other hand, the netizens admired the fact that PWDs aren't prohibited from acquiring licenses and make a living just like any other drivers out there.
At the end of the day, the first impression doesn't really last. Anyone can still change the way someone sees a person.
Kudos to our PWDs workers!
What are your thoughts on this matter? Share your comments below!