A tear-jerking post made by Mark Angelo Pascual was shared by a Facebook page named Kaloka.
Pascual shared the story of the jeepney driver who kept refusing their fares.
He and his company wondered why he wouldn't accept their money when he has some coins available.
Usually, whenever people ride a public vehicle, the first thing they would do is to pay for their fare and get their change as there are cases wherein some drivers deny receiving a specific amount of money the moment they ask for change.
However, in this incident, it was the driver himself who refused to accept his passengers fare.
The story of the jeepney driver who will be featured in this post was shared by Mark Angelo Pascual to the netizens, and later on was reposted by the Facebook page Kaloka.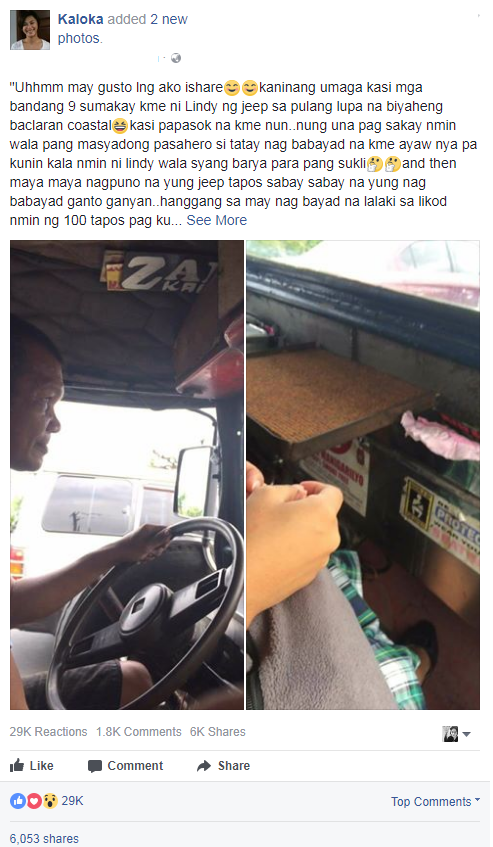 The said post went viral immediately as there were a lot of netizens who were touched by the jeepney driver's story.
Read the whole story below:
"Uhhmm may gusto lng ako ishare
kaninang umaga kasi mga bandang 9 sumakay kme ni Lindy ng jeep sa pulang lupa na biyaheng baclaran coastal kasi papasok na kme nun..nung una pag sakay nmin wala pang masyadong pasahero si tatay nag babayad na kme ayaw nya pa kunin kala nmin ni lindy wala syang barya para pang sukli and then maya maya nagpuno na yung jeep tapos sabay sabay na yung nag babayad ganto ganyan.. hanggang sa may nag bayad na lalaki sa likod nmin ng 100 tapos pag kuha ni manong sabi nya "kanino tong 100?" Si kuya nman nagsabi ng akin..sabay biglang binalik ni manong yung 100 ni kuya sabi nya libre kana pasalamat ka 100 pera mo nag uusap kme ni lindy na iniisip nmin walang panukli si manong driver kaya ganon..tinry ulit nmin mag bayad sabi nya mamaya na daw..edi sige hintay lng kme"
According to Pascual, he and his friend gave their fare to the driver the moment they rode the jeepney. The driver refused to accept their money and asked them to pay later, which made them think that the man probably don't have enough change as they saw that there weren't a lot of passengers inside the jeep.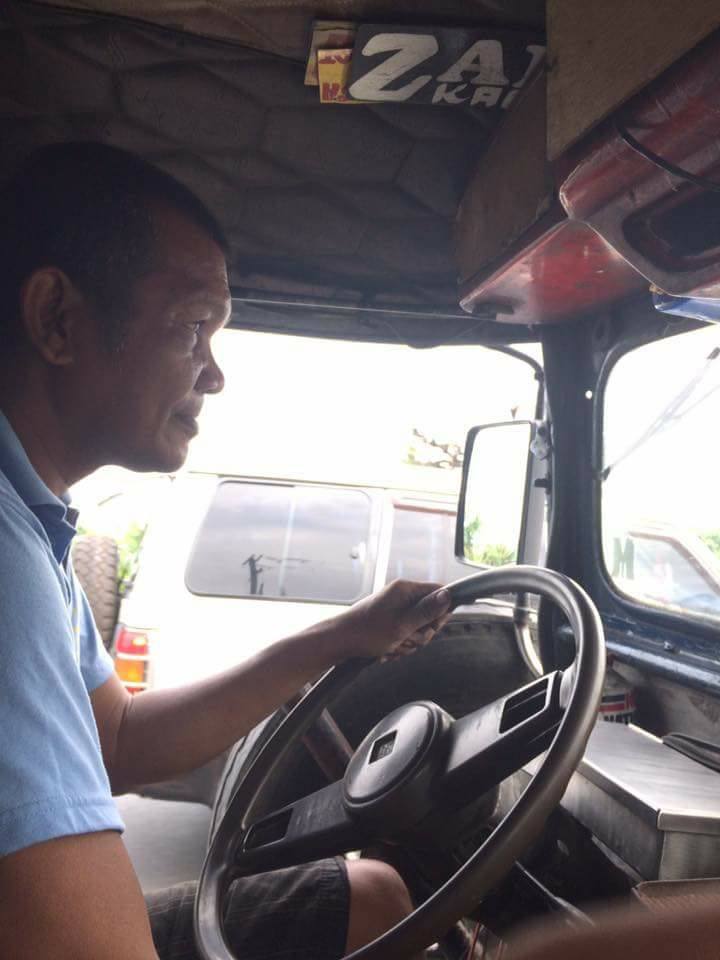 "Hanggang sa ito na nga nakarating na kme ng kabihasnan sa may petron nag pa gas si manong dirver 200 ata yun tapos ang binayad ni tatay puro barya na shock kme ni lindy nun kasi sabi nmin ang dami nman pala nyang barya bkit hindi nya kme sinusuklian..ito yung sabi ni tatay " kasi kapag madami na masyado nag babayad at sabay sabay na nalilito na daw sya tapos ang lalaki pa nung pera nila eh hindi nman daw sya nakapag aral ng elementary or kinder man lng"parang doon na touch na kme ni lindy parang sabi ko nakaka proud si tatay kasi kahit na d sya nakapag aral gumagawa padin sya ng paraan para mag hanap buhay."
When they were getting near to where they would ask the driver to drop them off, they noticed that the man had a lot of change all along. This gave them the courage to ask the driver why he refused their fares, to which the man replied saying he gets confused easily when the passengers hand in their money at the same time.
He also said that the amount of the bills would usually confuse him because he wasn't able to enroll in a school even in elementary level.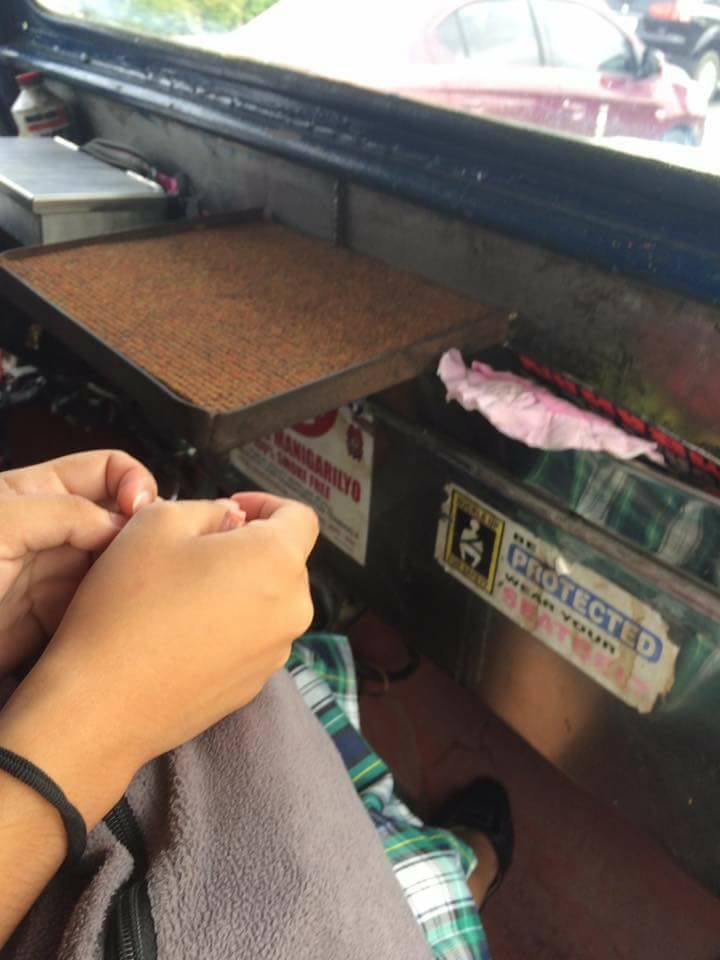 "So ayun na nga tuloy ang biyahe nung nasa coastal na kme sabi ni tatay samin bat daw ang layo ng pinasukan nming school? eh ang dami nman daw school na pedeng pasukan sa las piñas..tapos tinanong nya pasay pa daw ba kme sabi nmin oo.and then ito nag nakaka proud talaga na nakakaiyak.. pababa na kme malapit nasa baclaran yun..nag try kme ulit mag bayad and sabi ni tatay "WAG NA OK LNG MAG ARAL NALANG KAYO NG MABUTI" and talagang sa sarili ko wow napaka unexpected nun kasi napaka bait ni tatay kahit sa simpleng ganon nakaka proud na parang kahit na d sila nakapag aral ay may mabuti nman silang puso grabe proud na proud ako kay manong nun!!dko mapaliwanag yung saya ko nun kasi talagng nakaka proud na sa mga ganon tao parang sinabi na ganito ang buhay na pedeng mangyari sayo kapag dka nag aral then ayun nakaka inspire talaga si tatay!!"
Once again, they tried to pay for their fare and the driver refused again saying they should study hard instead.
"Sa susunod na makakasakay ako kay tatay i dodoble ko na yung bayad ko hahaha..tyaka d lng pala yun kahit na parang hirap sa buhay si maning driver talagang napaka sayahin nya at palabiro waaaahh para sakit napaka good samaritan ni tatay
Kung makakasakay man kayo sa jeep ni tatay ito plate number nya DWX 706 biyaheng alabang tyaka baclaran ata si tatay..nakaka inspire grabe nakaka proud mag aaral na ako mabuti hahaha"
© Mark Angelo Pascual"
Meanwhile, it turns out that he was already known by a lot of netizens as they have already ridden in his jeepney quite a few times. However, they encouraged their fellow netizens to pay the exact amount next time to make things easier for the driver.
Also, the driver was identified by a netizen as Bonie Buendia.
For his future passengers, we ask that you would pay him exact amount or a small bill only to avoid confusing him. There probably might be some people who will take this as an opportunity to avoid paying for their fare, but please be reminded that the man is doing a decent job for his family.
Instead of outsmarting the man, why not help him instead?