A Facebook user named Arah Matampale shared how a beggar became her savior after he shared his alms with her.
Matampale shared that she lost her money after failing to claim her change from the jeepney driver.
The beggar offered his money to her after learning that her money isn't enough to pay for her fare going to her home.
Generally, people are used to the sight of beggars asking for alms from those who appear to be more blessed than they are. It is already a common scene especially in the streets which is why people tend to avoid having to encounter beggars.
However, not all beggars are the same. Even though most of them rely on the alms they receive, there are some who still shares what they have even if it means they won't have any amount left to them.
To prove it, a woman named Arah Matampale shared her heartwarming encounter with a beggar who had given her money enough to get home.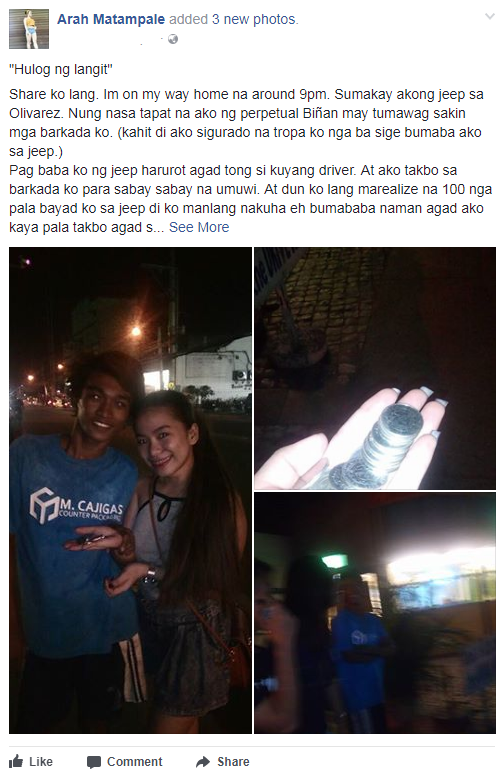 Matampale shared it on her social media account which went viral in just a short period of time.
Read her story below:
"'Hulog ng langit'
Share ko lang. Im on my way home na around 9pm. Sumakay akong jeep sa Olivarez. Nung nasa tapat na ako ng perpetual Biñan may tumawag sakin mga barkada ko. (kahit di ako sigurado na tropa ko nga ba sige bumaba ako sa jeep.)
Pag baba ko ng jeep harurot agad tong si kuyang driver. At ako takbo sa barkada ko para sabay sabay na umuwi. At dun ko lang marealize na 100 nga pala bayad ko sa jeep di ko manlang nakuha eh bumababa naman agad ako kaya pala takbo agad si jeep kaloka. Etong mga baliw kong tropa mga wala na din arep so ako kalkal sa bag wala last money na talag 25 sentimo. Nagsisisi ako na bumaba pa ako at naiyak iyak pa ako keme ganon."
According to her, she was riding a jeepney when she suddenly saw her friends nearby. She decided to drop off to tag along to her friends. However, she realized that she wasn't able to claim her change for the hundred-peso bill she paid to the driver.
Afterward, a beggar went to her to ask for alms. Here's how their conversation went: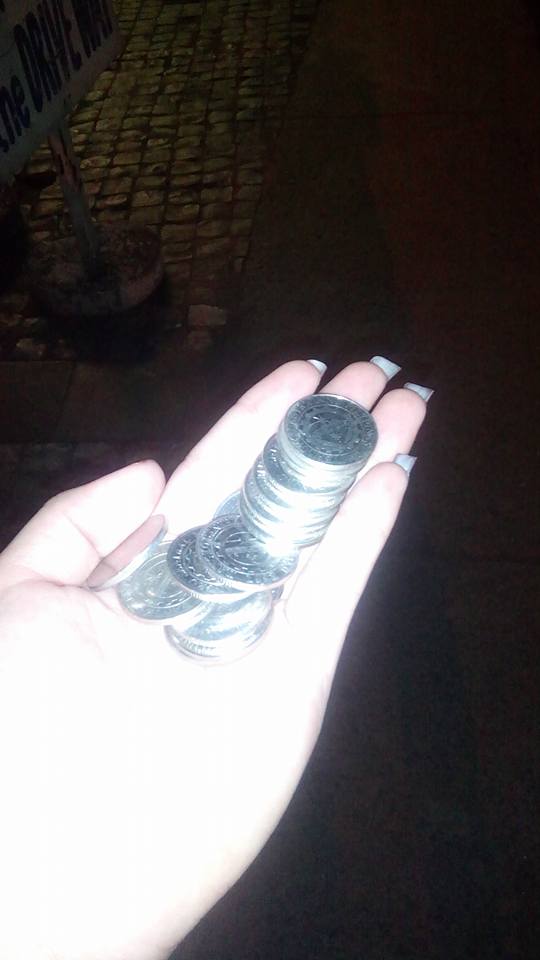 "Tapos may lumapit na namamalimos sakin. (wala na me pera namalimos pa)
Nv with bakla
Siya: Palimos po
Me: Namamalimos na nga lang din ako kasi wala na ako pamasahe.
Siya: ano ba yan teh ng ganda ganda mo namaalimos ka hindi bagay!
Me: Wala talaga ako pera next time kana mamalimos.
Siya: Oh eto mga pinalimos ko sayo nalang para maka uwi ka.
(sympre ako ayoko tanggapin nakakahiya)
Siya: Tanggapin mo na baka mapano ka pa dito gabi na oh"
At first, the beggar was asking for alms, just as expected. However, when she told him that she didn't even have much to pay for her own fare, he offered his own money to her.
Matampale didn't expect that the beggar would show her such generosity.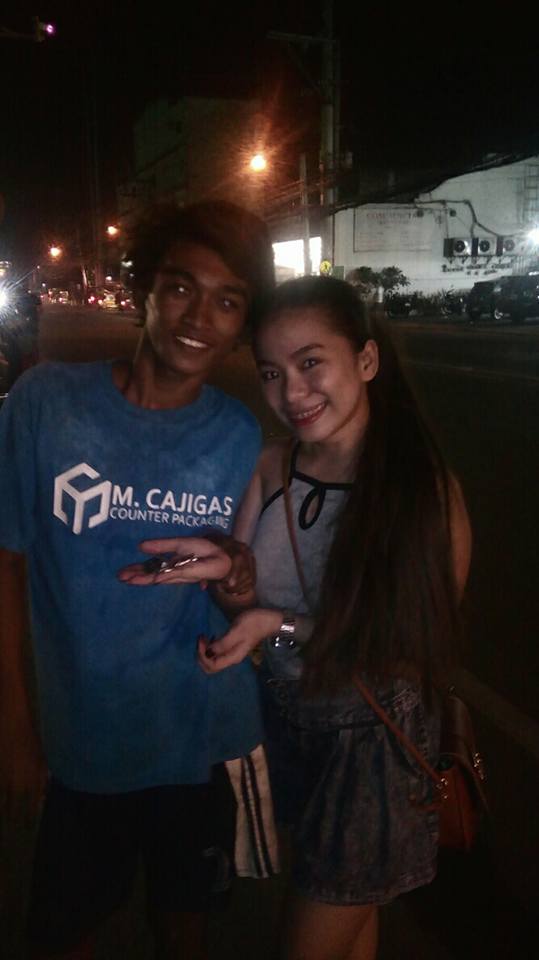 "Grabe ang bait lang. Sobrang natouch ako. Tapos onting chika sa kanya sa may ilalim siya ng tulay natutulog tapos ako pa tong binigyan niya ng pera para lang makauwi ng safe. Thanks bakla sana pagpalain ka ni God. Baawi ako sayo. At sa barkada ko walanya pinag tatawanan lang ako. Hays thankyou Lord. May mga tao talagang kahit wala na, namimigay padin at busilak ang puso.
SA MGA TIGA BIÑAN DYAN. LAGI NIYO PO SIYA BIGYAN PAG NAMAMALIMOS. HNDI SIYA BASTOS. MABAIT TALAGA. GUMAWA PA NG PARAAN PARA MAKUMPLETO PAMASAHE KO. THANKYOU"
She then thanked him and even took a picture with him. Moreover, Matampale shared a few details about him and asked the netizens to show the same attitude he showed her.
Meanwhile, the netizens who had read her post commented positive remarks about the man saying that he will be blessed for what he did.
In conclusion, sharing isn't something that rich people should only do. Sharing what you have to others don't require age, gender or even social status as it is something that should be done out of a person's initiative to help those in need.
What are your thoughts on the generous beggar? Share your thoughts below!