A female netizen named Christine Jasmin Samante Edrozo who had just graduated shared that she sneaked her robes out of the university despite knowing that it should be returned to an authorized person.
According to her, she simply wanted her mom to see her as she is bed-ridden in the hospital after battling cancer for a year already.
Graduation is one of the most important milestones in a person's life as it symbolizes that a student was able to surpass all the challenges he/she had gone through over the years.
The common rule after the ceremony is to return the graduation robes that they used as it is not intended to be kept by the student. However, as they say, 'rules are meant to be broken'. Apparently, not all graduates follow this rule for their own reasons.
One of the fresh graduates that didn't follow the said rule is Christine Jasmin Samante Edrozo. But don't be too quick to judge, as she didn't sneak it out of the university for her own.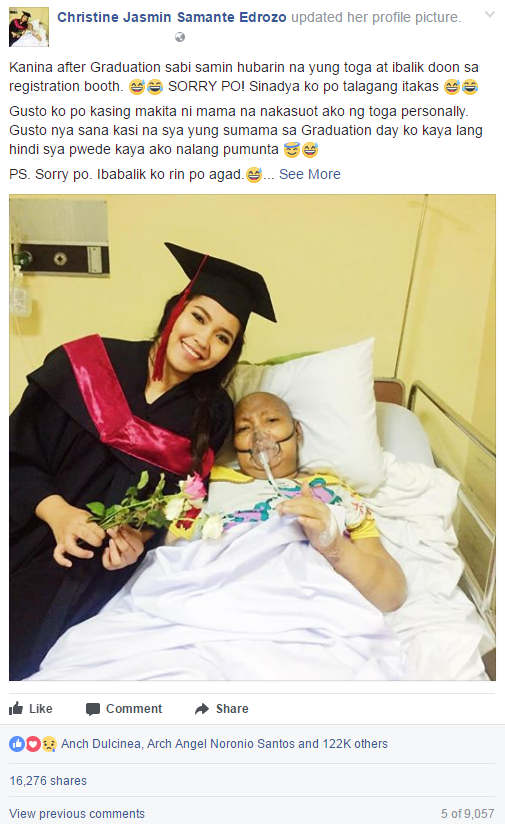 Edrozo shared the reason why she brought her robes out of the university in a Facebook post which went viral in just a short period of time.
Read her full post below:
"Kanina after Graduation sabi samin hubarin na yung toga at ibalik doon sa registration booth. SORRY PO! Sinadya ko po talagang itakas.
Gusto ko po kasing makita ni mama na nakasuot ako ng toga personally. Gusto nya sana kasi na sya yung sumama sa Graduation day ko kaya lang hindi sya pwede kaya ako nalang pumunta
Sorry po. Ibabalik ko rin po agad
From Muntinlupa to PGH"
As she started her post, she apologized first-handedly for purposely not following the rule, along with her explanation as to why she had done so.
"An Open Letter to Mama
Ma, natatandaan mo pa ba noong kinder palang ako? Parati mo ko sinasabihan na "TIIS TIIS MUNA ANAK" pero paulit ulit pa rin kitang tinatanong ng "ANO BA YUNG TIIS MAMA?" Hahaha nakakatawa kasi hindi ko talaga alam kung ano yung TIIS basta ang alam ko lang hirap na hirap ako gawin yung pinapagawa mong magtiis.
Ngayon ako naman yung nagsasabi sayo na "MAMA KONTING TIIS PA PO" Matatapos na yung gamutan mo mama."
Back then, Edrozo never understood what tiis (endure) meant whenever her mother would say it to her. However, when she grew up, she learned that the word tiis means to never to lose hope despite everything.
Sadly, she is the one who is telling her mom to endure in the present day.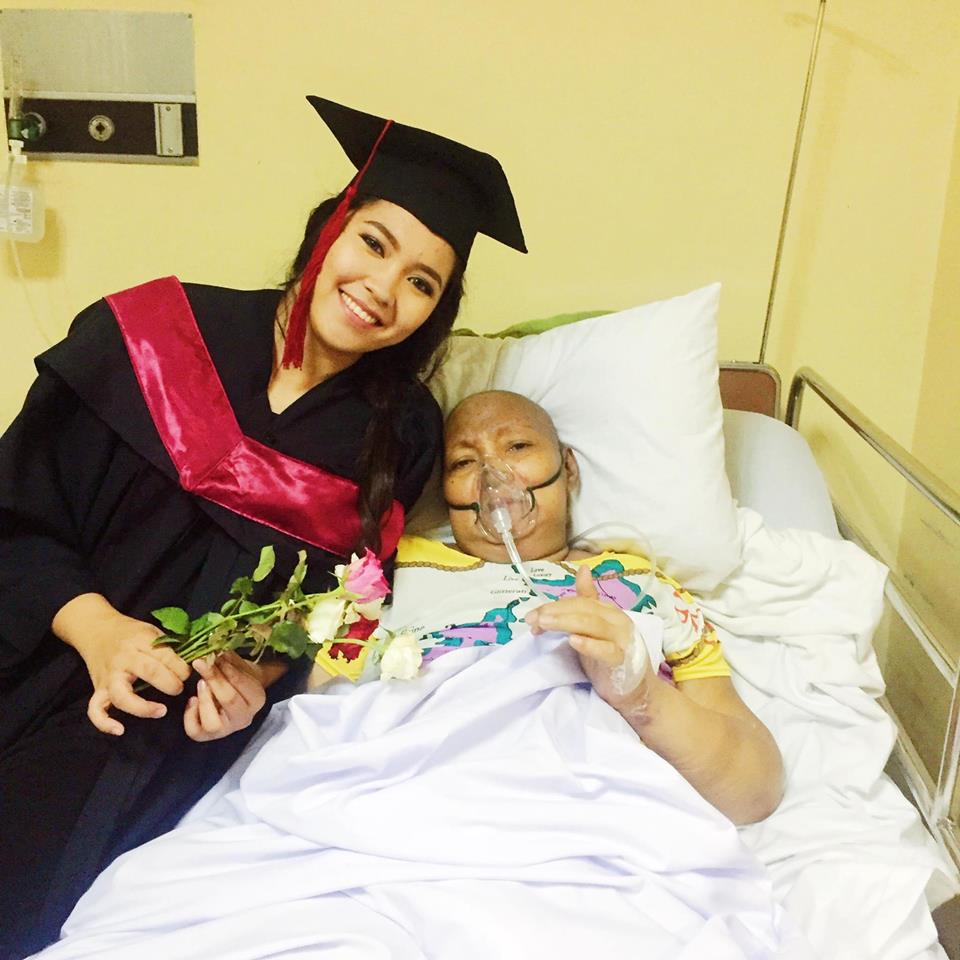 "Noong nakakausap pa kita, sabi mo "Ano ba gusto mong graduation gift?" Sabi ko sayo mama hindi ko po alam eh wala po akong idea. Pero ngayon mama alam ko na hindi na ko humihiling mama ng kahit anong materyal na bagay. Ang gusto kong graduation gift ay yung magpalakas ka, magpagaling ka, at magTIIS ka pa konting tiis pa mama. Gusto ko pang makasama ka sa pagsabak ko sa bagong yugto ng buhay ko. Graduate na ko mama tutuparin ko pa yung pangarap mo na maging successful ako."
When she was asked what kind of gift she wanted to receive for her graduation, she didn't even wish for something that money can buy.
Edrozo wished for her mother to endure and keep fighting her illness as she still wanted to live a long life with her mother. On the other hand, her mother is the only parent she has as her father had passed away already.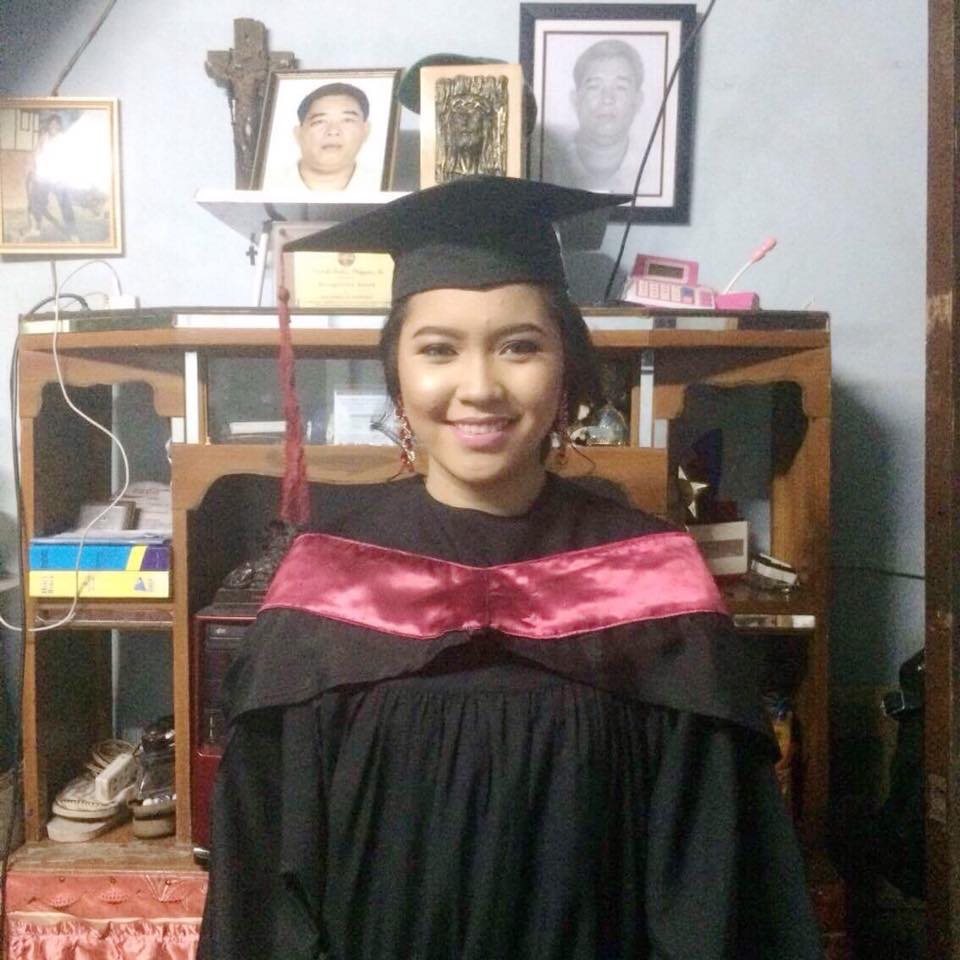 "Mama! Alam ko na po kung pano magtiis. Salamat sa pagtuturo nyo sakin kung paano magtiis Titiisin ko pa kahit anong pagsubok ang dumating sa buhay ko basta kasama kita mama. Uwi ka na please. Alam ko po na sa isang taon at apat na buwan mong pakikipaglaban sa cancer alam ko po mama na pagod ka na pero mama please, LABAN PA! TIIS PA MAMA. Konting konti nalang po. MAHAL NA MAHAL KA PO NAMING MAGKAKAPATID MAMA! Yung mga nakakamit namin para sainyo to ni papa ILOVEYOU MAMA
P.P.S. (10pm na ko nakapunta sa pgh-means hindi na pwedeng pumasok ang dalaw. Thank you to the guard that allow me to enter just to see my mama)"
She encouraged her mother to endure it a little bit more even though she knew that her mother was tired at some point.
For those who are interested in sending any kind of help to the family, Edrozo may be reached out through her social media account. Moreover, she just launched a fundraising for her mother through the artworks she is selling and accepts commission as well.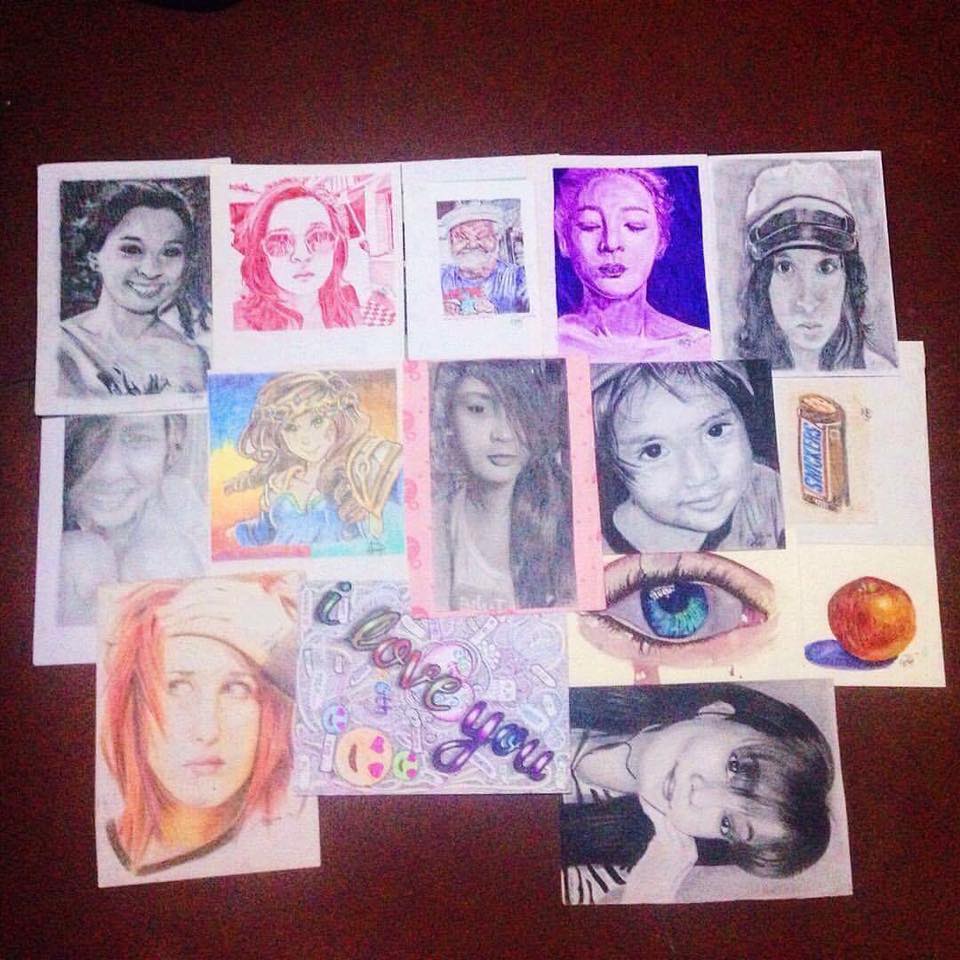 Meanwhile, the netizens who had read her post were teary-eyed as they felt the sincerity and congratulated both of them for Edrozo's achievement.
In conclusion, breaking the rule isn't always a bad thing. Although not following the rules is improper, the thought that came into Edrozo's mind for sneaking her robes out is truly remarkable.
What are your thoughts about this? Would you sneak your robes as well?