Kapuso star Jak Roberto, has once again captured the attention of netizens as his fans took their admiration to a whole new level by creating a fictitious "university" in his name.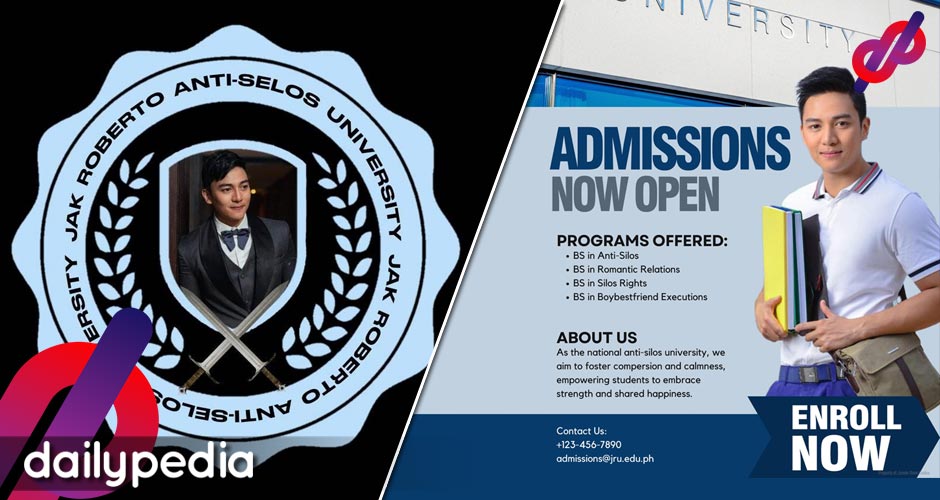 Social media is abuzz with the trend of the "Jak Roberto University," which playfully offers courses related to the actor's life and career.
A viral school promo poster, widely shared on Facebook, proudly features Jak's photo and proclaims it as the "Jak Roberto University – The Anti-Silos University."
According to the humorous posts, this make-believe institution offers programs such as "BS in Anti-Silos," "BS in Romantic Relations," "BS in Silos Rights," and "BS in Boybestfriend Executions."
https://www.tiktok.com/@leexanne_15/video/7263681045428587781?is_from_webapp=1&sender_device=pc&web_id=6989129700908140033
The amusing memes and posts were triggered by Jak's recent statement about not feeling jealous of the onscreen pairing of his girlfriend, Barbie Forteza, with his friend, David Licauco. Netizens were delighted by Jak's mature and professional attitude, and they responded by expressing their unwavering support for the actor in a lighthearted manner.
Jak's fans also took to TikTok to showcase their creativity. His dance videos on the platform have been trending, with fans adding their own unique twists to the clips.
In one of the videos, set to Mariah Carey's song "I Give My All," fans cleverly duet with Jak's performance and add witty captions like "We're just friends," "My BFF escorted me," and other playful remarks.
The heartthrob's TikTok dance video, originally posted on Valentine's Day in 2022, features him dancing in front of Barbie, capturing a sweet moment between the couple.
https://www.tiktok.com/@hijak02/video/7064417146931088666
As Jak's popularity continues to soar, fans eagerly anticipate his upcoming projects. The actor is set to grace the screen in the highly-anticipated GMA Afternoon Prime series "The Missing Husband." Additionally, fans are excited for Barbie Forteza and David Licauco's reunion in the Kapuso series "Maging Sino Ka Man," and they also have their eyes on the movie "That Kind Of Love," which stars the talented duo.
Jak Roberto's unwavering dedication to his craft and his genuine connection with his fans have undoubtedly made him a beloved figure in the entertainment industry. With his infectious charisma and remarkable talent, Jak continues to win the hearts of many, both on and off the screen. The "Jak Roberto University" is just one of the many testaments to his strong and devoted fan base.