In preparation for a possible resurgence of the COVID-19 pandemic, the Department of Health (DOH) has instructed hospitals to increase bed capacities and reopen wards for COVID-19 patients.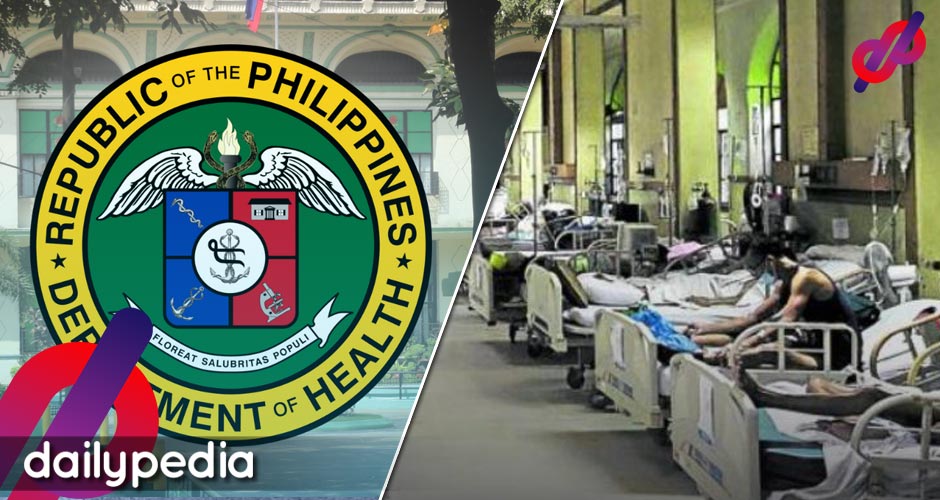 DOH officer in charge, Maria Rosario Vergeire, explained that hospitals must follow the "accordion principle" to prevent any strain on resources and facilities due to the recent rise in infections.
However, she pointed out that the additional beds allocated for COVID-19 patients were only in standby mode and had not been utilized yet.
"Since we saw an increasing trend, we've mobilized our hospitals and announced an accordion principle, [wherein] they need to open wards previously reserved for COVID-19 and closed to make way for other [cases]," Vergeire told a press briefing on May 4.
The health official stated that hospitals were managing COVID-19 hospitalizations well, but some were experiencing high admission rates due to the inadequate number of ICU and non-ICU beds.
Vergeire clarified that the increase in admissions was linked to bed availability and not to an increase in cases.
According to the DOH, hospital bed occupancy rates are low; COVID-19 patients only occupy 15% of the available ICU beds and 18.1% of non-ICU beds.
Despite this, the DOH called for an increase in hospital bed capacity. However, the DOH and pandemic advisers maintained that they do not support mandatory mask-wearing to control COVID-19 spread.
The DOH-led Inter-Agency Task Force for the Management of Emerging Infectious Diseases (IATF) is creating a pandemic exit plan to present to the President.
Recent data from the DOH showed a 42% increase in daily COVID-19 cases last week, with an average of 632 infections across the country per day.
"All areas are on an uptrend, with NCR (National Capital Region) exhibiting the steepest increase," the health department said.
The statement added that COVID-19 spread in Visayas and Mindanao regions had decreased. On Sunday, the President mentioned that the government would have to evaluate if another mandatory mask mandate was needed.
"Although the rate of increase is growing, the baseline of where it started is just low, so hopefully we're still going to be able to [control] it," he said.
Netizens and medical professionals called out the DOH for not mandating face masks and jumping straight to hospital needs.
Wow, just wow when it comes to priorities. So they plan to reopen the wards plus additional beds for COVID-19, but there are no mask mandates. 🦠🧬💉😷⛔️‼️ https://t.co/zOPTxeH8bm

— Harold Henrison C. Chiu, RCh, MD (施君明醫師)🇹🇼🇵🇭 (@88DoubleDragon) May 4, 2023
Seryoso? We are preparing for this rather than requiring people to wear mask and social distancing sh*t??

O baka unahin face shield para me kunita na naman ulit ng malaki? https://t.co/qfxBbsh4T8

— DOOGIE (@Daddy_Doogies) May 4, 2023
https://twitter.com/lav_sjyoi/status/1654055570587148289?s=20
What the fuck!!! Mandatory face mask nalang ulit! https://t.co/MGkWbtuYJD

— clariopenticum (@clariopenticum) May 4, 2023
and yet you are hesitant to re-impose mandatory wearing of face masks in public , when we know it is useful in preventing the spread of the virus … https://t.co/JPbPWgc3Wr

— mares🌼🌸 (@marespadilla22) May 4, 2023
Marcos mentioned the possibility of another vaccination campaign targeting younger individuals.
In other news, the Philippines is set to receive 391,920 doses of COVID-19 bivalent vaccines by the end of May.
Pfizer vaccines donated from an undisclosed country will proceed despite an indemnification clause. This had been a hurdle in the country's vaccine procurement before.
The donor country has fulfilled all the necessary legal requirements, such as securing emergency use authorization from the Food and Drug Administration. It also has clearance from the President's Office.
The DOH has kept the donor country's name confidential to avoid potential coordination issues.
Vergeire disclosed that over one million doses of bivalent vaccines from the COVAX facility, which were originally set to arrive in early March, had been diverted to another country.
The shipment had been postponed after the government decided not to renew the state of calamity declaration. This provided indemnity and immunity from lawsuits for both the government and manufacturers.
"But [COVAX] has committed that once we are already ready with our legal basis, we can still receive the [bivalent vaccines]," she said.