Ateneo de Manila University and De La Salle University presidents announced on Monday, April 11, encouraging those who would join the event to wear pink.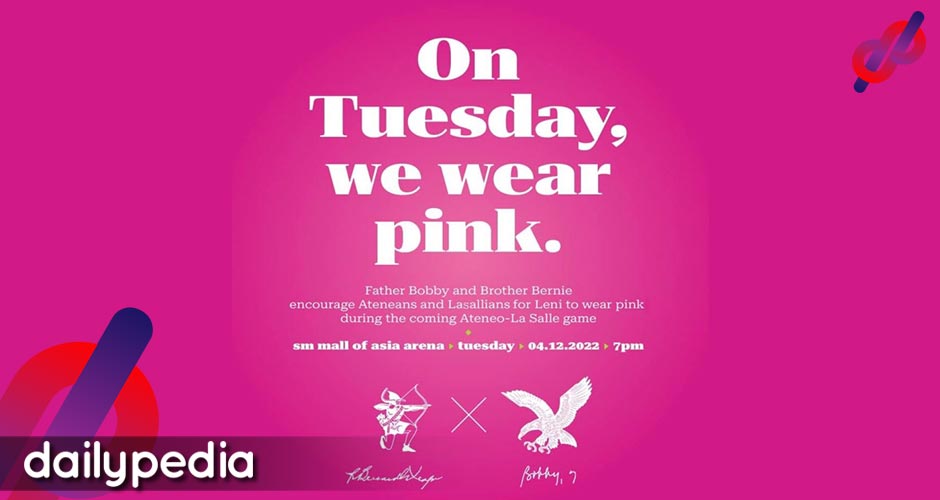 "On Tuesday, we wear pink," encouraged an identical social media post by both De La Salle University and Ateneo de Manila University, on their respective facebook and twitter accounts.
Coming from the Fr. Roberto Yap (Ateneo) and Brother Bernard Oca (La Salle), the presidents of the two prominent Catholic universities call–seemed to give a hint of who they are endorsing for president, and that is Vice President Leni Robredo.
On Tuesday, we wear pink.

Fr. Bobby and Br. Bernie encourage Ateneans and Lasallians for Leni to wear pink during the coming Ateneo-La Salle game.

SM Mall of Asia Arena
April 12, Tuesday, 7:00 pm pic.twitter.com/Pr0zw4hKGo

— DLSU (@DLSUManila) April 11, 2022
The match takes place tomorrow, April 12, at the Mall of Asia Arena, and judging the reactions from Netizens on social media, it looks like the whole venue will be flooded by pink-clad UAAP fans.
The Blue Eagles and Green Archers match kicks off the second round of UAAP's basketball tournament, which skipped live shows in its past editions due to the pandemic.
Fr Bobby Yap SJ and Bro Bernie Oca FSC encourage all Ateneans and La Sallians for Leni to wear pink for the Ateneo-La Salle game on Tuesday, April 12. pic.twitter.com/H1qvHJz8oy

— Ateneo de Manila University (@ateneodemanilau) April 11, 2022
The two basketball teams have been two of the most followed UAAP teams and have been pitted against each other as rivals, for decades. The encouragement for the fans to unite in pink on Tuesday seemed to be a screaming testament, to the two communities' commitment to set aside rivalry in the name of Robredo and the kind of truthful presidency she campaigns for.
Ateneo Blue Eagles will attempt to keep their winning streak in the UAAP. The match will see whether or not the DLSU Green Archers will finally reclaim the crown from their closest rival, which they have not been able to defeat since 2017. It is worth noting however that it is not the first time that UAAP encourages rival teams to aside colors for a good cause.
In 2018, before the first game of the UAAP Season 81, fans of the University of the Philippines (UP) Fighting Maroons and the Ateneo de Manila Blue Eagles wore white in protest against impunity and violence in the country. In 2016, both Ateneo and La Salle communities wore black in solidarity with the victims of human rights violations under the Duterte administration.
The coming together of Green Archers and Blue eagles is unique as it marks the first time the rival teams unite for a seeming endorsement of a presidential candidate.