As Mayoralty aspirant Mike Defensor and senatorial bid Rodante Marcoleta make rounds on social media with rifts on their race rivals, celebrities, and television personalities reminisce the false therapeutic claim of the two on the use of Ivermectin as a treatment for COVID-19.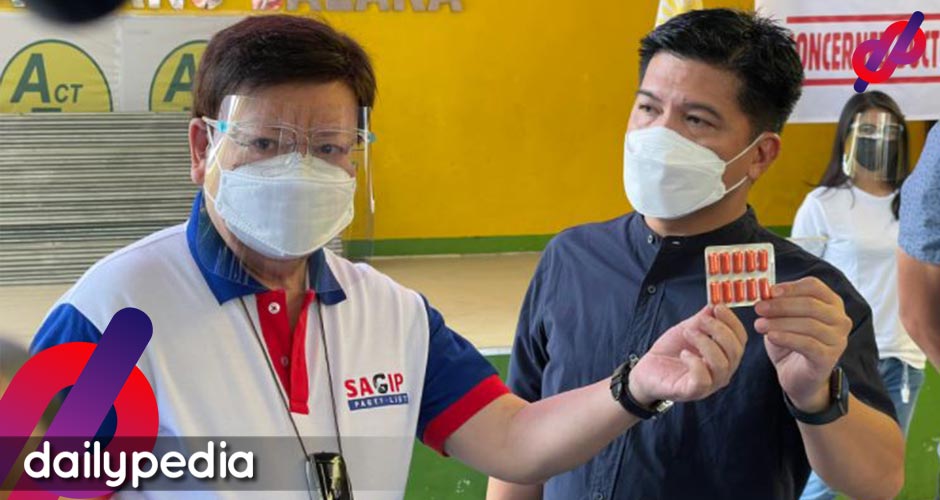 Ivermectin is an antiparasitic drug used to treat tropical diseases such as onchocerciasis, helminthiases, and scabies.
Clinical trials were conducted to evaluate the effectiveness of Ivermectin as a treatment for COVID-19. Research and trials revealed insufficient evidence to back up a possible recommendation for or against the use of Ivermectin for COVID-19 treatment.
In an interview with famous host Karen Davila on April 6, 2021, Defensor claimed that Ivermectin has a doctor's prescription. He added that it is safe and covered under 'essential medicines'.
Lawmaker or lawbreaker? Defensor, "I am not doing anything outside of the law"

Says he is not forcing anyone to take Ivermectin, shares he is still taking it, cites US doctors prescribing it.

DOH & FDA are not endorsing Ivermectin as an anti covid drug #ANCHeadstart @ANCALERTS pic.twitter.com/mqqllLzy5S

— Karen Davila (@iamkarendavila) April 6, 2021
Despite the insufficient evidence to treat COVID-19, Defensor and Marcoleta distributed the drug in Quezon City in April 2021.
Despite calls for further studies on the use of ivermectin against COVID-19, Anakalusugan Rep. Mike Defensor and Sagip Rep. Rodante Marcoleta proceeded with the distribution of Ivermectin capsules to several residents of Brgy. Matandang Balara in Quezon City. | via @ZandroDZMM pic.twitter.com/9reYupwFcG

— ABS-CBN News Channel (@ANCALERTS) April 29, 2021
Some netizens, aware of the use and treatment status of Ivermectin, were quick to criticize the politicians. One netizen posted on the issue of Ivermectin not being approved by the Food and Drug Administration (FDA) for COVID-19 treatment but veterinary use.
So apparently, Ivermectin is being sold around like this

THERE HASN'T BEEN ANY FDA APPROVED IVERMECTIN FOR HUMAN USE IN THE PHILIPPINES. THE ONLY IVERMECTIN APPROVED IS FOR VETERINARY USE INTENDED FOR ANIMAL USE. Ivermectin HAS NOT been proved to treat or prevent COVID-19.

1/2 pic.twitter.com/DhXQitbt6k

— Lena Emata (@lenakatrine) April 8, 2021
On September 16, 2021, Defensor and Marcoleta filed a petition before the Supreme Court to use Ivermectin as a possible treatment for COVID-19.
Congressmen Mike Defensor, Rodante Marcoleta file petition for mandamus before the Supreme Court in support of the use of ivermectin as possible treatment for COVID-19.

📷 Arjay Hernandez/CNN Philippines pic.twitter.com/KmIIHcUFYN

— CNN Philippines (@cnnphilippines) September 16, 2021
Celebrities, television personalities, and netizens looked back on the said promotion of Ivermectin and gave different reactions.
According to a large study, Atom Araullo, a respected journalist of GMA News, reiterated the failure of Ivermectine as COVID-19 treatment.
Remember Ivermectin? Large study concludes it is NOT effective against COVID-19.

"The study, which compared more than 1,300 people infected with the coronavirus in Brazil who received either ivermectin or a placebo, effectively ruled out the drug as a treatment for Covid…" https://t.co/KkYGeMHPnr

— Atom Araullo (@atomaraullo) March 31, 2022
Others shared the same sentiment.
Legislators Mike Defensor and Rodante Marcoleta distributed Ivermectin in Quezon City in 2021 as treatment to Covid-19, against scientific evidence.

Defensor is running for QC mayor, while Marcoleta is a Senate candidate under the Marcos-Duterte tandem. https://t.co/6Y37K6cmgU

— Prinz Magtulis 프린즈 (@prinzmagtulis) March 31, 2022
"Treatment with ivermectin did not result in a lower incidence of medical admission to a hospital due to progression of Covid-19."

In short, ang Ivermectin ay hindi effective against covid-19😊 https://t.co/jHRTZTLuSb

— Arshie Larga (@Arshiethromycin) March 31, 2022
O ayan Mike Defensor at Rodante Marcoleta, isaksak nyo sa baga nyo. Di tatalab ang Ivermectin sa Covid. Period. https://t.co/VhEQ7xJJfG

— John Paulo Valdez (@jpvaldez_2020) March 30, 2022
Mike Defensor endangered QCitizens' lives with Ivermectin. Let us not forget that https://t.co/Ll5hW89lx6

— Joseph Coronel | #LeniKiko2022 (@JoloCoronel_) March 31, 2022
Peddlers of fake information and distribution of Ivermectin should be jailed. Di ba Mike Defensor? https://t.co/tDCZSQKb0O

— She O (@ongsherry) March 31, 2022
A netizen added and emphasized that Defensor and Marcoleta should be held accountable for complications and possible deaths.
So if there are complications or deaths from taking ivermectin, Mike Defensor and Rodante Marcoleta should be held accountable for those deaths. Those blood are in your hands.

Resibo na to! 🤬

— ♒ EJ喜悦 (@XiyueXiyue) April 29, 2021
In a recently published study, March 30, 2022, Ivermectin failed as a treatment for COVID-19. Despite this, its popularity increased.
Ivermectin failed as a Covid treatment, a large clinical trial found. The drug surged in popularity despite no strong evidence that it worked. https://t.co/KmpIGlN8pK

— The New York Times (@nytimes) March 31, 2022
On the same publishing day, March 30, 2022, a large clinical trial in Brazil and the University of Minnesota found out that Ivermectin as a COVID-19 drug failed to prevent hospitalizations of COVID-19 patients.
The controversial drug ivermectin failed to prevent COVID-19 hospitalizations in a large clinical trial in Brazil, and a University of Minnesota study co-author instead urges people use proven therapies against the infectious disease. https://t.co/0kjp1b8Zqr

— Star Tribune (@StarTribune) March 30, 2022
Recently, the incumbent mayor and rival of Defensor for the mayoralty race, Joy Belmonte, criticized a certain politician, though without directly mentioning any name, on March 25, 2022, for distributing Ivermectin in Quezon City.
"Sa kasagsagan ng CoViD-19, hindi tayo namudmod ng gamot na hindi po aprubado at para lang sa hayop," she revealed.
QC Mayor Belmonte: Sa kasagsagan ng COVID-19 hindi tayo namudmod ng gamot para sa alaga nating hayop.

Belmonte's rival Cong. Mike Defensor led an Ivermectin distribution in the city last April 2021 @cnnphilippines #TheFilipinoVotes

— Tristan Nodalo (@TristanNodalo) March 25, 2022