A headless priest? Yep. Souls who can't cross the afterlife? Definitely. A whole classroom possessed by an evil spirit? Sure, no problem. Do you want to know what common denominator these things have?
Well, they are regular features in our local horror shows—at least, the ones that used to spook us out terribly when we were kids.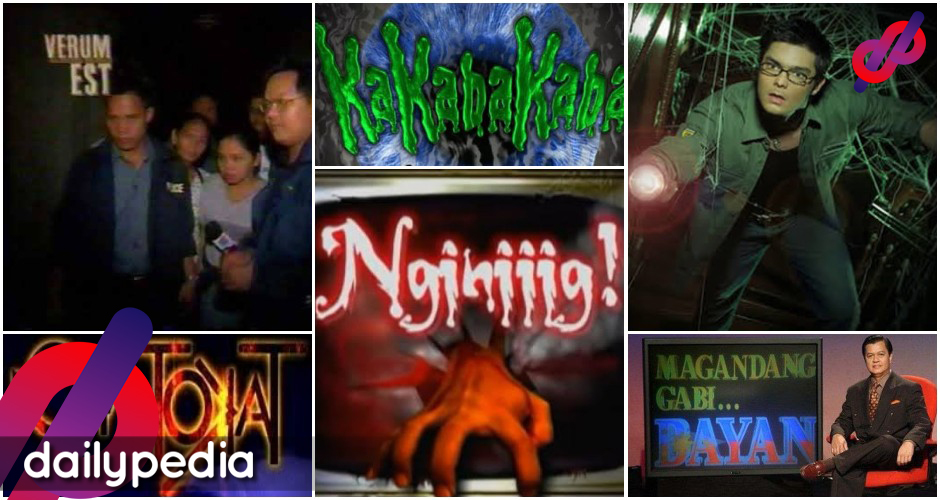 From 'special' Halloween documentaries to full-fledged horror shows, local television is a cornucopia of creepy programs that we keep revisiting every year no matter how spooked out we get whenever we see them.
Most of the following shows are now streaming with full episodes on YouTube. Are you brave enough to see them alone this Halloween season?
Kakabakaba.
Main Cast: Various artists per episode
Genre, Format: Horror, drama-anthology
Kakabakaba remains one of the GMA network's most successful drama anthologies to date. It featured some of the spookiest stories ever told on Philippine TV. The show starred different actors for every episode it aired. 
One of its most popular episodes is that one where it featured the infamous Chaka Doll. Because of its success, the show had a sequel series called Kakabakaba Adventures.
Magandang Gabi Bayan.
Host: Noli de Castro
Format: News magazine, documentary
Classic Halloween episodes of this ABS-CBN program are no doubt among the scariest things to see on TV. Now, you can binge watch some of its most horrifying episodes, which are now available to stream via ABS-CBN News channel on YouTube. You probably need to have someone with you when you revisit past episodes that feature iconic stories like the aswang in Palawan, a tomb with a statue of the devil, and ghost passengers who rise buses at night.
Nginiiig.                                                               
Hosts: Raymond Bagatsing (original), Jericho Rosales, Hero Angeles, Rayver Cruz, Maja Salvador, John Wayne Sace
Genre/Format: Horror, anthology
It started as a documentary with dramatized scenes, but it evolved into a full-blown horror series later.
It featured real-life horror stories and accounts of first-hand witnesses. It also tapped some of the finest paranormal experts for their findings and opinions on various paranormal accounts. One of the most vividly remembered episodes of the show is that one that starred siblings Vina Morales and Shaina Magdayao.
!Oka2Kat.
Main Cast: Agot Isidro, Ricky Davao, Rica Peralejo, Diether Ocampo, Jericho Rosales, Angelika de la Cruz, Paolo Contis
Genre/Format: Horror, weekly series
For kids in the late '90s, Tuesday nights were [surely] not complete without creeping themselves to sleep by watching the freshest episode of this classic horror show. The show follows a media crew led by Rona del Fierro (Isidro), who investigates paranormal events.
Episodes of the show had regular features on Filipino mythical creatures and various urban myths. The series was reformatted in 2002 to include younger cast members.
Verum Est: Totoo Ba Ito?
Host: Tony Velasquez
Format: Documentary, investigative
The show's title itself gives away what it is all about. It's a show that primarily investigates urban legends and age-long horror myths to provide possible answers about their existence and whether they are true or not.
The show tackled some of the biggest horrifying mysteries in the Philippines, like the Manor Hotel tragedy in Baguio City, and the death of Rico Yan. Full episodes of this show are now available on ABS-CBN News' YouTube channel.
Wag Kang Kukurap.
Host: Dingdong Dantes
Format: Horror-anthology
The spooky stories of Wag Kang Kukurap, were taken from the pages of True Philippine Ghost Stories and the Haunted Philippines. Originally aired to counter Nginiiig's popularity, the show went on to rate higher than Nginiiig, and even lasted on air for a longer time. The show featured homegrown and exclusive Kapuso stars to play roles on various episodes of the show.
Which of these classic Pinoy horror shows, creeped you out the most? Are you ready to relive your scares this Halloween season? Don't forget to give us your thoughts in the comment section.