Celebrities and personalities are bred to make an impact on society, whether they like it or not. They are immortalized on television but are mortals at the end of the day.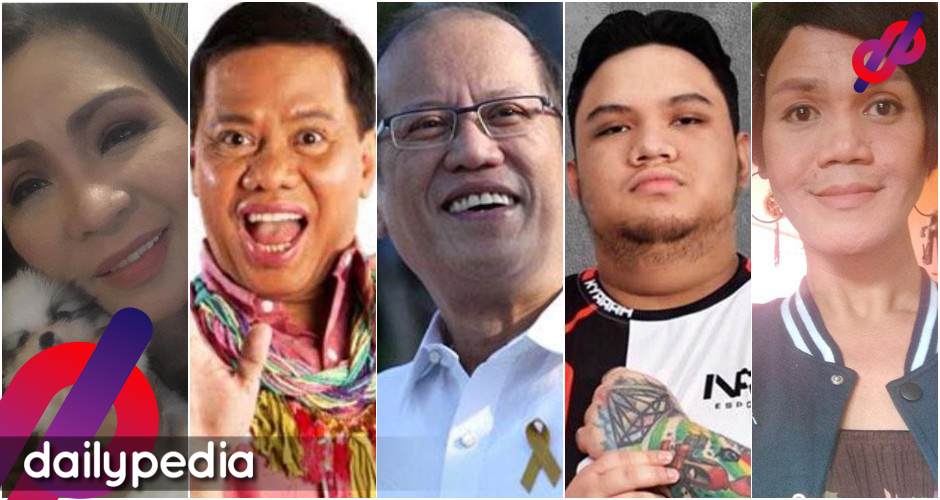 And the fact is 2021 has not been kind to these people. Below are the prominent personalities who passed away in just the first half of this year.
Celia Diaz-Laurel
Celia was the wife of former Vice President Salvador Doy Laurel and mother to theater actor Cocoy and singer Iwi Laurel. She died at the age of 93 on July 12. The philanthropist will be remembered best for her presence in the category of theatre.
Arlene Tolibas
Tolibas started her acting career during the '80s, appearing in various TV shows and films. Her most memorable was that of Venus in the TV series Abangan Ang Susunod na Kabanata. She most recently appeared on A Second Chance and Tony Labrusca's Glorious. Unfortunately, she lost her life to cardiac arrest on June 3.
Arturo Luz
Considered as one of Asia's most influential modernists, Luz in 1997 received the country's most prestigious cultural accolade, the Philippine National Artist Award. He was the founding director Museum of Philippine Art, formerly known as the Design Center of the Philippines. Before dying on May 26, it was revealed that he was plagued with several illnesses.
"He enriched our lives with his art, with his incredible talent and his genius… His legacy will live on." his daughter Angela said shortly after his demise.
Michael "Kyaaah" Belaya
Belaya was only 23 when he suddenly died. The cause of death was never publicized. He is best known as a coach for the 'Call of Duty: Mobile' team of NRX Jeremiah 29:11. His expertise resulted in the team getting qualified to compete at the biggest COD Mobile stage—one of the most uninteresting e-sport tournaments out there.
"It is with great sadness and heavy hearts that we announce the passing of our beloved friend and clan master, Michael Belaya aka Kyaaah," NRX Esports said in a statement following Belaya's untimely passing.
Le Chazz
The gay comedian died on May 1. According to his friend AJ Tamiza, Le Chazz probably gave in to complications associated with diabetes—a disease the comedian was secretly suffering from. His last TV appearance was on a February 11 episode of Wowowin. Willie Revillame also admitted that he was one of the several comedians who never failed to make him laugh.
Before dying, Le Chazz shared his sad story with GMA's Rhea Santos. He revealed that he grew up in a broken family while being an only child.
Former president Benigno "Noynoy" Aquino III
His death came as a surprise to everyone. Less than five years out of the presidency, PNoy couldn't survive the renal disease he got from diabetes. Questions about his health started spreading in 2019 when he failed to attend his father's 36th death anniversary. In the same year, it was reported that the former president was suffering from pneumonia.
Senator Francis Pangilinan revealed that he was also facing problems related to hypertension. Prior to his unfortunate passing, PNoy was actively looking for a kidney donor, but his time was up.
Claire Dela Fuente
Her son Gigo de Guzman confirmed her death to MJ Felipe, saying that she suffered a cardiac arrest after testing positive for the coronavirus.
"In her sleep, her heart gave out," said Gigo.
"Asia's sweetest voice" was also diagnosed with anxiety, hypertension, and diabetes before saying goodbye at 63.
Shalala
Carmelito Masagnay Reyes, better known as Shalala, was confined a week prior to his death. Apparently, he was suffering from pulmonary tuberculosis before a cardiac arrest ended his struggles with health at 61.
Ricky Lo
A veteran in the entertainment industry, Lo served as entertainment editor for The Philippine Star since the '80s until he suffered a stroke that led to his death at 75.
Victor Wood
The songs of "The Jukebox King" or "Plaka King" will forever be remembered by Filipinos. He once dreamed of becoming a senator but failed miserably in the 2007 general elections. His third wife, Nerissa, confirmed that he died of COVID-19 complications on April 23 at 75.
Toto Natividad
Much like the older personalities on this list, director and former North Bay Boulevard South Kaunlaran barangay captain Toto Natividad died of COVID-19, although this hasn't been verified yet.