Beauty queen turned singer and songwriter Imelda Schweighart has made the headlines once more following yet another attack on the K-pop genre.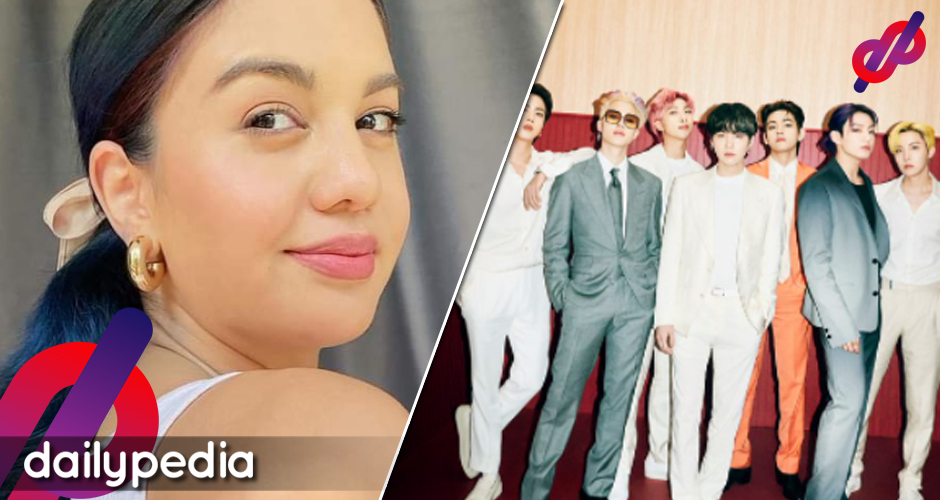 In a viral Facebook post, Imelda said she doesn't understand why people admire K-pop so much.
After watching the seven-member boy band BTS, which is also considered the most decorated K-pop group of all time, she concluded that the music genre is "not the future."
She only found one member to be attractive while alluding to them relying on plastic surgery. Imelda then called the BTS hype "creepy."
"The hype? Can never be in a kpop fan's shoe to understand the depth of their adoration. It's like watching Michael Jackson in clones. Is it creepy? The hype is creepy." she wrote.
"But there clearly is talent.. but aesthetically pleasing in the face, and skin? Would have they made it without glutathione and rhinoplasty? Is it a mix of lgbtq and real men?" she added.
Imelda is also worried that K-pop is brainwashing the youth.
BTS fans swarmed Imelda on social media, with some saying that she has no right to criticize BTS as her songs are mostly terrible.
Imelda schweighart walang kwenta yung mga kanta mo

— ashii (@LeiaM32460098) May 3, 2021
IMELDA SCHWEIGHART pic.twitter.com/FfcZIiLB10

— Gail Kim(게일) | (@HyunJi_0810) May 10, 2021
A racist and xenophobic person indeed. Imelda Schweighart. Who are you? Before sharing your thoughts please learn the words respect. Using them for clout? Also with the thought of plastic surgery and whitening agents? Really? That low?! Let them be them. https://t.co/TpE3Ybpdn3

— Forever_07 (@Moon_nie07) May 3, 2021
Her transition to becoming a musical artist has so far been disappointing. Maybe she is just talking to get more attention?
Ms. Imelda Schweighart flopped again😔✋
Trending ka an beh, ganyan ka ba talaga ka uhaw sa clout?? pic.twitter.com/huJwU2mo9x

— 🥂And If I am?🧈⁷ (@mikrokookmoshi) May 3, 2021
https://twitter.com/adelVLts/status/1389079337526198272?s=20
Wtf is wrong with Ms. Imelda Schweighart? That ex beauty queen who keeps attacking BTS. All of her post about BTS are so racists and homophobic. Miss girl I beg you to stop cuz you're just embarrassing yourself. pic.twitter.com/L6TvU1NYVi

— 🥂And If I am?🧈⁷ (@mikrokookmoshi) May 3, 2021
Imelda Schweighart can quit music too. Her songs and pen game (actually, I'm being generous to thinking she wrote her songs eh hahahaha!) are so hollow, empty, and really cliche.

She won't be the face of OPM that she's dreaming to be, she wants that ARMY clout kasi it's EASIER +

— Chai ⁷ (cb soon!) (@moonabysschild7) May 3, 2021
https://twitter.com/V_my_Baeby/status/1389050753436684292?s=20
Imelda's dislike for the genre became evident last year when she said "I hate K-pop." She called on the public to stop trying to be Koreans, most especially since Filipinos speak better English.
"Filipinos are losing their identity trying to be like Koreans. Konting pride, please?
"Di hamak na mas magaling namang mag-English mga Pinoy kesa Korean. Kala ko ba Chinese nananakop? I think we're getting it wrong. Lagi na lang tayong sinasakop," she said.
Imelda defended her conservative view, saying Filipinos should have their own identity instead of trying to copy other cultures.
"It's easy to support people that are backed by big corporations, but I think it's more fulfilling for fans if they're the ones who really discover the artist… We can't keep on continuing to see that machine that, oh it's amazing kasi like sobrang papayat, sobrang gawang-gawa. And these kids are not aware that they are shaping their lives and morphing their brains into believing this lie," she said in an interview.
"And for me, parang it's passion, that thought out of me that said 'I hate K-pop.' It's passion. I just hate it and… I want us to have our own identity," she added.
Imelda made a point that she doesn't blame K-pop fans for liking the genre as the musical industry in the Philippines lacks diversity.
"I am not against the fans, I think they just don't have enough choices to pick from here in the Philippines. Wala silang enough choice, wala ngang variety. That's what I'm trying to point out,
"They tune to K-pop, K-drama, and all these other stuff because they don't have variety. We don't honor creativity here. We just keep on doing the same thing over and over again. And I'm sick of it. And some people are sick of it as well."