There was a sudden increase in cyclists as public transportation is limited during GCQ.
MMDA decided to remove the bike lane as it is unauthorized and "dangerous."
The Metropolitan Manila Development Authority (MMDA) has removed the plastic bottles being used as improvised traffic cones by a cycling group for the "bike lane" along Commonwealth Avenue.
On the morning of June 2, the group used orange-colored plastic bottles as traffic cones for the bike lane on the outer sides of the avenue.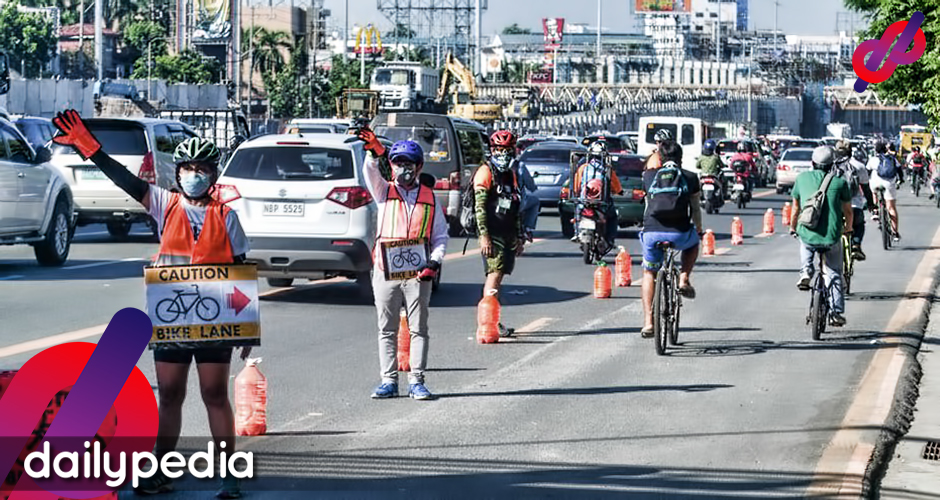 However, MMDA Assistant Secretary and spokesperson Celine Pialago said that the containers do not ensure the safety of the bikers. She also said that the agency has a plan to put a bike lane but it will take time.
"There is no bike lane yet, and we cannot just put barricades there, especially one-liter plastic containers. It is not safe for bikers because that is not enough to ensure their safety. It is very dangerous," she said.
"MMDA has a plan for a safe bike lane, but it will take time for it to be constructed."
In another interview, Pialago said that the bikers group would be cited for obstruction and fined P1,000 each. "They cannot just put up bike lane protectors without notifying authorities, especially made from plastic bottles," she said. "They are not enough to provide safety for our bikers from speeding vehicles. They are very dangerous, in fact."
She suggested that for now, cyclists should use the sidewalks.
Netizens expressed their disappointment regarding MMDA's decision to remove the bike lanes saying that the volunteers only did it because the agency is doing nothing.
MMDA blaming commuters, removing bike lanes, & slapping fines on bike groups

DFA stopping the cancellation of VFA

Congress grilling Gabby Lopez re: his citizenship for hours when they just passed 100% foreign ownership of public utilities #JunkTerrorBill #JUNKTERRORBILLNOW pic.twitter.com/o1VQOZaHq1

— Kenway (@hadouKENway) June 3, 2020
I challenge @MMDA Spox @CELINEBURCE to bike with us and marshall our biking public on Commonwealth Avenue tomorrow, 6AM. See you front of McDo Ever Commonwealth. P.S. – Bike from home. Be on time. No escorts. Bring the citation ticket, Php 1K is ready. #ProtectedBikeLanesNow pic.twitter.com/Q3WEL7btYL

— Rod Galicha (@kalikasan101) June 2, 2020
GIRL, NAGVOLUNTEER NA SILA KASI WALA KAYONG GINAGAWA TAPOS GANYAN GAGAWIN NYO? pic.twitter.com/DiUCZy7efe

— em (@imanyuwel) June 2, 2020
"They fail to provide help to their citizens and when countrymen help out each other, they stop and hinder it."
see how fucked up this government is?

they fail to provide help to their citizens and when countrymen help out each other, they stop and hinder it

so dont fucking tell me that people are only whining and doing nothing, everyone is doing their best except the govt. themselves https://t.co/ClGUcsTJyL

— kihyun dede appreciation bot (@stk_mxd6) June 2, 2020
Some also said that aside from the government being incompetent, they are also afraid of others doing their jobs for them.
https://twitter.com/officiallyoungk/status/1267793131623157760
The incompetent are afraid of people doing their jobs for them. https://t.co/1AzCAVU2Kf

— Kleiner Riese (@HomoConfusious) June 2, 2020
they remove anyone better at their jobs than them. this government is allergic to competency. 🤷‍♀️ https://t.co/5uXtS2zphI

— from_m (@michellemmanese) June 2, 2020
"The government lifted the ECQ without proper guidelines for public transpo and now that the citizens took the situation in their own hands, you shut them down? wow."
https://twitter.com/kattecruuz/status/1267828445985116162
Limited transportation is currently available to strictly implement COVID-19 health protocols.