Chairman emeritus of ABS-CBN Corporation Gabby Lopez's citizenship has been questioned and brought up many times during the discussion of issues regarding the network's franchise renewal.
ABS-CBN president and CEO Carlo Katigbak has always responded by saying that the man in question is a natural-born Filipino citizen. However, critics seem to doubt this even with the proof presented including testimonies from the Undersecretary of the Department of Justice.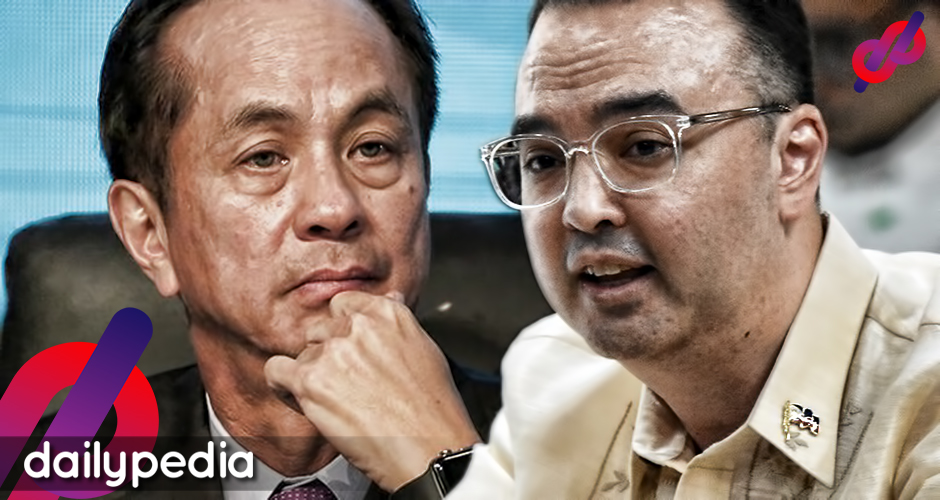 In light of this issue, netizens have started questioning Cong. Alan Peter Cayetano's own citizenship, saying that the Speaker of the House of Representatives might actually be an American citizen.
Cayetano is part of a Wikipedia list that shows distinguished former United States citizens who relinquished their nationality and are part of the "Federal Register" of former US citizens, and his was in 1999.
The list states that the congressman was born in the Philippines in the year 1970 to Philippine Senator Renato Cayetano and his American wife, Sandra Schramm, a native of Michigan.
The list says Cayetano "renounced his US citizenship to stand for election to the Philippine House of Representatives in the 1998 elections, and to gain admission to the Philippine Bar that same month."
He had to make a choice at the age of 21 and chose to become an American citizen.
Pateros Mayor Jose Capco, Jr. filed a complaint saying that Cayetano's parents got an Alien Certificate of Registration (ACR) for him on March 18, 1976, showing that he was an American citizen.
Another record obtained by Capco states that Cayetano personally applied for and was granted a new ACR on January 23, 1985, where he made it clear that he wanted to be an American citizen.
Furthermore, Capco said Cayetano produced an Identification Certificate, BC-1295 when he campaigned for municipal councilor of Taguig in the 1992 elections, which he got from the Philippine Bureau of Immigration proving that he was a Philippine citizen. However, Capco said this identification certificate was apparently bogus and "has never been affirmed by the secretary of justice" as required by the law.
The complaint cited the Philippine Constitution as Section 3, Article VI of the Constitution which states that "no person shall be a senator unless he is a natural-born citizen of the Philippines."
Cayetano did not challenge his inclusion in the US Federal Register as having only formally relinquished his US citizenship in 1999 which only means that he was still an American when he won as Taguig councilor in 1992, as vice mayor in 1995, and as a congressman in 1998 before he formally relinquished his US citizenship in 1999.
Grace Poe was also part of the list but when she renounced her US citizenship in 2010, the Philippine Dual Citizenship Act had already been in effect since September 17, 2003, which states that former natural-born Filipinos who lost their Philippine citizenships when they became naturalized citizens of other countries are deemed not to have lost their citizenship under the conditions provided by the act. Poe did however had to formally apply to reacquire her Philippine citizenship in 2005 which Cayetano did not do in 1999.
But did Cayetano become stateless when he gave up his US citizenship?
The Philippine Department of Foreign Affairs announced on March 11, 2017 that former Foreign Secretary Perfecto Yasay Jr.'s renewal of his Philippine passport was put on hold due to questions about his citizenship by "competent authorities."
Yasay was terminated when the Commission on Appointments of the Philippine Congress voted 15-0 to reject his confirmation because he was dishonest regarding the time he relinquished his U.S. citizenship. It was revealed that before Duterte even appointed Yasay as Secretary of Foreign Affairs, the latter officially renounced his American citizenship at the US Embassy in Manila on June 26, 2016.
The DFA said that since Yasay has never formally applied to reacquire his Philippine citizenship, the issue of his citizenship is now left for "competent authorities" to decide.
It could have been possible that Cayetano wasn't even a Filipino citizen when Duterte appointed him the Secretary of Foreign Affairs on May 10, 2017.