Marikina City earned praise for its actions when it comes to the coronavirus disease. 
Mayor Marcy Teodoro stated that they have set up a laboratory testing center and decontamination tents for the rapid detection and sanitization of its citizens.
The local government unit (LGU) of Marikina City actively shared their plans and projects to help with the prevention of the coronavirus disease 2019 (COVID-2019).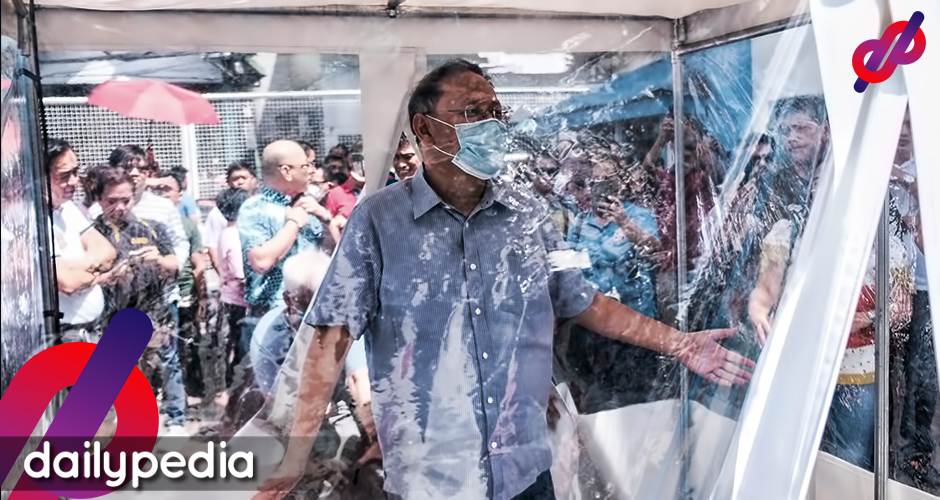 They set up a laboratory testing center for the early detection of confirmed cases in the city. Mayor Marcelino Teodoro partnered with the first private biotechnology company for Philippine health, Manila Health Tec, Inc. for the project. The company will supply 3,000 testing kits to the city.
"Ito ay para agad-agad ma-test natin ang persons under monitoring or PUMs. This will liberate a person after being subject to test. Ito, ang ganda nito. Hindi na siya mag-aalala pa," Teodoro said on March 13, during his presentation of the decontamination tents.
He added that the doctors of the Marikina City Health Office (CHO) will be trained by scientists and the company will also help put up molecular laboratories. If a person is experiencing COVID-19 symptoms, they may call the Marikina Rescue 161 and be fetched by an ambulance to be rushed to the CHO. The results will be out in just two hours.
The LGU of Marikina City also stated that there will be no lockdown in the city because there's no community transmission.
"Hindi natin papayagang magLOCKDOWN ang MARIKINA. Ang mga taga-Marikina, makalalabas pa rin sa Marikina dahil walang Community Transmission sa bayan natin. Ang biyaheng papasok at palabas ng Marikina, tuloy pa rin. Mga trabahador na pumapasok sa loob at labas ng Marikina, tuloy pa rin," Marikina's Public Information Office wrote in a post.
The city will also conduct a price freeze in the local stores and flexi-time for the employees of the local government.
The LGU has also provided the citizens with free hand soap and disinfectant as well as sanitized the streets of Marikina.
This display of competency has earned praise from the online community, saying how the national government should also act rapidly as Marikina did to prevent the virus from spreading.
Guess what: Marikina has decontamination tents too. In addition, no lockdown, price freeze on commodities, 3000 TEST KITS ORDERED, among other helpful ordinances. Sobrang galing. It puts the national government TO SHAME. https://t.co/NKrizDHBIm pic.twitter.com/jiRvY5nY1v

— Mr. Lastykun (@ohnoitslars) March 14, 2020
Admin's health crisis management is a solid 0/10

Try looking at other nation's solutions and see the possibility of doing the same here! Marikina set-up decontamination tents already wc is a good initiative to combat the spread of NCOV.

Think critically and rationally please! https://t.co/qWFhhg2nyv

— jeb (@jaedbiron) March 14, 2020
Marikina LGU Pasig LGU
🤝
Treating COVID-19 as an actual health issue and implementing necessary socioeconomic and medical policies for their people's safety https://t.co/jdtEf6bfQn

— ba #JunkTerrorLaw (@_bernadetteanne) March 14, 2020
A netizen even called Teodoro a "superior mayor".
Marikina's own Mayor Marcy proves to be A Superior Mayor. pic.twitter.com/3DGgeZVedv

— Esteban Tawagoso (@EstebanTawagoso) March 13, 2020
And Marikina as a "superior city".
Marikina is and will always be the superior city in Metro Manila https://t.co/NxmLtxGPhm

— Hijo (@MikeNotMic) March 8, 2020
Even television personality Bianca Gonzalez commended Marikina for its actions.
Sharing this bit of positive news.. Marikina LGU with decontamination tests, price freeze on basic goods, and 3,000 test kits ordered. 🙏🏼 pic.twitter.com/5D3vVKID5K

— Bianca Gonzalez (@iamsuperbianca) March 14, 2020
Some wished for their LGUs to do the same.
https://twitter.com/katszuku/status/1238755966679564288
And a Marikina resident I know told me their barangay officials went door-to-door to distribute sanitizers.

OTHER CITIES KEEP UP PLEASE! https://t.co/6tc68VLExA

— #PrOkra Winfrey (@mrsunlawyer) March 14, 2020
Marikina LGU is doing a good job so far. In times of crisis, makikita talaga natin ang mga effective leaders, trouble shooters and crisis managers. 👍🏼👍🏼👍🏼 I hope they can share their best practices to other LGUs ASAP.

— MJ Felipe (@mjfelipe) March 14, 2020
https://twitter.com/thirdyisagirl/status/1238750007144198147
Others kept on praising the city and its government.
Marikina will always be the best and the cleanest of all among cities. https://t.co/UHt0ySTWHH

— nikki (@ItsNekkeh) March 9, 2020
we stan marikina city!! https://t.co/FlwwMSyEo1

— denyz (@rendezvourj) March 14, 2020
Marikina City currently has five confirmed cases, none of which came from community transmission.