A guy was concerned with his voice if it sounded effeminate
He remembers the feeling of not being accepted because of the feminine attributes he possesses
These people needed to be accepted and be loved
Have you experienced having a phone call and your identity mistaken after hearing your voice?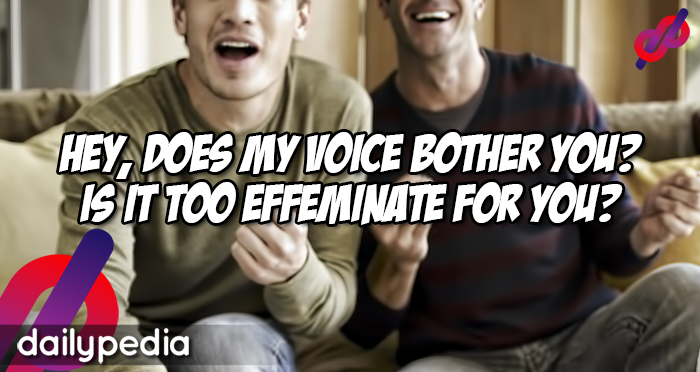 We probably felt offended and sometimes bullied by people who don't understand human nature. Just like Richard Hey Darla who shared his experience, when a guy he matched on Tinder called him.
Richard said they were having a pleasant conversation when the guy suddenly asked him if his voice bothered him because of sound too effeminate.
So this guy I matched with on Tinder called me and it was a really pleasant conversation until he asked:

Hey, does my voice bother you? Is it too effeminate for you?

That made my heart sink. I assured him that it doesnt bother me and him being too effeminate isnt a concern.

— Karl (@kbomolina) March 18, 2019
Upon hearing the question, his heart sink as he remembered the feeling of not being accepted because of the feminine attributes he possesses. And while having their conversation, he assured the other guy that being too effeminate isn't a concern for him.
Damn guys, that made me really sad.

Some of you may have experienced the same thing, wanting to be desired despite your feminine attributes. Ive experienced that on many occasions and the feeling is shit.

— Karl (@kbomolina) March 18, 2019
The encyclopedia says "effeminacy refers specifically to males who are not sufficiently masculine, according to the expectation of their culture and/or context."
This means that if a man failed to show his strength, virility, emotional control, and lack of demonstrativeness then this may be seen as more feminine. But this is not only pertaining to man, this even happens to women who are feminine but have masculine attributes who are often called "butch."
For men who do not manifest masculine traits, whose development is delayed, are usually being ridiculed and bullied by calling them sissy, pussy, queer, faggot, pansy, pouf (British), cream puff, fairy, or the most famous name calling – mama's boy. And having this shameful experience pushes them to distance themselves from their peers.
Here are some of the netizens who shared their experiences of being effem:
When I was in high school, tumawag ako sa kaklase ko. Narinig ko ang sabi ng kuya niya, "babaeng kaklase mo" tapos nung sinagot ng kaklase ko, tawang tawa siya tapos sinabi niya sa buong pamilya niya na lalaki ako.

Rinig na rinig ko tawa nilang lahat.

— J.A. del Prado 앤드류 (@MrJayDelPrado) March 18, 2019
Since then, I talked with a lower voice until nasanay na ako. I can still remember the embarrassment I felt.

— J.A. del Prado 앤드류 (@MrJayDelPrado) March 18, 2019
The worst part is being called "ma'am" on the phone. I would just want to shrink like a raisin and eventually pretend to be a girl to avoid embarrassment.

— Ssen ⊛ (@pochybny) March 18, 2019
https://twitter.com/quiambao_jammy/status/1107648337677701121
Exactly. It's kinda make me wanna hate my personality at some point but that's me. That's the way I am. I can adjust, but I can't change it.

— james. (@jamestantanium) March 19, 2019
I truly appreciate this sentiment. Ako kase being part of the more "feminine" squad, talagang nadi discriminate. Ang sakit lang na fellow gay people act discriminatory towards other gays. Sana they get to know us before judging us.

— Leo (@alterchubsucker) March 19, 2019
Richard's Twitter post is an eye-opener, that failing to exhibit the characteristics expected of a man or woman, due to delayed physical development, isn't a choice of their own.
And these people needed to be accepted and be loved; for them to find love within themselves.