Openly gay pro strongman places 1st at 2019 Arnold Pro Strongman contest in Australia
That same weekend, he married his longtime boyfriend at a beach wedding and were congratulated by Arnold Schwarzenegger himself
Kearney became the first openly gay competitor at an international professional Strongman competition
An openly gay professional strongman emerged first place at the 2019 Arnold Pro Strongman contest in Melbourne and then wedded his long-time boyfriend on St. Patrick's Day.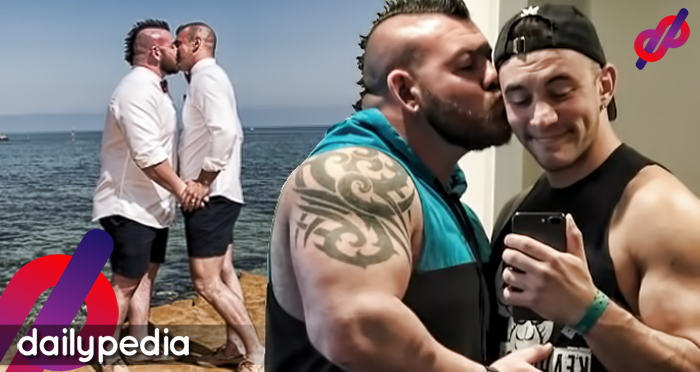 Rob Kearney, 27, one of the world's strongest men by competing to carry a device (called a yoke) loaded with 1,102 pounds and running the distance in 13.2 seconds, finally tied the knot with his soulmate Joey Aleixo over the weekend at Half Moon Bay Beach.
The two were congratulated by former California governor, movie star, and body builder Arnold Schwarzenegger himself and posted a photo with Kearney and Aleixo on Twitter, saying: "I think this is a first: winning the @arnoldsports Strongman and getting married in the same weekend. Congratulations guys. I was honored to celebrate with you."
The newlyweds, who have the Instagram handles "worlds_strongest_gay" and "worlds_gayest_strongman" respectively, announced their marriage on Instagram:
"So we did a thing. We didn't tell many people, but on March 17, 2019 @worlds_gayest_strongman and I got MARRIED!! To call this man my husband is a dream come true and he is and always will be my soulmate. I am so excited to start this new journey as a married couple and my heart has never been so full of love #husbands"
https://www.instagram.com/p/BvHCAaLgKHk/?utm_source=ig_web_copy_link
"March 17th, 2019 is a day that i will never forget. Today is the day that I OFFICIALLY MARRIED MY BEST-FRIEND! @worlds_strongest_gay you will always have my heart and I cannot wait to see what the future has in store for us."
Kearney came out as gay in 2014 after he placed second in the World's Strongest Man competition. That same year he shared to his fans and followers his relationship with Aleixo. By coming out when he did, Kearney became the first openly gay competitor at an international professional Strongman competition.
Talking to Huffington Post back then, Kearney said he no longer wanted to hide who he was, "I hope people realize that being gay doesn't change the athlete/person that I am. I am still the second strongest 105kg professional Strongman in American and I am still the same Rob Kearney they knew before this news."
https://www.instagram.com/p/BvHBnrHgIt-/?utm_source=ig_web_copy_link
While on his 2017 interview with the Williston School, Kearney chatted about the metaphorical weight of coming out and said that living genuinely made him a better strongman.
He is the head athletic trainer at the Williston Northampton School in Massachusetts when he's not competing, according to Outsports.