The usual scenario is seen on television and social media, when MMDA enforcers call the attention of the violators
An ordinary person simply follows while extraordinary persons argue with the enforcer
He had given the idea to the netizens that if ever they get caught by an enforcer  that they would take a selfie with him to be an example of an "ordinary person"
Ignorance of the law excuses no one!
Our traffic enforcers strictly follow the law to apprehend hard-headed motorists who usually violate the law that results in road rage. This is the usual scenario seen on television and social media when MMDA enforcers call the attention of the violators.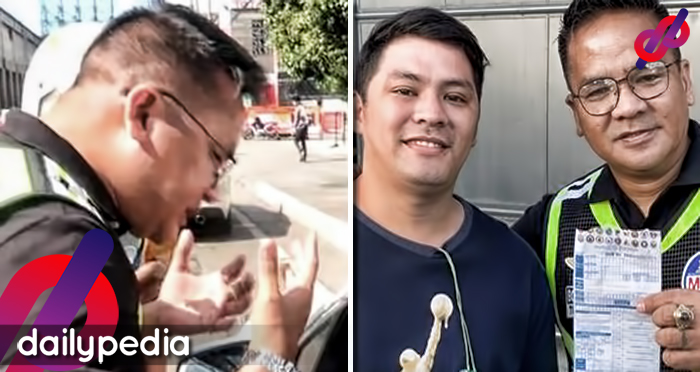 Recently, with all his experience, MMDA operation officer Edison Bong Nebrija posted on his Facebook account two violators that they encountered on different locations with separate violations. On his post, he compared these two violators based on their behaviors when caught.
First, when he flagged down a motorcycle rider, the rider asked for his violation, immediately surrenders his license, accepted the ticket and politely said: "Sir, pasensya na, ngayong alam ko na bawal yan, di na po ako uulit." (Then asks for a selfie)
This is what he calls an "ordinary motorist."
Now, here comes the second motorist who is riding a Subaru, and was also called by the enforcer. He immediately asked for his violation, then argued with the enforcer and doesn't want to surrender his license, refused to accept his mistake, and blurted to the enforcer:
"Hindi ako ordinaryong tao! " (I'm not an ordinary person!)
This one, he calls an "extraordinary person."
Many of the netizens reacted to his post, especially those who admired the ordinary motorist that respectfully accepted his violations.
One said that it is refreshing to see in reality that motorists are not arrogant and irresponsible, unlike what others may have thought of. Because bikers often stop and follow what an enforcer says, without any question.
Chris Dutch Bezuidenhout: "Thank you for this post. It's so often that bikers are pointed out for being arrogant and irresponsible motorists. It's refreshing to see reality. Bikers are stopped so often that they know the process and most of the time follow it without question. There are people of all kinds on 2 wheels and 4 wheels too. Kudos to the rider, you are a great example to others."
Another one also gave his advice that when an enforcer comes close, you immediately smile and voluntarily give your license with a smile. That way, maybe your violation can be considered or may simply be given a warning.
Reuben L. Loor: "Ganyan dapat.. Pagkalapit ni enforcer, greet agad sabay bigay ng lisensya at may kasama pang smile. Baka patawarin kapa e or tikitan ka ng pinakamababang penalty. Ganyan ginagawa ko dito sa probinsya, and so far effective tatlong beses na akong naharang, speed limit at disregarding traffic sign."
Another one said that the ordinary person shows good attitudes unlike those who are belong to a 'privileged' class who show negative attitudes, most of the time.
Manny Balane: "The so-called "ordinary person" showed his superiority by his commendable and civilized behavior while the other one only proves that even if you belong to a social register, bad breeding still shows!"
Edison's post has gone viral and gave an idea to netizens that if ever they will be caught by an enforcer, they would take a selfie with him to be an example of an "ordinary person."