The newly-built elevated pedestrian overpas has utility wires on the path that will force you to dance Tinikling
The road below is also busy as a lot of cars pass and speed up on the highway, making it also dangerous for the pedestrians
Concerned citizens are calling the attention of the government to make the proper solution to this problem
On Thursday, Pio Gerona Fortuno Jr. posted a video of the overpass at the Mindanao Avenue and Congressional Avenue intersection with a caption, "I don't know which is more dangerous – crossing the busy Mindanao Ave/Congressional Ave intersection below or on the newly built elevated pedestrian overpass that has utility wires on the path that will force you to dance Tinikling."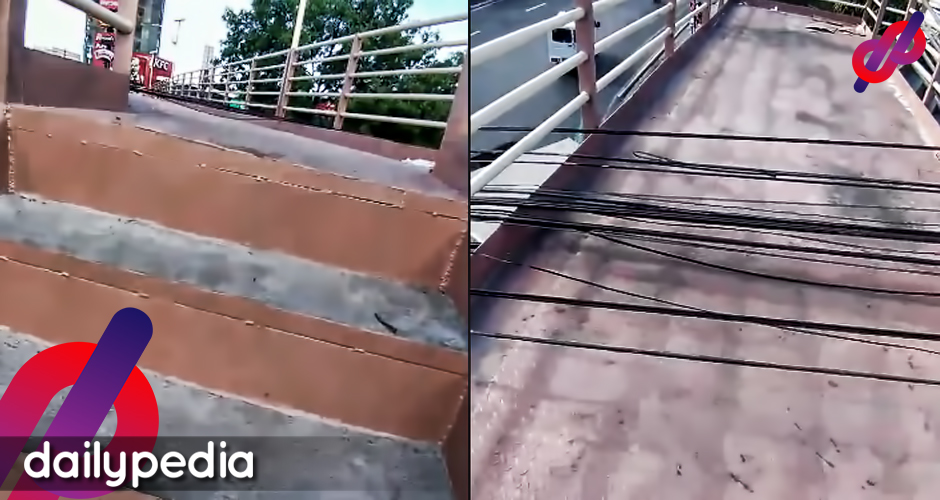 As shown on the video, there is a newly-built overpass for pedestrians to use, presumably for a much safer way of crossing the streets. But as the video continues, you can see utility wires on the path which becomes more dangerous for people to pass.
"When I took the video, walang harang or warning sign sa entrances. This implies that the footpath is open for public use. I think it is sad that the authorities choose to channel their energies towards blaming me instead of correcting their mistake. Anyway, linagyan na nila ng harang na matibay which they should have done in the first place. Clear ang conscience ko, if the trade off is kakasuhan ako pero magiging safe ang mga tao dahil i exposed this, i can live with that. People need to stand up to right what they think is wrong," said by the uploader.
Some were thinking they can be electrocuted so they'd rather pass below the overpass because they are afraid of the live-wires. However, the road below is also busy with a lot of cars passing and speeding up on the highway which is also dangerous for pedestrians to cross.
What choice do the people there have to be much safer as they cross the street?
Many of the netizens reacted on the video being posted. Some of them were worried and some also wanted to call the attention of the government agency involved to make a proper solution to the problem.
Joel F. Uichico said, "There is so many expenses that are really wasteful. Traffic signs not followed. Traffic signs not seen. Overpasses that are not used. Maybe we can start to document these like what you did Pio Gerona Fortuno Jr."
Pio also replied on his comment encouraging other people to also document said problem.
Pio Gerona Fortuno Jr. said, "Joel, I hope they do something about this. This Mindanao/Congressional Ave intersection is dangerous to pedestrians on the crosswalk, due to the high traffic volume, the speed of vehicles, and numerous huge trucks that pass through. So when this overpass was finished some three weeks ago, I was really happy. Alas, these wires really bummed me out though. I hope the authorities notice this post and act accordingly. And yes, I do believe we have to document stuff like this, my friend."
After a week, the government decided to close the overpass for the safety of everyone.