National Council on Disability Affairs (NCDA) clarified that they cannot issue someone with a PWD ID if they only have poor vision that can be corrected.
Qualified ones are only those who have long-term physical, mental, intellectual, and sensory impairment. 
Contrary to the information circulating social media platforms, the head of government council for persons with disabilities (PWDs) clarified that poor eyesight does not automatically guarantee someone the chance to avail a PWD card.
On Wednesday, January 16, Carmen Zubiaga expressed alarm over reports saying that while some PWDs could not avail of the special ID, there are others who were able to get their own through "connections".
"Yung iba hindi nakakakuha, yung totoong may kapansanan. At yung mga walang kapansanan na may connection lang, ay nakakuha sila."
She said that those who face long-term physical, mental, intellectual, and sensory impairment are the only ones qualified for a PWD ID.
Zubiaga added that poor vision is not included unless it's permanent and cannot be corrected.
"Yung mga function limitations na yan ay nakakahadlang sa kanilang pakikisalamuha at sa kanilang interaction sa ating kapaligiran.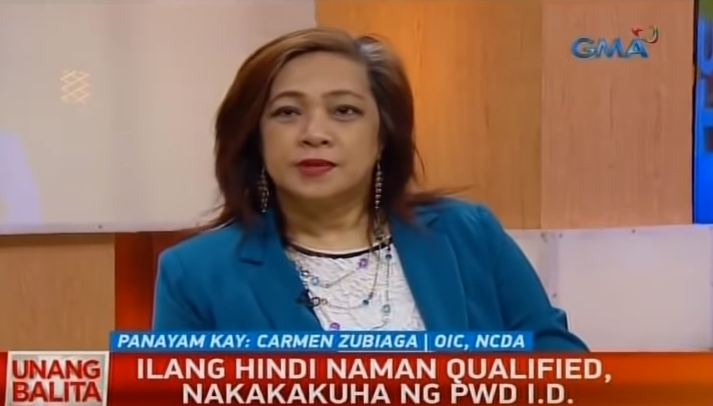 "Kahit nga 1,000 ang grado ng salamin mo , basta yan ay nako-correct pa, nakakabasa ka pa, nakikita mo pa yung pinapabasa sa 'yo ng optometrist, hindi ka pa [qualified for PWD ID].
"Pero kapag kahit nagsalamin ka ay ang makikita mo lang yung letter E na malaki—yun iisyuhan ka na ng ID."
PWD IDs allow people to purchase with a 20 percent discount in restaurant bills and less value added tax in medicines.