A video of a girl apologizing to her boyfriend went viral on Facebook.
It was revealed to be a social experiment aiming to spread awareness over gender equality.
Saying sorry is not an easy thing as it takes a lot of courage to admit your wrongdoing and apologize to the one you love.
But it didn't stop this girl from publicly saying sorry to her boyfriend.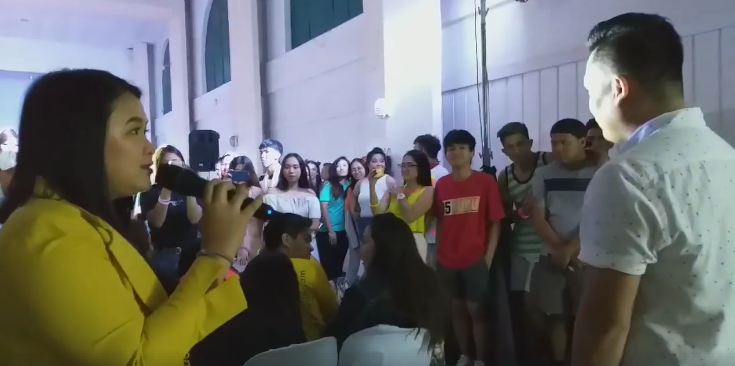 A video on Facebook uploaded by Daisy Ree Rosell Otida went viral as she was singing her feelings to her man. What it seemed like is that she did something wrong and was asking for his forgiveness.
She was singing Perfect By Ed Sheeran and made her way towards her boyfriend. A few moments later, girls appeared holding up letters that read "Mahal, sorry na,"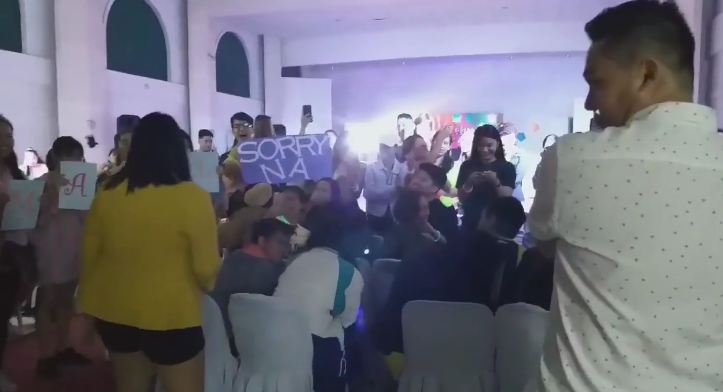 The girl tried giving him a teddy bear and usually, couples would make-up but at that moment, they didn't.
Her boyfriend turned her down and walked away.
As netizens were getting emotional over the video, some getting angry at the guy and some saying that not everything can be forgiven through a "sorry", a comment appeared saying that the heartbreaking video was just a social experiment to raise awareness to gender equality.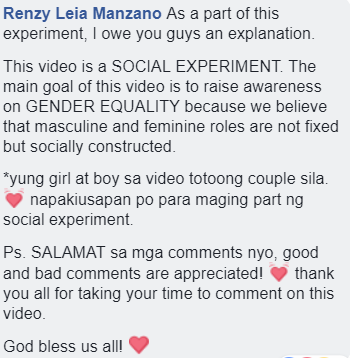 As a part of this experiment, I owe you guys an explaination.

This video is a SOCIAL EXPERIMENT. The main goal of this video is to raise awareness on GENDER EQUALITY because we believe that masculine and feminine roles are not fixed but socially constructed.

*yung girl at boy sa video totoong couple sila. napakiusapan po para maging part ng social experiment.

Ps. SALAMAT sa mga comments nyo, good and bad comments are appreciated! thank you all for taking your time to comment on this video.

God bless us all!
After a while, the uploader edited her caption, admitting that it is only indeed a social experiment for their subject Social Psychology. She added that the video is not meant to gain sympathy but to study the reaction of netizens when they witness a girl doing big things for a guy, and not the other way around.
https://www.facebook.com/saisaiotida/videos/1878425378941502/
The video now has more than 1.6 million views and 37,700 shares.