Steve Dailisan posted a lengthy message on Facebook.
He explained why he resigned as a broadcaster to become a pilot. 
If you didn't know yet, former broadcast journalist Steve Dailisan is now a pilot!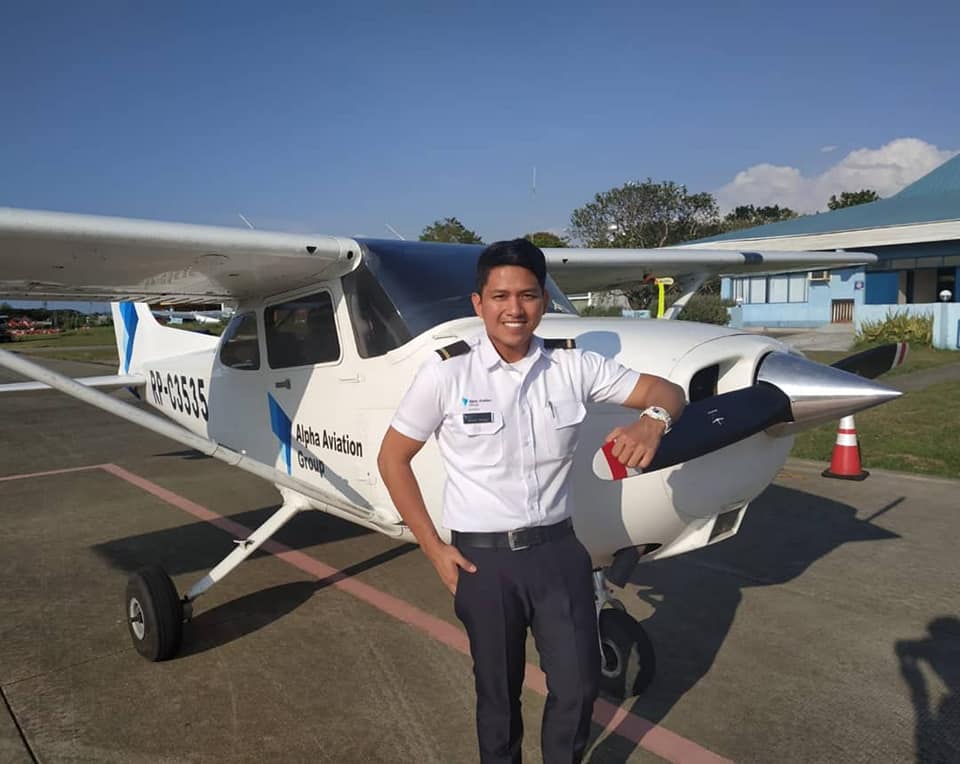 In a lengthy post on Facebook, he explained why he decided to leave his seemingly stable career for something kind of out of the line. He said that the question "Why do you want to become a pilot?" is often asked to the aspiring pilots and most of them answered that it's their childhood dream. It wasn't for Steve.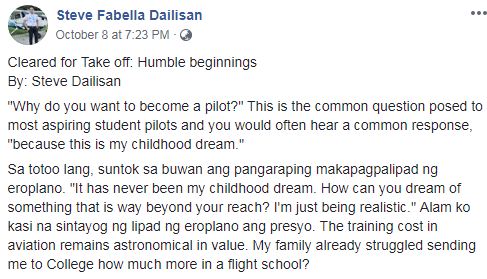 Cleared for Take off: Humble beginnings
By: Steve Dailisan

"Why do you want to become a pilot?" This is the common question posed to most aspiring student pilots and you would often hear a common response, "because this is my childhood dream."

Sa totoo lang, suntok sa buwan ang pangaraping makapagpalipad ng eroplano. "It has never been my childhood dream. How can you dream of something that is way beyond your reach? I'm just being realistic." Alam ko kasi na sintayog ng lipad ng eroplano ang presyo. The training cost in aviation remains astronomical in value. My family already struggled sending me to College how much more in a flight school?
He shared his story when he was a Polytechnic University of the Philippines (PUP) student, that he had to work twice as hard just to maintain his scholarship. But he was lucky that he had generous professors at that time. Steve also mentioned DOTr Secretary Arthur Tugade and Dir. Goddess Hope Libiran as two of those that helped him.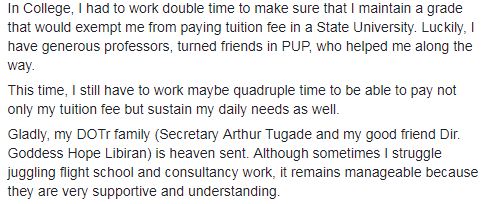 In College, I had to work double time to make sure that I maintain a grade that would exempt me from paying tuition fee in a State University. Luckily, I have generous professors, turned friends in PUP, who helped me along the way.

This time, I still have to work maybe quadruple time to be able to pay not only my tuition fee but sustain my daily needs as well.

Gladly, my DOTr family (Secretary Arthur Tugade and my good friend Dir. Goddess Hope Libiran) is heaven sent. Although sometimes I struggle juggling flight school and consultancy work, it remains manageable because they are very supportive and understanding.
He said that although it was hard to leave his first love, which was broadcasting, he felt thrilled whenever he boarded a plane. So he chose the one that will make him stronger.

People ask me, "Why do you have to leave a stable and decent job? You've already invested a lot in broadcast journalism, isn't that enough? Wouldn't it be too late to start anew?"

Sa totoo lang, hindi birong iwan ang "First Love" mo. Mahirap talikuran ang mga bagay na nakasanayan mo na. Pero kapag dumating ang araw na kakailanganin mong mag-desisyon, pipiliin mo ang bagay na mas magpapatapang sayo.
Steve also said that despite the decision, he still owes his previous network, GMA, a lot.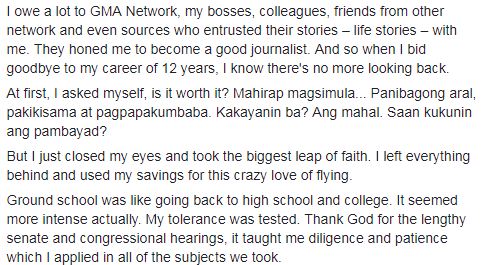 I owe a lot to GMA Network, my bosses, colleagues, friends from other network and even sources who entrusted their stories – life stories – with me. They honed me to become a good journalist. And so when I bid goodbye to my career of 12 years, I know there's no more looking back.

At first, I asked myself, is it worth it? Mahirap magsimula… Panibagong aral, pakikisama at pagpapakumbaba. Kakayanin ba? Ang mahal. Saan kukunin ang pambayad?

But I just closed my eyes and took the biggest leap of faith. I left everything behind and used my savings for this crazy love of flying.

Ground school was like going back to high school and college. It seemed more intense actually. My tolerance was tested. Thank God for the lengthy senate and congressional hearings, it taught me diligence and patience which I applied in all of the subjects we took.
He then shared the story about his first ever solo flight.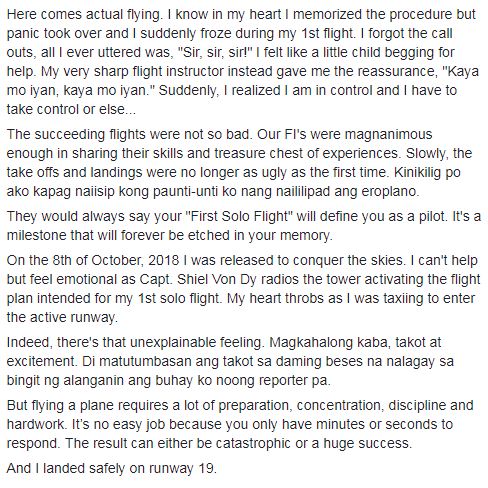 Here comes actual flying. I know in my heart I memorized the procedure but panic took over and I suddenly froze during my 1st flight. I forgot the call outs, all I ever uttered was, "Sir, sir, sir!" I felt like a little child begging for help. My very sharp flight instructor instead gave me the reassurance, "Kaya mo iyan, kaya mo iyan." Suddenly, I realized I am in control and I have to take control or else…

The succeeding flights were not so bad. Our FI's were magnanimous enough in sharing their skills and treasure chest of experiences. Slowly, the take offs and landings were no longer as ugly as the first time. Kinikilig po ako kapag naiisip kong paunti-unti ko nang naililipad ang eroplano.

They would always say your "First Solo Flight" will define you as a pilot. It's a milestone that will forever be etched in your memory.

On the 8th of October, 2018 I was released to conquer the skies. I can't help but feel emotional as Capt. Shiel Von Dy radios the tower activating the flight plan intended for my 1st solo flight. My heart throbs as I was taxiing to enter the active runway.

Indeed, there's that unexplainable feeling. Magkahalong kaba, takot at excitement. Di matutumbasan ang takot sa daming beses na nalagay sa bingit ng alanganin ang buhay ko noong reporter pa.

But flying a plane requires a lot of preparation, concentration, discipline and hardwork. It's no easy job because you only have minutes or seconds to respond. The result can either be catastrophic or a huge success.

And I landed safely on runway 19.
At the end of his post, he declared this achievement as only the beginning and it's never too late to follow your dreams and reach for the stars.

This is just the beginning. It excites me even more to know that there's much to learn. Who knows one day, while flying I can continue telling stories of people who have big dreams, too. Remember, "It's never too late to follow your dream, reach the sky and be with your stars." A Broadcast Journalist, aviation enthusiast, an aspiring Airline Pilot… I am Steeeeeeve Dailisan. Cleared for Take off!
Steve Dailisan started the training course at the Alpha Aviation Group early 2018.