Jameson Blake was looking for graphic artists who are willing to do artwork for him in exchange for a shout out
Netizens react negatively, saying that he should offer a payment instead of a mere tweet
While many artists commission their art for a living, or to earn extra cash, Hashtags member and actor Jameson Blake has another idea on how to pay the artist.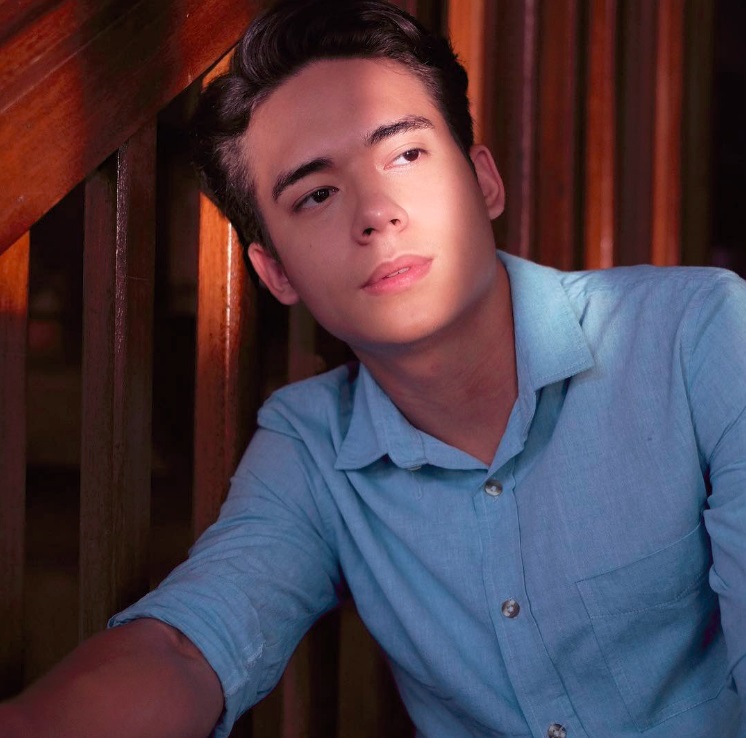 In a form of a shout-out!
Last July 4, the young actor has tweeted in his personal account, asking people to make a cover banner for his social media accounts with username "LucidExpress".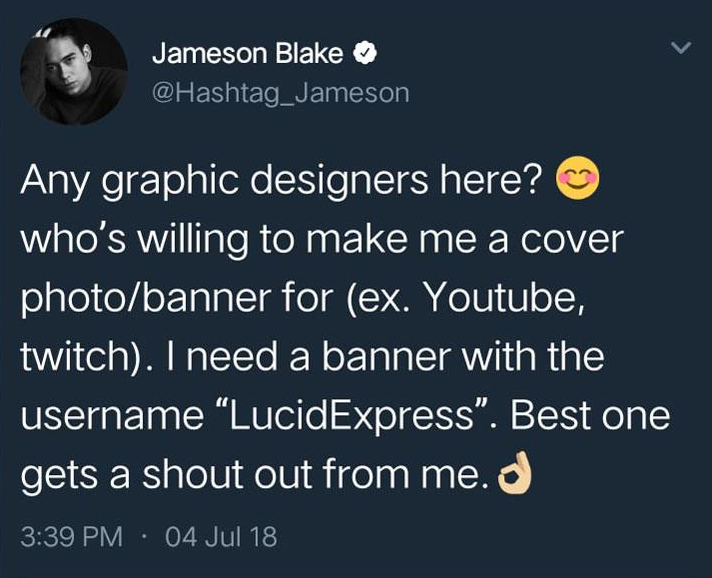 "Any graphic designers here? Who's willing to make me a cover photo/banner for (ex. Youtube, twitch). I need a banner with the username 'LucidExpress.' Best one gets a shout out from me."
Netizens then blasted and disagreed with Jameson's offer, saying that maybe he should also offer a payment (aside from the shout-out) to support the Filipino artists.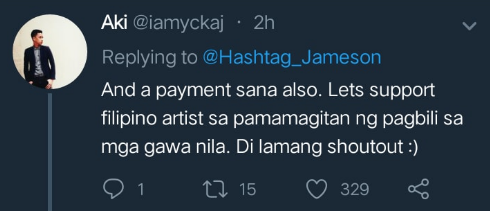 "And a payment sana also. Let's support filipino artist sa pamamagitan ng pagbili sa mga ginawa nila. Di lamang shoutout :)"
He then answered that he isn't looking for anything extravagant but will be okay with just a simple anyone to that is willing to do it without payment.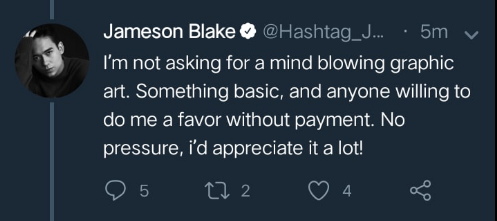 "I'm not asking for a mind blowing graphic art. Something basic, and anyone willing to do me a favor without payment. No pressure, i'd appreciate it a lot!"
Another netizen then suggested that if he isn't willing to pay the artist, then he should just do it himself.

"ehhhh why don't you do it yourself if you just something basic and you don't want to pay for it?"
Another netizen told Jameson to "just pay the designer" as they also need money to pay their bills and he's sure that the actor's management can find a way to pay for the design. The netizen also said that a shout out won't guarantee the artist a paying client after the actor.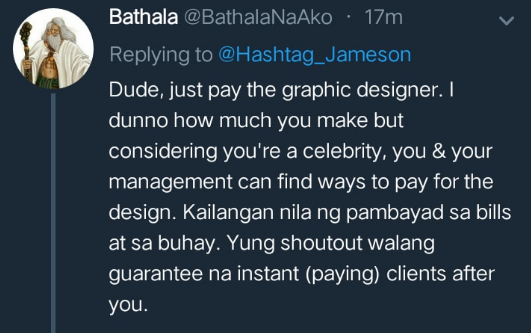 Dude, just pay the graphic designer. I dunno how much you make but considering you're a celebrity, you & your management can find ways to pay for the design.  Kailangan nila ng pambayad sa bills at sa buhay. Yung shoutout walang guarantee na instant (paying) clients after you.
Jameson defended himself once again repeating that he's not asking much, just a simple graphic art.

"I'm not asking that much. Just a basic graphic art for a profile. No one needs to do it, only if you're willing to help me out i'd really appreciate it."
The actor has then deleted the tweet and series of replies but it turns out that in the end, an artist was willing to do his request as he tweeted the artwork and tagging the artist behind it.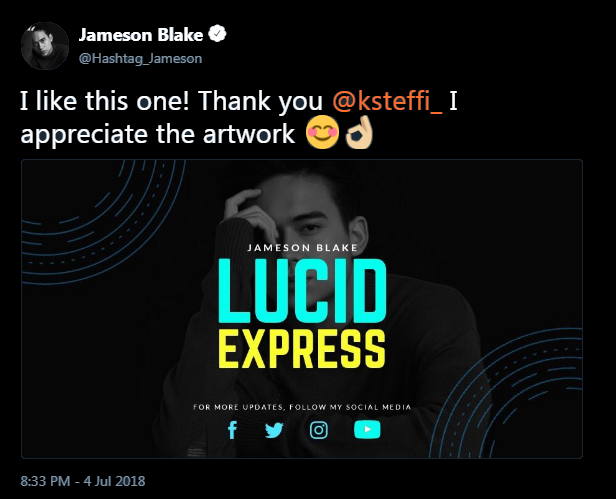 "I like this one! Thank you @ksteffi_ I appreciate the artwork"
The incident became a source of entertainment for many Twitter users as memes and witty tweets popped here and there regarding Jameson and his shout out payment.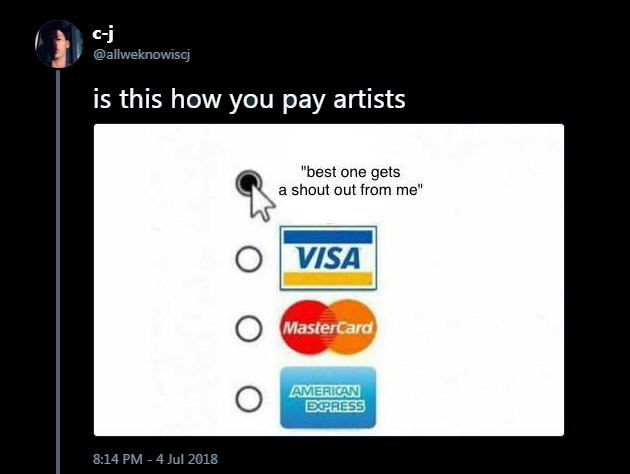 "is this how you pay artists"
This netizen even made his on version of the artwork as he said that he even made the lettering himself.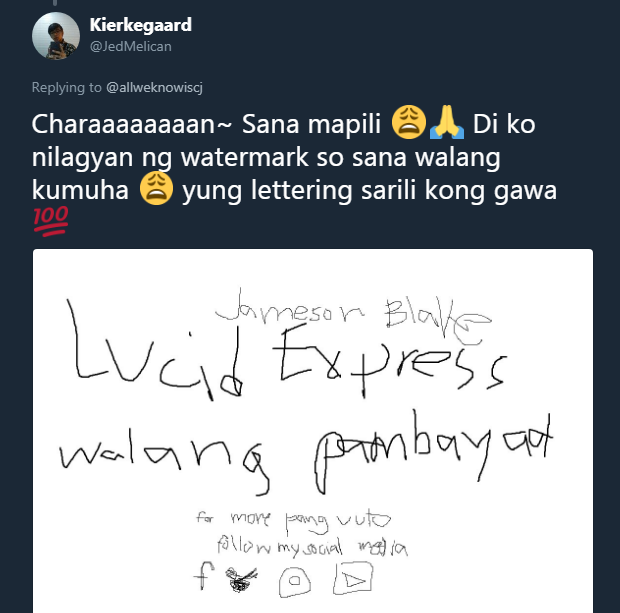 "Charaaaaaaaaan~ Sana mapili. Di ko nilagyan ng watermark so sana walang kumuha. Yung lettering sarili kong gawa."
This Twitter user expressed her annoyance upon the Hashtag member's request, explaining that a mere shout-out won't be enough for all the labor of the members of the creative industry.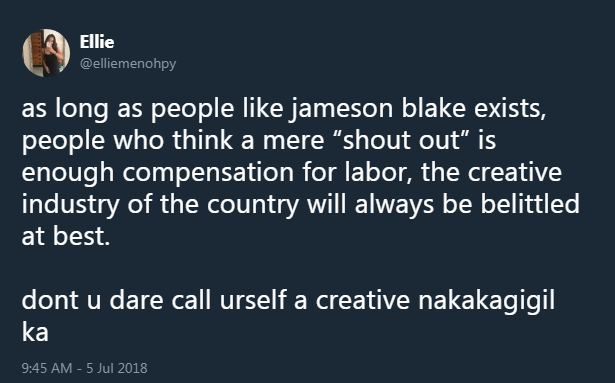 "as long as people like jameson blake exists, people who think a mere "shout out" is enough compensation for labor, the creative industry of the country will always be belittled at best.

dont u dare call urself a creative nakakagigil ka"
After receiving criticisms regarding his tweet, Jameson released a public apology in his Twitter account saying that he "was not trying to look down on graphic designers and their artwork.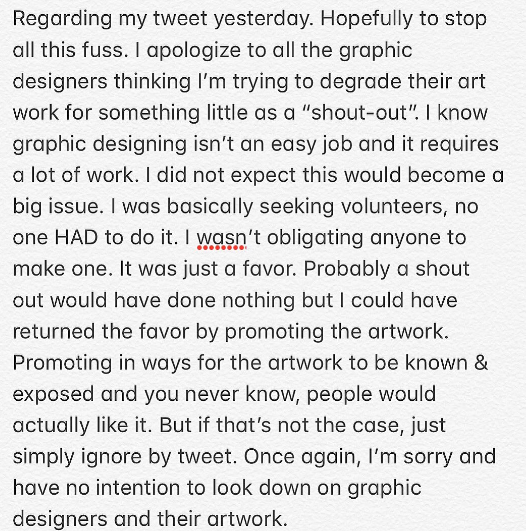 Regarding my tweet yesterday. Hopefully to stop all this fuss. I apologize to all the graphic designers thinking I'm trying to degrade their art work for something little as a "shout-out" I know graphic designing isn't an easy job and it requires a lot of work. I did not expect this would become a big issue. I was basically seeking volunteers, no one HAD to do it. I wasn't obligating anyone to make one. It was just a favor. Probably a shout out would have done nothing but I could have returned the favor by promoting the artwork. 

Promoting in ways for the artwork to be known & exposed and you never know, people would actually like it. But if that's not the case, just simply ignore by tweet. Once again, I'm sorry and have no intention to look down on graphic designers and their artwork.