Media practitioner Jayson Bernard Santos posts about the lack of rest and benefits of people behind the cameras.
The continous fight for fair treatment and respect for media practitioners continues.
The fight for contractualization in the country continues as more and more workers speak up about the unrealistic expectations behind their services and products offered.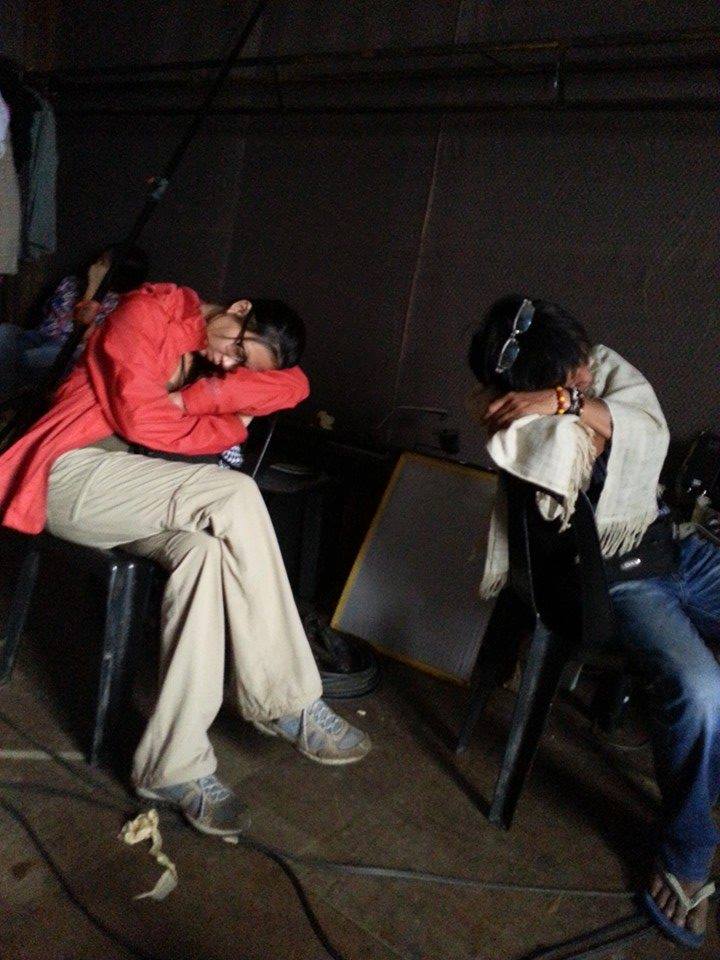 Award-winning documentarist, Jayson Bernard Santos speaks up about the hard work and lack of sleep that the staff experiences just to produce good content for television networks.
In his post, he stated told the story of how one assistant videographer that he used to work within a TV series got into an accident because of "drowsy driving".
He proceeded on saying that this is one of the many accidents that practitioners experience because of exhaustion.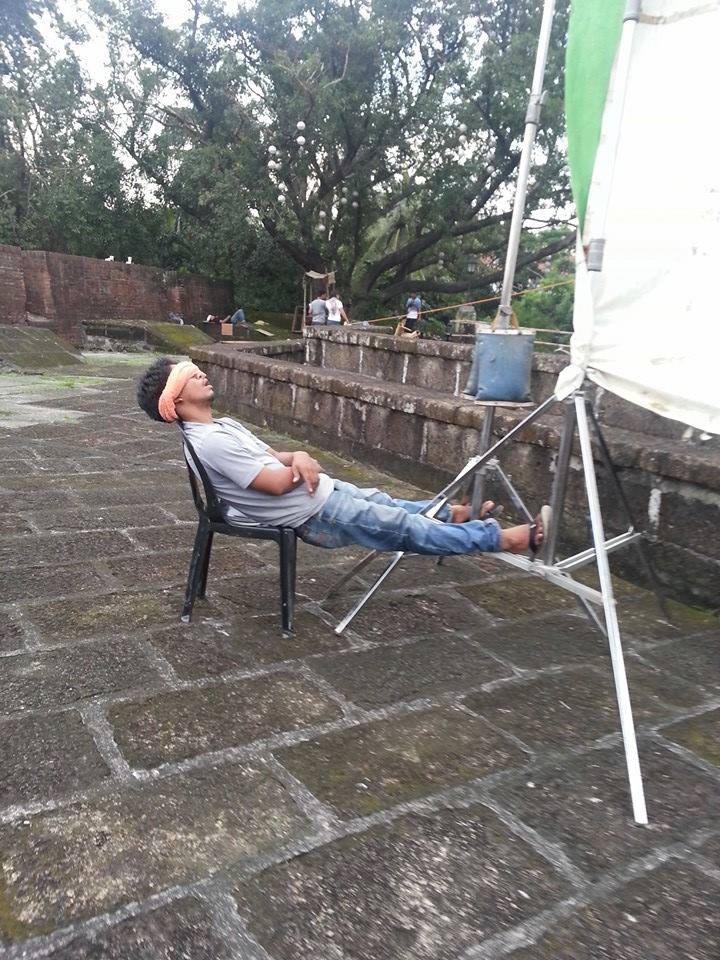 Even with unrealistic and unfair work demands, the industry still chooses to ignore the problem.
The former Kapuso documentarist explained that in order to produce good ratings and profitable shows, the workers had to sacrifice hours of sleep (with 2 AM pack-ups and 8 AM call times) and "cram more than 30 sequences in a day to save on shoestring production budget". Most of the staff don't get to rest all day, even in their airconditioned rooms.
"This situation has been going on for years. And the problem is systemic – professionalism of staff and crew, primadonna actors who have to be given special treatment para hindi magmaktol at mag-walkout sa set, staff who get paid low kaya tatanggap nang tatanggap ng maraming raket all at the same time. It depends on many factors, but the main culprit however always points to one important thing: they don't have enough budget."
Santos then concluded his post with the question "why network executives would even mount shows with a very small approved production budget, at the expense of everyone's physical and mental health? Why cram everything in 24 hours++ when the material requires additional shooting day(s) and budget? If cutting hefty above the line salaries of some people would help, then so be it. Why not make a little sacrifice and not just shrug shoulders and say 'it is what it is'?"
He expressed his hopes that someday, the situation will change and there will be more respect for dedicated and passionate production workers.
View his full post below: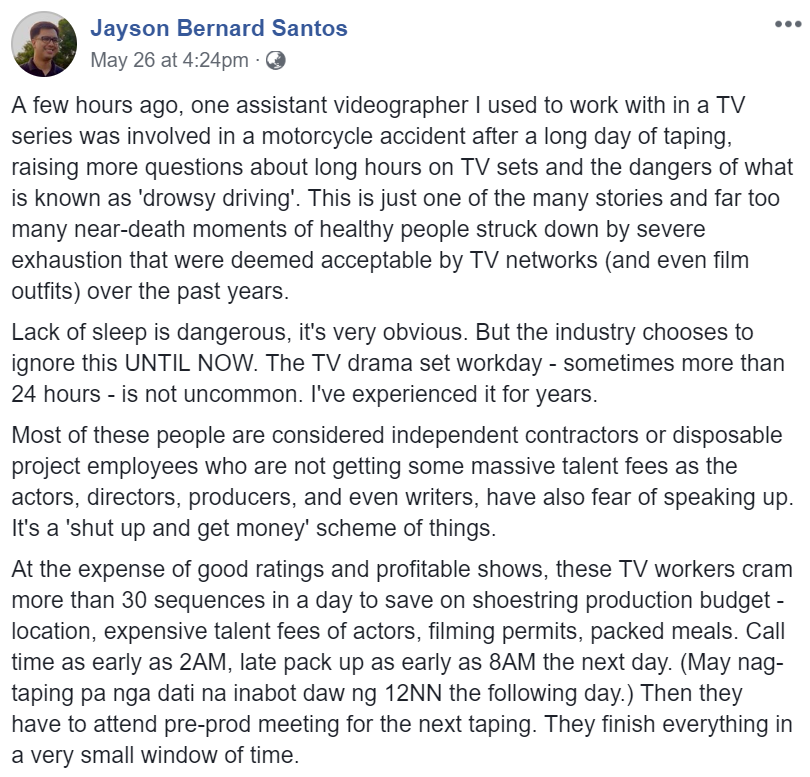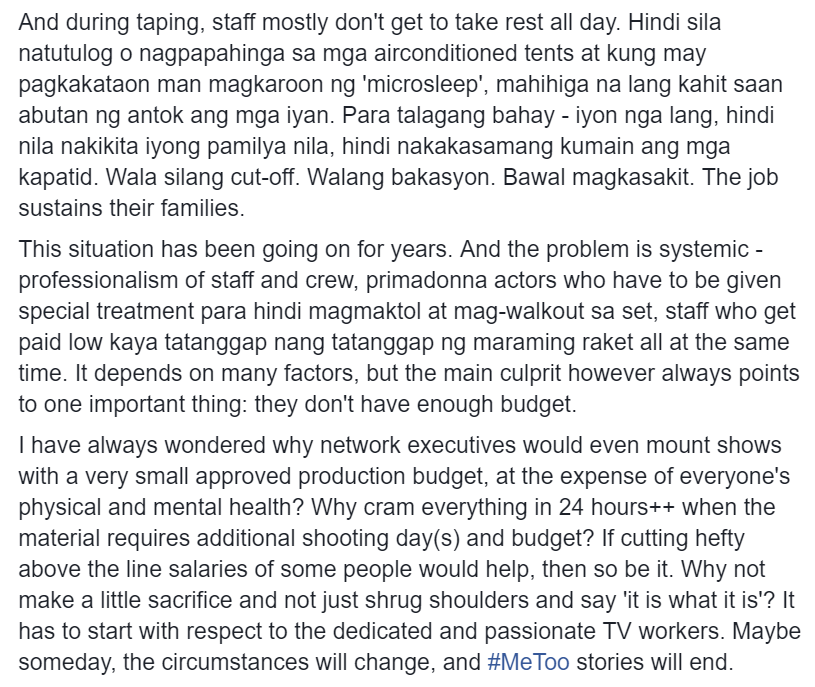 "A few hours ago, one assistant videographer I used to work with in a TV series was involved in a motorcycle accident after a long day of taping, raising more questions about long hours on TV sets and the dangers of what is known as 'drowsy driving'. This is just one of the many stories and far too many near-death moments of healthy people struck down by severe exhaustion that were deemed acceptable by TV networks (and even film outfits) over the past years.

Lack of sleep is dangerous, it's very obvious. But the industry chooses to ignore this UNTIL NOW. The TV drama set workday – sometimes more than 24 hours – is not uncommon. I've experienced it for years.

Most of these people are considered independent contractors or disposable project employees who are not getting some massive talent fees as the actors, directors, producers, and even writers, have also fear of speaking up. It's a 'shut up and get money' scheme of things.

At the expense of good ratings and profitable shows, these TV workers cram more than 30 sequences in a day to save on shoestring production budget – location, expensive talent fees of actors, filming permits, packed meals. Call time as early as 2AM, late pack up as early as 8AM the next day. (May nag-taping pa nga dati na inabot daw ng 12NN the following day.) Then they have to attend pre-prod meeting for the next taping. They finish everything in a very small window of time.

And during taping, staff mostly don't get to take rest all day. Hindi sila natutulog o nagpapahinga sa mga airconditioned tents at kung may pagkakataon man magkaroon ng 'microsleep', mahihiga na lang kahit saan abutan ng antok ang mga iyan. Para talagang bahay – iyon nga lang, hindi nila nakikita iyong pamilya nila, hindi nakakasamang kumain ang mga kapatid. Wala silang cut-off. Walang bakasyon. Bawal magkasakit. The job sustains their families.

This situation has been going on for years. And the problem is systemic – professionalism of staff and crew, primadonna actors who have to be given special treatment para hindi magmaktol at mag-walkout sa set, staff who get paid low kaya tatanggap nang tatanggap ng maraming raket all at the same time. It depends on many factors, but the main culprit however always points to one important thing: they don't have enough budget.

I have always wondered why network executives would even mount shows with a very small approved production budget, at the expense of everyone's physical and mental health? Why cram everything in 24 hours++ when the material requires additional shooting day(s) and budget? If cutting hefty above the line salaries of some people would help, then so be it. Why not make a little sacrifice and not just shrug shoulders and say 'it is what it is'? It has to start with respect to the dedicated and passionate TV workers. Maybe someday, the circumstances will change, and #MeToo stories will end."