ToFarm Film Festival 2018 reveals their chosen finalists
The festival will be held this September 12-19
Amid Maryo J. delos Reyes' passing last January, ToFarm Film Festival, will go on.
Being the only advocacy-driven film festival today, the FlimFest aims to help the agricultural industry by showcasing the lives, trials, and triumphs of the Filipino Farmers. Upon the two festivals that have been held so far, the Best Picture winners are critically acclaimed, both here and abroad. Notable films included aglipay", "Pitong Kabang Palay" and "Pauwi Na" in 2016 and "What Home Feels Like" and "High Tide" in 2017.
The third festival is going to be held this year with writer-actress-director Bibeth Orteza replacing Direk Maryo and Direk Joey Romero as managing director.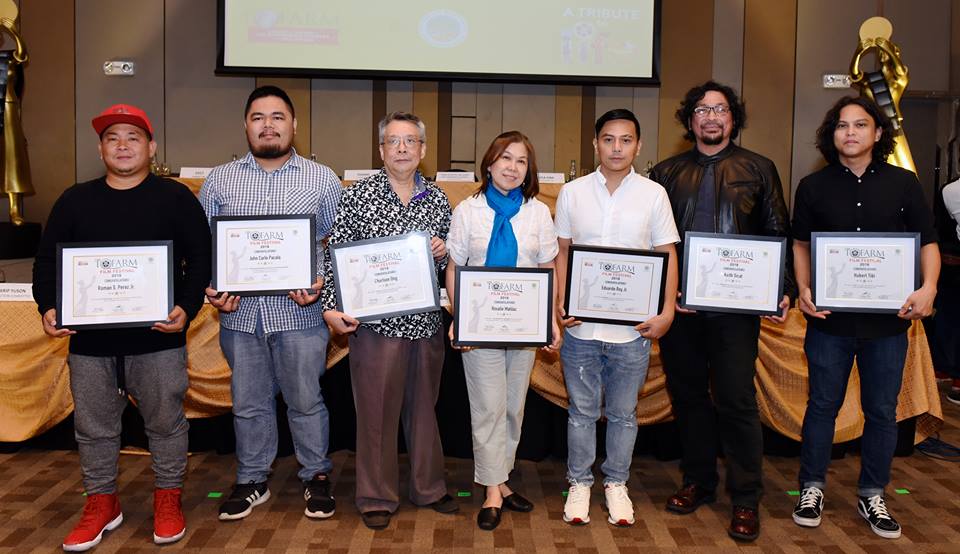 The Selection Committee, which are made of award-winning screenwriterr Raquel Villavicencio (chairperson), writer Krip Yuson, director Antoinette Jadaone, director Mario Cornejo, and writer Manny Buising, announced this year's the lucky chosen finalists for this year's ToFarm Film Festival.
The first one is "1957" written and directed by Hubert Tibi. The story was set on the year 1957, which is when former President Ramon Magsaysay due to a plane crash. It revolves on a group of farmers who are oppressed by their abusive landlord. The members of the group plans to visit Pres. Magsaysay in the palace in hopes to obtain a genuine land reform, without knowing that he has died in the crash in Mt. Manunggal.
The second film is "Alimuom", which is a science fiction written and directed by Keith Sicat. Set in the future, it shows some parts of the country that are under bio-domes and OFW has transformed to be the abbreviation for Outerspace Filipino Workers.
The third entry is based on the classic Philippine short story "Tanabata's Wife" by Sinai Hamada. "Fa-sang" is a period romance that is written by Charles Ong. The film is about a Japanese immigrant farmer in La Trinidad, Baguio who fell in love with a local woman named Fasang. The two starts a relationship which will be challenged by Fasang's unfaithfulness.
"Isang Kuwento ng Gubat (The Leonard Co Story)" is a biopic written by Rosalie Matilac, directed by Ellen Ongkeko Marfil, Rosalie Matilac, and Nilo Paz. It is a true story of a slain Filipino botanist in the forest of Kanangga, Leyte, along with his guide and a forest ranger. The government stated that they were caught in a crossfire between the military and NPAs but was later on challenged by witnesses who proved that the three were just mistaked to be NPAs.
Written and directed by Eduardo Roy Jr., "Lola Igna" isa cultural drama about a 115 year-old grandmother living in Sagada. The questions are: will she get to be the Guinnes Book of Records' oldest living person who will become a tourist attraction to benefit the farming community close to the cliff where the hanging coffins are locateed? and how will this affect the warring factions in her family?
The fifth film is "Mga Anak Ng Kamote", which is an absurd comedy-drama written by John Carlo Pacalaand directed by Carlo Enciso Catu. Set in 2052, it is declared that planting and selling kamote is prohibited and those guilty will be put to prison under the Kamote Planting Regulation Act.
Last but not the least, "Sol Searching" is a dark comedy written and directed by Roman Perez Jr. The story revolves around Teacher Sol who is a no-nonsense gradeschool teacher. As she dies, her body cannot be buried due to insufficient funds. What will the community to help put her to final rest, especially by the farmers who need to be taught the latest scientific farming methods?

ToFarm Film Festival 2018 will be held this September 12 to 19.