READ: Bureau of Customs 2017 Year-end Report

A total of 641 personnel movements took place from September 1, 2017 to December 31, 2017.
The prime mandate of the second highest revenue generating agency of the government, the Bureau of Customs, is to collect customs revenues from imported goods and to suppress smuggling and other customs fraud.
On August 30, President Rodrigo Duterte designated Commissioner Isidro Lapeña to lead the public-perceived corrupt agency.
Among the accomplishments of the BOC stemmed from its efforts to increase revenue earnings and to fight against corruption- two of Lapeña's top priorities in his 5 Point Priority Program which has the backing of the President. The 5 Point Priority Program includes: Stop Corruption, Increase Revenue Collection, Enhance Trade Facilitation, Strengthen Anti-Smuggling Efforts, and Enhance Personnel Incentives, Rewards System and Compensation Benefits.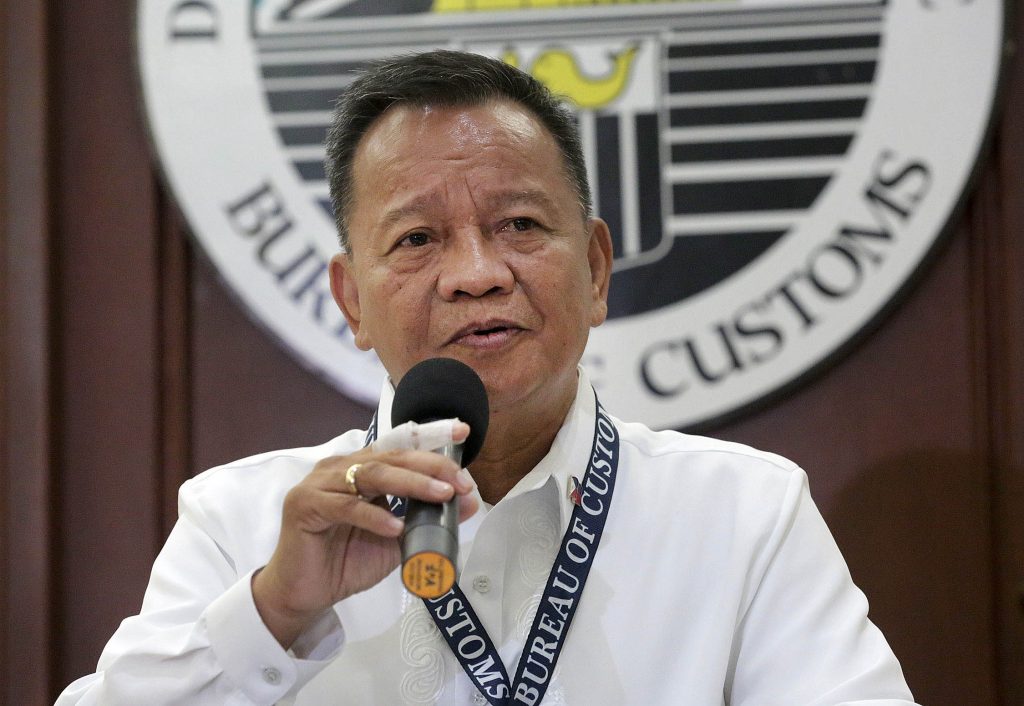 Various reforms have been implemented by Commissioner Lapeña including the application of correct valuation in assessing customs duties on imported goods and to stop benchmarking and grease money to increase revenue collection.
The BOC, according to Lapeña, posted another milestone to end the year as it achieved P44.450 billion in collection for December. It exceeded the P40.673 billon target for the month by P3.777 billion or 9.2 percent. This reflected 109 percent in collection performance of the Bureau.
Back in November, the BOC collected an all-time high and record-breaking collection of P46.366 billion, 11.3 percent higher than the P41.66 billion target. This is P9 billion higher than the average monthly collection of P35 billion.
Preliminary figures from the Financial Service show the Bureau posted a total collection of P457.533 billion from January to December 2017. Though lower by 2.2 percent or P10.343 billion against the target of P467.896 billion, overall the revenue performance is at 98.5 percent.
"Despite the P20 billion deficit when I assumed office on August 30, the BOC gained steady increase in its revenue collection growth during the last quarter, reducing the deficit down to P10 billion," Lapeña said.
Lapeña said that had it not for work suspensions due to the ASEAN Summit, jeepney strikes, and typhoon, the agency could have surpassed its assigned 2017 target.
The BOC surpassed the monthly targets in the following months:
i. January – collected P35.943 billion, 1% higher than the P35.5 billion target
ii. March – collected P37.33 billion, 2% higher than the P36.5 billion target
iii. May – collected P39.59 billion, 4% higher than the P38.23 billion target
iv. October – collected P42.915 billion, 1% higher than the P42.69 billion target
v. November – collected P46.359 billion, 12% higher than the P41.66 billion target
vi. December – collected P44.450 billion, 9.2% higher than the P40.673 billion target
The present administration was able to win a case settlement with First Nationwide Assurance Company collecting P110 million for the company's unpaid customs duties and taxes.
Under the controversial tax credits dubbed as 'pasalubong', a total of P414.3 million tax credit certificates and tax refund were awarded to 24 companies since September to December 2017 when Lapeña assumed as BOC Commissioner.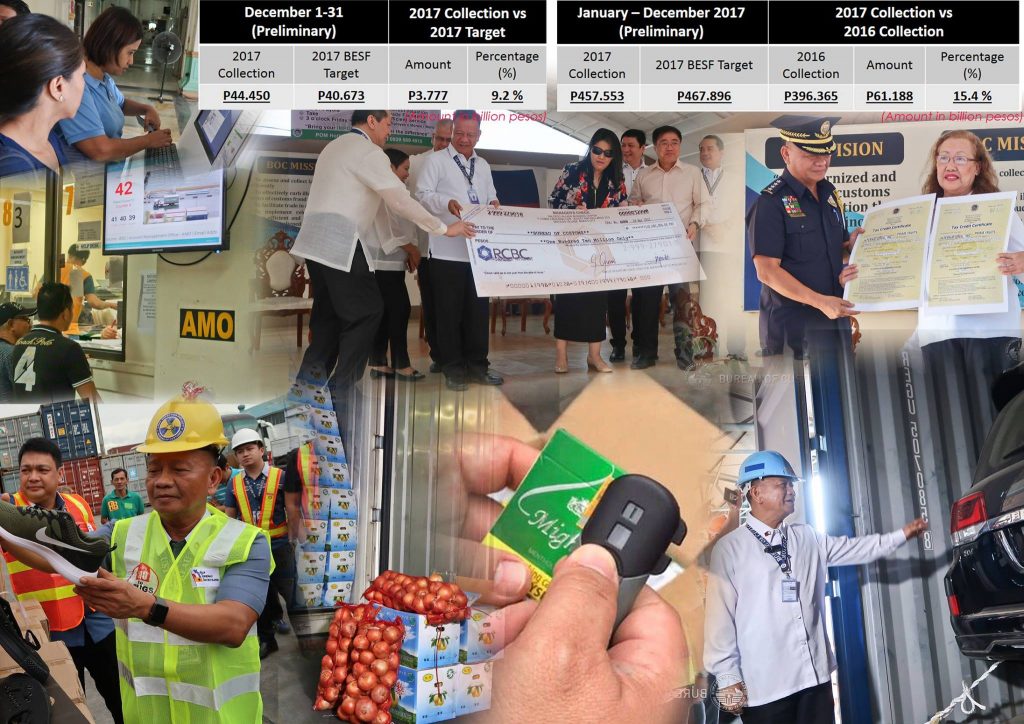 In an effort to eradicate 'suki system' and tara in the assessment division and to enhance trade facilitation, the Port of Manila adapted the Status Verification System while the Manila Internation Container Port implemented Goods Declaration Verification System. These systems will randomly assign appraisers and examiners and to give timely update on the status of the import entry.
In December, customs appraisers and examiners from all ports consequently underwent retraining on customs valuation.
In the bureau's fight against corruption, a total of 641 personnel movements took place from September 1, 2017 to December 31, 2017. Several customs employees were reshuffled and reassigned to other districts while ten district collectors were transferred to Control Monitoring Unit. The commissioner also relieved 25 employees from their current post and dismissed two for abuse of authority.
In a bid to rid corruption, Commissioner Lapeña signed a memorandum setting a five-day mandatory time frame to respond to all clients.
"Kapag may delay, may kita. I am not taking these delaying tactics of some BOC personnel. I already know you by names, wait until I catch up with all of you. I am strict with my one-strike policy," the Customs chief said.
Under the BOC's campaign against smuggling, customs agents seized more than P5.4 billion worth of cigarettes with fake tax stamps from February 2017 to June 2017.
This successful apprehension of fake cigarettes resulted to tax settlement with Mighty Corporation adding P30 billion revenue in the government coffers.
The bureau also apprehended P141.2 million worth of luxury cars at the MICP and P263.2 million worth of agricultural products.
In a span of four months, Lapeña was able to visit 17 Collection Districts and 10 subports to assess the current condition of BOC offices and personnel and to address pressing concerns in the ports.
Also, he announced BOC retirees will be given preferential assignments in last six months of service to prepare for their retirement.
"These public servants have dedicated 40 years of their life in public service. They deserve to be compensated and be given what is due to them come their retirement day," Commissioner Lapeña said.
The present administration also promoted a total of 566 customs employees and hired three new employees as part of his program to enhance personnel incentives and compensation benefits.
Commissioner Lapeña lauded all the contributory efforts of the BOC personnel in the 2017 accomplishments "we have accomplished a lot but we still have a lot more to work out."
"I am optimistic that we will achieve our 2018 target and I still believe that there are more good men in Bureau who are willing to work earnestly for public service," the Commissioner said.