Man took away innocent kid's whole day earnings
The kid cried hysterically after a man stole his money
Being alert pays off one way or another. We can never know the misfortune that could happen to us, but being ready for what's to come is never a problem.
Kid experienced Budol-budol
Netizen Khelvin Federigan shared a heart-warming post on Facebook regarding a kid crying hysterically in the middle of a street. While walking around the mini Divisoria Mall in GMA, Cavite, he noticed a kid weeping.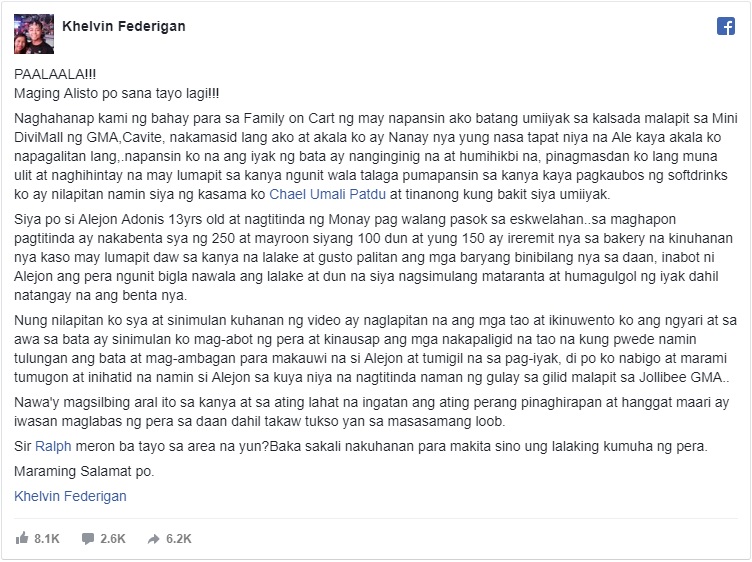 He observed from a distance and when he confirmed that the boy was alone and that something is up, he asked him.
Alejon Adonis, 13, is a bread vendor around the area. According to him, he sells monay on weekends. For that day, he earned 250 pesos on which 100 pesos will go to him and the rest will go to the baker where his bread came from. While counting his total earnings, a man suddenly came up to him asking his coins in exchange of his paper bill.
Swiftly, the kid handed the unknown man his total earnings. He shared that the man suddenly got lost. And that's the time he got very anxious and cried. In short, he became a victim of budol-budol. Imagine? These criminals can now do it to an innocent kid.
Faith in humanity restored
Federigan, being a concerned citizen, gave the kid money to compensate his loss. He even encouraged everyone to donate to make the kid feel better. One by one, people came up to give him money. After the whole shenanigans, Federigan accompanied Alejon to his older brother.
Enlightening netizens, Khelvin has something to say:
"Nawa'y magsilbing aral ito sa kanya at sa ating lahat na ingatan ang ating perang pinaghirapan at hanggat maari ay iwasan maglabas ng pera sa daan dahil takaw tukso yan sa masasamang loob."
He is now taking legal grounds to find out the man who snatched Alejon's money.
What do you think, guys? Inspiring, isn't it?